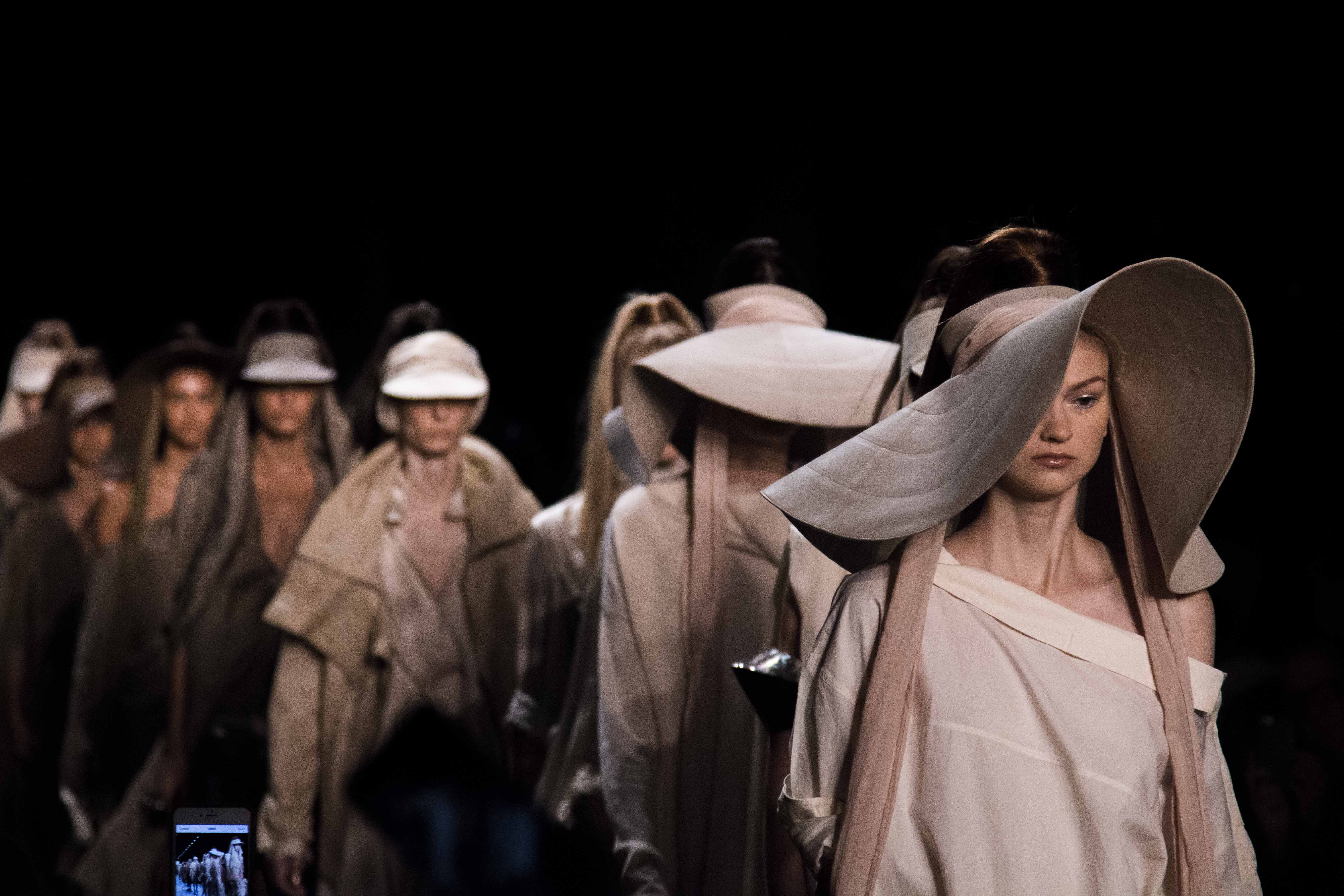 As drumbeats pulsated through Skylight at Moynihan Station, the fashionable crowd was surprised by the unexpectedly sensual looks of Nicholas K's Spring/Summer 2017 collection. Fresh and distinct from previous collections, this season was inspired by Wadi Rum, an elevated valley of sandstone located in Jordan, also known as "the Valley of the Moon." The romantic palette was composed of dusty neutrals, simple stripes, and earthy greens.  
Backstage, designer Nicholas Kuntz explained, "We veered away from black like we typically do" and opted for "a creamier palette" inspired by the "moonscape" appearance of Wadi Rum. In an exclusive interview with WSN, she elaborated, "It has Bedouin vibes. It was a little sexier than the past. It was all about the leg and shoulder this season."  
The shapes were softer than the bold, utilitarian shapes that have typically dominated past collections, and the thin silk and chiffon fabrics created a far sexier overall tone. Glossy jumpsuits, blouses, shift dresses, and shorts created eye-catching glamour. However, edgy leather jackets and parkas served as a nod to the sporty outerwear that Nicholas K is known for. The accompanying oversized, metal jewelry, custom-made by NYC gallery Linhardt as an ode to the landscape of the desert, added modern, minimalist charm.
The SS'17 collection was defined by a mix of ethereal romance and Kuntz's signature functionality and love of the outdoors, seen in the many Bedouin-inspired draped visors and oversized sunhats. A silky, sage-toned, collared jumper paired with a visor, chunky metal anklet, and moss-colored parka epitomized Kuntz's style of city slick meets urbane wanderer. Other standouts included a sporty, leather halter crop-top and low-cut, sheer, white, wrap blouse. Although many pieces in the collection may not be practical for a trek through the deserts of Jordan, every item exuded the energy of worldly adventure.
Emma Scoble is a Staff Writer. Email her at [email protected]