How NYU's Student Demographics Have Changed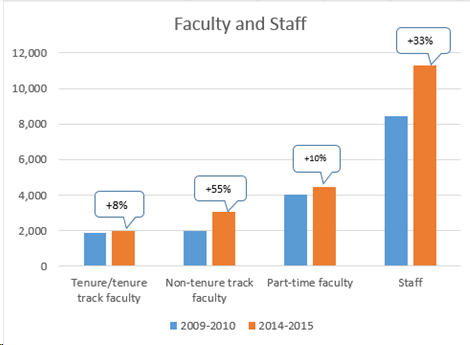 When the university first opened in 1831, its aim was to provide an education for the young men of the city. The next 185 years saw the onset of new goals. In particular, the last 10 years —  2006 to 2015, inclusively — tell a revealing tale of the university's evolving politics.
NYU has steadily increased student enrollment since 1831: from 2006 to 2015 alone, the undergraduate population went up by 25.7 percent, or about 4,998 students. The larger undergraduate student body was accompanied by a similarly upward trend amongst specific ethnic groups of the student body: Asian male students, African American students, Hispanic students and international students. Since 2006, the proportion of African American males in the undergraduate student body increased by .3 percent, from 1.7 percent to 2 percent, while Hispanic females and males each increased by 1.5 percent of the student body, from 6.7 percent to 8.2 percent. The statistics for Asian students provided by the university start only in 2010, but since then, there has been an increase of Asian males on campus by 1.1 percent, starting in 2010 with 9.5 percent and ending with 10.6 percent.
The most significant increase in the student body has been the surge of international students. International students now make up 19 percent of the student body growing steadily since 2006; in that time, international females have increased by 6.5 percent while males have increased by 5.4 percent.
The expansion of certain demographics brought with it an obvious decrease in others: Asian females, white females and white males. Overall, the proportion of Asian females of the student body dropped by 2.3 percent, while white males decreased by 12.8 percent, with white female demographics shrinking by the most: 24 percent.
If you were on NYU's campus 10 years ago, you would see an undergraduate student body comprised mostly of Caucasian students (about 77 percent) and very few international students (7 percent). Today, the demographics of the student body are different: 39 percent Caucasian. Despite there being a more dominant female presence on campus, there are more male students now (43 percent) than in 2006 (38 percent). At the same time, students with Hispanic backgrounds also increased from 11 percent to 14 percent, while the proportion of African American undergraduates remained almost the same (6 percent) for the past 10 years.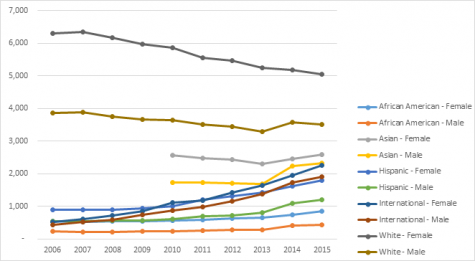 Data about student demographics from NYU only reports from 1994. Since then, enrollment almost doubled from 12,766 to 24,480 undergraduate students; graduate enrollments also doubled, from 6,388 to 12,814. These are not only changes in quantity, but also more of a change of the faces of the university.

via nyu.edu
NYU's total student enrollment from 1994-2015.
The changes in the student body create new challenges in course enrollment and housing. One major challenge the university must now meet is hiring more faculty to teach 40,777 students.
In the academic year of 2009 to 2010, there were 1,842 tenure/tenure-track faculty and 1,963 non-tenure track faculty. Six years later, tenure and tenure-track faculty numbered at 1,982, while 3,046 were on the non-tenure track as full-time faculty. As student enrollment increases, the university is not offering more tenure to professors, but instead filling the positions with more non-tenure track faculty. It seems that the university has offered fewer opportunities for professors to be on tenured track as the student population grows. If the undergraduate student body is projected to grow, how can the university rely on a faculty comprised more of non-tenured, part-time professors?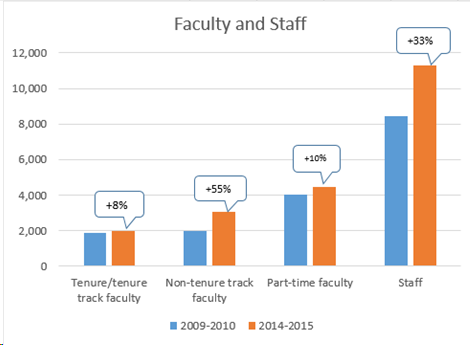 As the university continues to expand without any sign of slowing, student demographics matter more than ever. The university must address mounting questions about how it will accommodate its growing international student population, how it can attract professors and faculty and how it will adapt for a diversifying and growing undergraduate student body. In the face of the impending 2031 plan and housing, the university must learn to adapt to these demographic changes without constantly playing with risk.
Email Audrey Deng at [email protected]