Alum's 'Creative Control' Shows Virtual Reality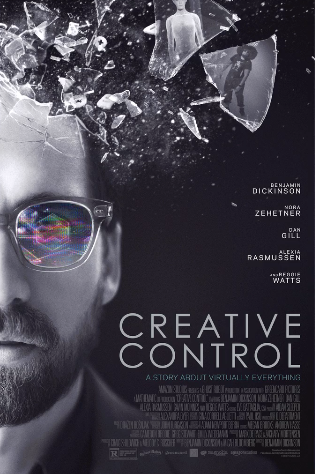 NYU alum Benjamin Dickinson's film "Creative Control" may seem like a black-and-white iteration of Spike Jonze's "Her," but calling it that would be an injustice. True, it is centered around protagonist David — played by Dickinson — a marketing executive who is finding less and less joy in the reality of life, both at his job and with his girlfriend Juliette, a free-spirited yoga teacher played by Nora Zehetner. Set in New York in the near future, Dickinson's world is just like ours, but with our phones and interfaces integrated into our bodies instead of held in our phones and tablets.
David, who alternates between pills, booze and drugs of other sorts, is at odds with his life. He constantly finds himself comparing his life with Juliette to the life of his best friend Wim (Dan Gill). Wim, a fashion photographer, spends his time shooting stunning models and sleeping with beautiful women — either those same models or his girlfriend Sophie (Alexia Rasmussen), a practical person who pokes fun at David while the two smoke cigarettes at parties. Sophie, gorgeous and witty, finds herself more and more involved in David's life once he gets her a job at his marketing company as a favor. Juliette, by contrast, ends up fighting with David almost constantly.
Things get complicated as David, in an increasingly addled state of cross-fades, creates an avatar of Sophie using his new virtual reality glasses. Lines begin to blur between Sophie and David's creation of her — having an affair with an avatar does not mean that its inspiration will be aware. Piece by piece, through marvelous cinematography and plot development, David's life falls apart as the areas of friendship, love, infidelity and reality itself become blurred.
Almost before the audience knows it, things climax with a painful fight between David and Wim and by extension, Sophie and Juliette. David's realities are forced to become a single existence. Abruptly, he is made to give up the VR glasses and, as a result, his virtual love. The real Sophie leaves him in a confused fight, Wim beats him up and Juliette begins to see visions during her orgasms. Gray areas, and even colorful ones, are jolted back into black-and-white.
Dickinson's acting and directing, and the acting of the entire cast, makes what could have been a slower-paced version of "Her" into a skillfully built film that creeps up on the viewer. Filming in black-and-white is a powerful choice that pays off immensely here. Viewers are forced to consider their own realities — or virtual realities — in a very satisfying, though challenging way. The final shot of David and Juliette separated by a physical wall, is both unmistakable and open to speculation. The question lingers — if you could choose a reality, would you keep the one you have?
"Creative Control" opens at Landmark Sunshine Cinema on March 11.
A version of this article appeared in the March 7th print edition. Email Hailey Nuthals at [email protected]