Six Unique and Easy Dorm Snacks for Your Guests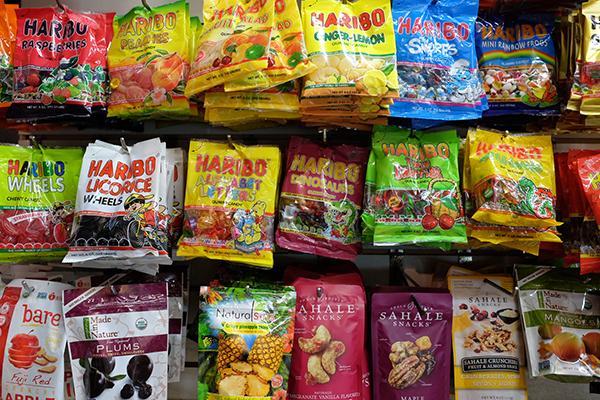 Hosting a Super Bowl Sunday viewing party at your dorm? Watching an awards show? Or just lounging around with friends and don't feel like making the trek to Weinstein? Here's a list of six essential foods that will delight your guests. For the people floundering through life without a kitchen in your dorm, this is especially for you.
Coconut-and-Pistachio-Stuffed Dates
Dates are great because they're so sweet they almost taste like candy. If you want to be fake-fancy and really impress your guests, these treats are both aesthetically pleasing and tasty. You can find Medjool Dates at the Trader Joe's on 14th Street. They don't need to be refrigerated and are only $4.49 for a one-pound container. To make these snacks, cut the Medjool date in half, crush up some pistachios then fill the opening of the date with as many crushed pistachios and coconut shredding as you like!
Dry Sushi
Sounds weird, but surprisingly delicious! It's essentially sushi made out of completely dry snacks. For this, you will need shrimp crackers and seaweed, which you can find at M2M Market on 19 Waverly Place. Dampen the ends of the seaweed, wrap it around the shrimp cracker and press for a few seconds so that both ends stick together. Your seafood-loving friend will get to enjoy the taste of sushi and with extra crunch.
Sweet Chips and Dip
If you have a bit of a sweet tooth, try serving banana chips with fun dips! Avocados taste great just by adding a little sugar. Mix avocado and raw brown sugar together in a blender until it's fluffy and dip-ready, place your guacamole into a bowl and use banana chips as your tortilla chips, then dig in! It is simply delicious. If you're not a fan of avocado, buy some Nutella instead and use that as a dip to have some chocolatey banana fun.
Cake In A Mug
Want cake but only have an old NYU mug sitting around? You're in luck. Just stir together two tablespoons of melted butter, two tablespoons of milk, one tablespoon of vanilla extract, 1/4 cup of granulated sugar, six tablespoons of self-rising flour and a hint of salt in a mug. Pop that in the microwave for one minute and boom, your cake is done!
Miscellaneous Gummy Bears
If you want to add some style to your drinks, gummy bear ice cubes are the way to go. This is incredibly simple. Add gummy bears to the bottom of your ice cube tray, pour water on top and freeze. When they're frozen solid, plop them in your cup and enjoy!  They're both visually stunning and a nice treat once you get to the bottom of your drink.
Instant Ramen, Pretzels and Popcorn Chex Mix
When you live on a college student budget, these simple and efficient snacks are perfect. Crunch up some ramen, pop some popcorn, buy mini pretzel sticks and combine all three inside of the popcorn bag. Once you have your base, add whatever seasoning you like. (Sriracha tastes great!) Shake the bag and your mix is ready.
Email Talia Smith at [email protected]