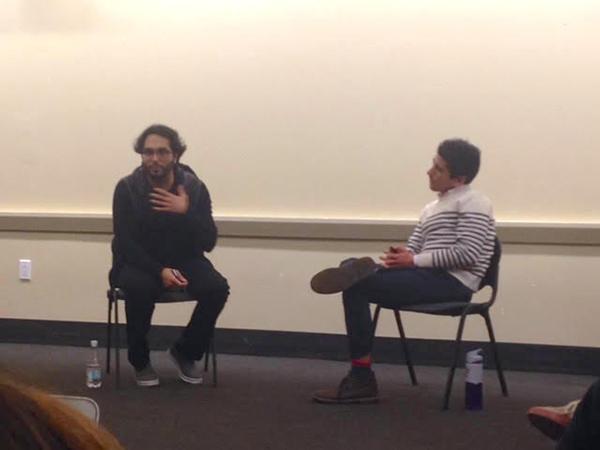 The mistreatment of Muslim Americans is an increasingly hot topic in the current political debate — a fact that the NYU Politics Society knows well. For this reason, they hosted a discussion with Buzzfeed journalist Talal Ansari Thursday evening, whose work has followed these systemic injustices.
Ansari's most recent investigation for Buzzfeed with fellow reporter Siraj Datoo, "Welcome to America — Now Spy on your Friends," follows the heartbreaking — and often times infuriating — stories of six Muslim American immigrants being coerced by the FBI to become informants.
The Buzzfeed article opens with the story of one man who had been living happily in the U.S. since 1999 with a student visa. He had a family and a job, and considered himself an American. However, upon applying for his green card he was approached by an FBI agent and made to feel as though he had no choice but to become the eyes and ears for the government within his community.
Ansari said since 9/11 immigrants have received the brunt of the severe crackdown on national security. Citizenship applications that should be either accepted or denied by the Office of Immigration within 180 days are often drastically delayed, with some waiting up to 12 years for a response. Ansari's studies point to FBI agents using immigrants' desperation for citizenship to their advantage as a means of getting information. This is an especially perturbing fact when taken with the knowledge that FBI agents have no actual power in speeding that citizenship process.
"It's unethical to dangle deportation as a means of forcing someone to become an informant," Ansari said. "It's just fucked up."
Students listening to the discussion voiced similar frustrations with the treatment of these immigrants, and Muslim Americans in general. CAS senior Arrion Azimi said he was disgusted, but not surprised by the unjust actions of the FBI.
"Of course, the government keeps on making the same mistakes trying to coerce people to help them in the wrong ways," Azimi said. "Growing up, I had a father being watched just because of his name and FBI visiting our house, so this hit a personal note for me. It's not just a policy, it becomes a part of life sometimes."
Ansari firmly voiced his concerns that the wrongs being done needed to be further investigated, and revealed to the public eye. He explained that he was digging for more information from the United States Citizenship and Immigration Services and the FBI, hoping to uncover the rest of this scandalous story. LS freshman Rose Asaf was particularly passionate about the subject, and prompted the journalist to share his intentions with the NYU Politics Society.
"But what happens when you get the info you requested from those organizations?" asked Asaf. "We have to raise awareness. What's your plan?"
To that, Ansari assured Asaf that he would be publishing another article as soon as he could. He is determined to continue his work in this line, hoping to expose the FBI for cruelly profiling an entire community.
Email Raven Quesenberry at [email protected]