Five films to catch over winter break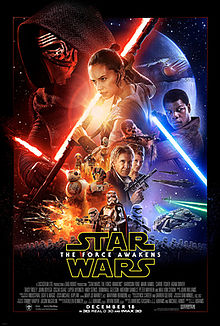 "Star Wars: The Force Awakens"
By Anubhuti Kumar
Staff Writer
"Star Wars" fans have been eagerly awaiting the release of the franchise's seventh installment, which is sure to be one of the biggest films of the year. Directed by J.J. Abrams, the film features the return of the original cast and introduces the leads of this new trilogy: John Boyega, Daisy Ridley and Oscar Isaac. It is set 30 years after "The Return of the Jedi" and will follow their fight for the Resistance. Few other details are known about the plot. End the year right and catch it in theaters on Dec. 18.
"The Revenant"
By Daria Butler
Staff Writer
In the event that you have nothing planned for Christmas Day, be among the first to see "The Revenant" when it hits theaters on the Dec. 25. This intense thriller starring Leonardo DiCaprio tells the story of Hugh Glass, an explorer who survives a bear attack in the uncharted wilderness but is left for dead by his hunting team. He then embarks on a quest for vengeance. Directed by Academy Award winning director Alejandro González Iñárritu, "The Revenant" is based on Michael Punke's 2002 novel of the same name. Perhaps this will be the film that nets Leo his long-awaited Oscar.
"The Hateful Eight"
By Tony Schwab
Staff Writer
Dec. 25 also promises the culmination of Quentin Tarantino's obsession with spaghetti westerns. In "The Hateful Eight," bounty hunter John "The Hangman" Ruth (Kurt Russell) attempts to turn in Daisy "The Prisoner" Domergue (Jennifer Jason Leigh) on a murder charge. Confined to a cabin due to a blizzard, they run into a sheriff, an ex-confederate soldier and other Tarantino types. Over three hours long and presented in 70 mm format in certain theaters, ideally the film will be a twist on the formula he has stuck to post-Jackie-Brown.
"Concussion"
By Ethan Sapienza
Staff Writer
Nothing warms the heart more on a cold day quite like Will Smith telling you how terrible football is, right? "Concussion" may not be a crowd pleaser, but it certainly is a muckraker. The film follows Dr. Bennet Omalu (Smith), the Nigerian forensic pathologist who showed how football players suffer from chronic traumatic encephalopathy, an awful life-ruining disease that is progressively degenerative and can originate in such a violent sport. The NFL has been trying to bury Omalu's discovery since it challenged them, which the movie makes out to be thrilling. Reviews ahead of its Christmas release have been mixed, but that doesn't mean it won't be informative and important. "Concussion" comes out on Dec. 25.
"Anomalisa"
By Zach Martin
Film Editor
Director Charlie Kaufman, known for his surrealist, mind-bending screenplays such as "Eternal Sunshine of the Spotless Mind" and "Being John Malkovich," turned to Kickstarter to finance his new stop-motion animated drama "Anomalisa." All of the puppets were made using 3D printers and none of them look creepy, so that's a plus. Centered on an antisocial author who has a life-changing encounter with a stranger at a hotel, this film will be perfect for those who enjoy poignant introspection, commentary on the human condition and mixing holiday merriment with uncontrollable weeping. "Anomalisa" comes out on Dec. 30.
A version of this article appeared in the Dec. 7 edition. Email the film desk at [email protected].