Talks on diversity receive mixed feedback from students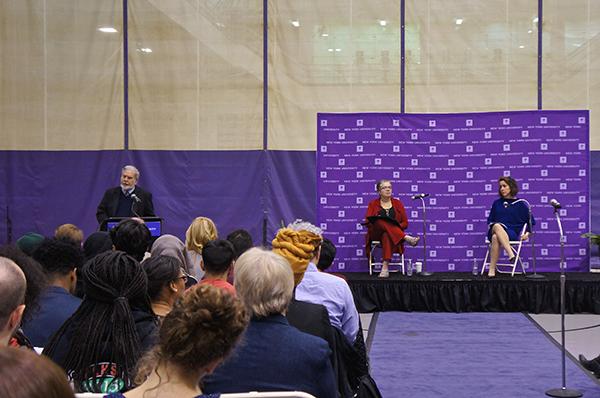 After President Sexton and other NYU administrators hosted an extensive talk on diversity last week, many students are pleased to see the university is taking the issue seriously, while some fear the administration has not gone far enough to address concerns.
The talk followed campaigns launched by NYU students, including Blackout NYU, to show solidarity with other U.S. colleges addressing diversity concerns.
Following the event, President Sexton sent an email to the NYU community addressing the talk and his plans for the problems.
"We will start by immediately increasing staffing and doubling program funding for the Center for Multicultural Education and Programs to expand and enhance our programming efforts around issues of diversity and inclusion, and by taking concrete steps in the near term to move forward with one of the proposals raised repeatedly yesterday — a serious diversity training program," Sexton said.
In addition, CAS Dean Gabrielle Starr also sent out an email last Friday commending students on their efforts to build a more diverse and inclusive NYU.
CAS senior and president of the Black Student Union Arielle Andrews said she was pleased with the turnout of the event and hoped it allowed the administration to see how important diversity and inclusion are to students.
"I think this is the start of real action," Andrews said. "The administration is under a microscope right now, and they can't afford to skirt the issue."
However, not all students found Sexton's response satisfactory. CAS junior and Chair on the Muslim Student Association board Hina Afridi said Sexton's email made her wonder whether he was afraid his lack of activism might affect his public reputation.
"After reading Sexton's email, I do find myself a bit dubious of how we'll be moving forward from this," Afridi said. "To simply add a committee on diversity and inclusion isn't enough. It does make me question whether this forum was held as a platform for students to express their concerns on the lack of accommodations that are made for them on this campus or just to show that they actually responded to what's going on."
Afridi also discussed the importance of acceptance and inclusion for the Muslim community after the recent events in Paris.
"Islamophobia is increasing with every attack that happens," Afridi said. "When tensions like these are arising, dialogue between the students is imperative. And, I think that the president of the university should be addressing Islamophobia in order to facilitate this conversation."
NYU alumnus and former president of the Cuban American Student Association Carlos Estevez  said while the university attracts students from almost every state and an impressive range of countries, having one interesting person from an assortment of places doesn't make a university diverse.
"Diversity was not one of the school's strong suits when I was a student and sadly the statistics have not changed much," Estevez said. "It would be far more productive for the university to admit that diversity needs to be addressed, as opposed to boasting their global student body and superior statistics when compared to other schools."
Additional reporting by Justine Morris.
A version of this article appeared in the Nov. 23 print edition. Email Lexi and Christine at [email protected].