Film looks at transgender women in 1920s Denmark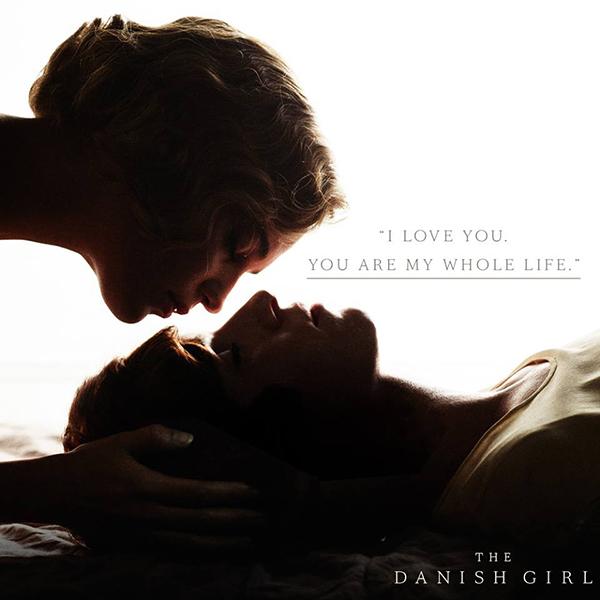 "The Danish Girl" is not without its flaws, yet it remains important in its discussion of controversial LGBTQ issues. Acclaimed director of "The King's Speech" and "Les Misérables," Tom Hooper's new film, "The Danish Girl," stars Eddie Redmayne and Alicia Vikander as famed couple Lili Elbe and Gerda Wegener. Lili, born as Einar Wegener, discovers her true gender identity after posing as a female figure for Gerda's painting. Lili begins to navigate her life and marriage as one of the first documented transgender women. 
One of the film's triumphs is its use of politically correct dialogue in a time when no discourse on the topic existed. The story is of such great historical significance that it is almost surprising that this story has not been told through film before until one remembers how stigmatized the transgender community has been. 2015 has been a remarkable year in the way of progress for the LGBTQ community with Caitlyn Jenner's coming out and the legalization of gay marriage; it's a fitting year for "The Danish Girl"s release. The film is a landmark for a continually growing conversation on gender within our increasingly open-minded society.
Initially, many advocates for the transgender community called the film problematic in its casting of a cisgender male (Redmayne) as Lili over a transgender actor. After viewing the film, however, Redmayne is a fitting choice for the role. The Oscar-winner is absolutely remarkable in his transformation from Einar to Lili; we see Redmayne slowly develop Lili's mannerisms and almost magically undergo the physical transformation from Einar to Lili.  Eddie's status as a cis male is also necessary in certain scenes of the film depicting his character's self-loathing male characteristics. Vikander also stands out as Gerda, a character who is complexly dealing with her husband's transformation.
The film is loosely based on the novelization of  Lili and Gerda's story, which does take away from some of the believability of their relationship in the film.  Their relationship is sometimes confusing and unconvincing, which takes away from the audience's emotional connection. At the beginning, the film establishes Lili and Einar as an intensely romantic couple hoping for a family. However, as the story unfolds, the passionate love between Gerda and her husband quickly dissolves. While the strain on their relationship is understandable, the quick diffusion of their physical romance is not. Lili tells Gerda how much she still loves her — and this is apparent through their companionship for one another — yet we do not see any physical or romantic connection. Lili and Gerda neglect to have an honest conversation about the state of their relationship throughout the film, making us feel as if something is missing.
Despite some flaws in the writing, Tom Hooper's direction is incredibly visceral and skillful in "The Danish Girl," allowing for an effortless drift through an emotionally tumultuous plotline, making the film generally consistent, despite some slow parts.
"The Danish Girl" opens in New York on Nov. 27 and nationwide in December.
A version of this article appeared in the Nov. 23 print edition. Email Natalie Whalen at [email protected].