Top five grilled cheeses in New York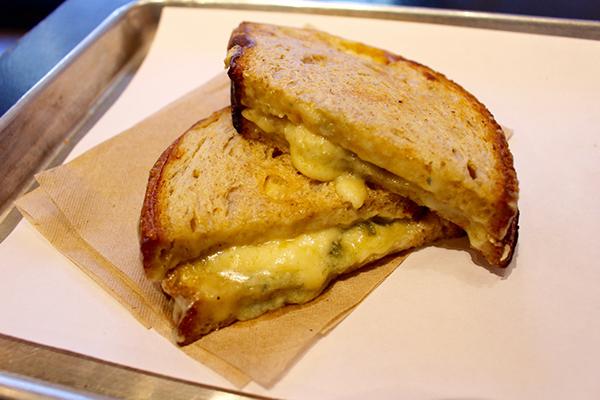 Any college student knows a grilled cheese is just as essential as ramen to surviving dorm life. Settling for one at Third North's Courtyard Cafe would be unfortunate, as New York City has endless locations with fun variations of this college staple. Here are some places to check out for some chessy goodness with a twist.
La Maison du Croque Monsieur (17 E. 13th St.)
Grilled cheese may be an American creation but the French have their own impressive interpretation of this comfort food. Straight out of Montparnasse, La Maison du Croque Monsieur delivers classy croques like the Madame Anaïs, which combines bechamel grilled cheese and Jambon de Paris with an egg on top. To spice up your grilled cheese game, the mustardy Mr. Joaquin aka the Cuban is another good choice.
Melt Shop (55 W. 26th St.)
With various outposts around the city, Melt Shop has got you covered if you're suddenly craving a grilled cheese. You can treat yourself to a classic grilled cheese or triple the cheesiness with the 3 Cheese sandwich. For a fancier variation of a childhood classic, try the 'Truffle Melt' with Havarti cheese, arugula and truffle oil.
Murray's Cheese Bar (264 Bleecker St.)
This West Village eatery is run by Murray's Cheese Shop, which specializes in sourcing exotic cheeses from all over the world. As you might guess, no one knows good cheese better than they do. All other cheese-inspired dishes aside, the Murray's Melt is a must-try for grilled cheese enthusiasts. Their version is made with a secret blend of various cheeses and Nueske's bacon grilled on a Pullman loaf. Oh, and don't forget to dip your sandwich into the smoky tomato soup that comes on the side.
Little Muenster (225 Liberty St.)
Formerly situated in the Lower East Side, Little Muenster has relocated to the savvy Hudson Eats food court. Now on Brookfield Place, it joins the ranks of other up and coming eateries. You can start with a classic white American or cheddar and customize with an assortment of add-ons ranging from caramelized onions to bacon. Also don't miss their Cuban grilled cheese with slow-roasted pork, Virginia ham and smoky
chipotle mayo.
Melt Kraft (101 Macdougal St.)
Since it has moved out of Park Slope to set up shop just steps away from Washington Square, this speciality grilled cheese shop is a convenient spot to grab a bite after a late night Bobst study session. All cheeses are sourced from the Valley Shepherd Farm and their special three month Raclette can be found in the Melter Skelter and other classic sandwiches. The Valley Thunder even has baked macaroni and cheese stuffed inside with Bubbe's beef brisket. A crispy complement of Covered Bridge Kettle Chips comes with
all sandwiches.
A version of this article appeared in the Nov. 16 print edition. Email Minnie Ongsricharoenporn at [email protected]