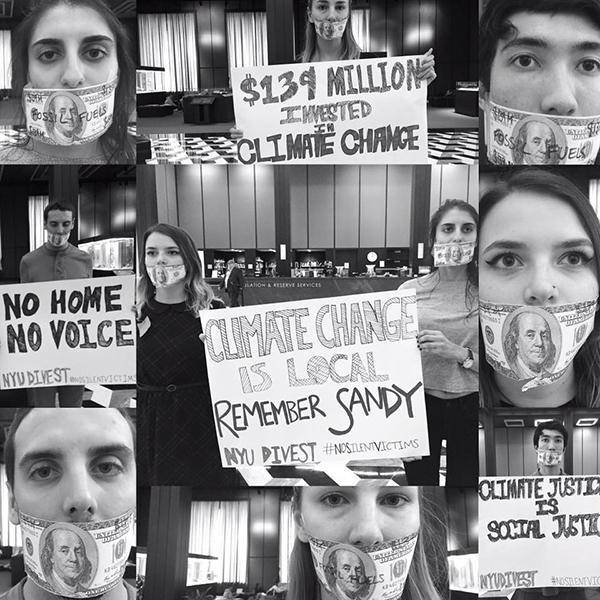 NYU Divest launched a campaign called "No Divestment, No Donations", a petition encouraging people to withhold donations from the university unless it divests from fossil fuels.
The petition was launched during Alumni Weekend, an event geared toward alumni — the university's most valuable group of donors. Currently, 115 members of the NYU community have signed the petition.
Olivia Rich, CAS junior and member of NYU Divest, said this pledge is similar to previous actions taken by the activist group. One of the previous tactics employed by the group is the faculty letter, an act that highlights the voices of members of the NYU community who believe that fossil fuel divestment is a moral necessity.
"It is definitely an escalation in that it is an actual sanction on the university," Rich said. "NYU takes their donors very seriously and this pledge sends a strong message that donors consider continued investment in fossil fuel companies to be irresponsible and unacceptable."
Following the dispute NYU Divest had with John Sexton at his final town hall last month, the group felt it needed to take more aggressive action to be heard. At the town hall, Sexton made comments implying that NYU's divestment would not have a great impact on climate change and that the issue requires a global effort.
Calling for a university response, NYU Divest member and CAS senior Lila Carpenter said the petition is a new strategy for the group and the hope is to effectively sanction the university who highly values its donations and endowment.
"I think many of us want to be proud of NYU, yet it is hard to be when our endowment — largely fueled by donations — is invested in coal, oil and gas and quite literally profiting off of climate change," Carpenter said.
NYU spokesperson Matt Nagel said the university has heard NYU Divest's demands. Nagel added that carbon emissions have decreased by 40 percent and its electrical usage by 30 percent in the last few years, making it one of the leading institutions in New York City to meet the mayor's sustainability challenge.
Nagel explained funds received from donations are not invested in the endowment, and are instead used to support the operation of the university.
"While every alumnus/a has to make his/her own decision on whether to give, it seems counterproductive that someone would advocate withholding donations when the consequences do not affect the endowment, but do impact important things like financial aid and strengthening our academic programs," Nagel said in an email.
The NYU Divest campaigns have been attracting NYU students who are now aware of the divestment issue and are beginning to get involved, such as CAS sophomore Shounak Ghosh.
"It is great to be part of a community in which a group of individuals is making a sincere effort in the hopes of bringing positive change," Ghosh said. "This issue requires immediate attention and even small, continued efforts can produce big changes."
As the fight continues, Rich said the group hopes to gather many more signatures.

"Those who signed the pledge recognize that continued investment is tacit support for the activities of this industry, such as continued exploration and extraction of fossil fuels as well as lobbying to prevent meaningful action on climate change," Rich said.
Email Ludovica Grieco at [email protected]