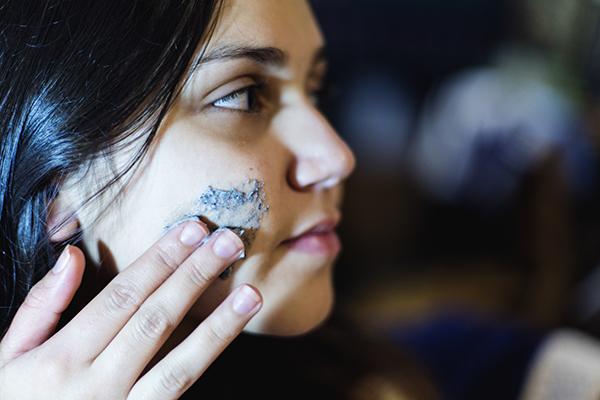 As the crisp fall weather slowly transitions into winter, red and dry skin are abound. There is nothing more disturbing than the sight of dead skin cells flaking off your face, cracked heels or wrinkly hands and fingers. Look no further for tips to keep your skin baby butt smooth and pain-free.
Your face will thank you for pampering it, but most importantly, pick a moisturizer that suits your skin type. If you have oily skin, go for a light, hydrating moisturizer like Clinique's Dramatically Different Moisturizing Gel ($26). The lightweight gel formula seeps into your skin completely and won't leave any residue or oily build-up on your face. If you have combination skin, Philosophy's Take a Deep Breath Energizing Gel-Cream Moisturizer ($37) is a little creamier and will moisturize a little more deeply while still avoiding excess oil.
For people on the drier side, your skin is stripped of its natural oils during the chilly season, so facial oil is your friend. Try Farmacy's echinacea green envy-derived Sleep Tight Firming Night Balm ($48) or Josie Maran's Pure Argan Oil ($48) for an all-natural, long-lasting moisturizer. Since facial oils can make you look shiny, only use them at night and go for a face cream during the day instead.
Don't limit yourself to just creams to hydrate your skin, because masks also get the job done. If you're on a budget, simply create your own DIY moisturizing mask with two tablespoons of Greek yogurt and a teaspoon of honey. You can even add additional ingredients like charcoal or green tea powder for antioxidant benefits or a teaspoon of olive oil for deep skin treatment. Leave the mixture on for 15 minutes, and rinse your face with cold water.
Cracked heels and fingertips are troublesome, but these problems can be easily tackled. Burt's Bees' 100 Percent Natural Lemon Butter Cuticle Cream ($5.99) contains Vitamin E, which has anti-inflammatory properties that will soften your dry cuticles. To treat your feet, first use a foot file to get rid of those pesky dead skin layers. Soak your feet in a warm bath for 5 minutes, pat dry and apply foot cream. Caudalie's Foot Beauty Cream ($15) contains grape seed oil and Vinolevure, a wine yeast that fortifies and strengthens your skin to ensure the epidermis stays intact.
And of course, don't forget to always carry a hand cream because your hands need just as much love as your face and body do. L'Occitane's Hand Creams ($12) fit nicely in your bag and come in a range of delicious scents like cherry blossom or almond. Since all of them contain shea butter, your hands will be luxuriously nourished and wrinkle-free.
Not only does moisturizing daily keep your irritations at bay and avoid turning them into serious skin conditions, but they will also leave your skin smooth, supple and youthful. So never forget your daily moisturizing routine, because you'll want to avoid those premature wrinkles just as much as you want to avoid those agonizing cracks.
A version of this article appeared in the Monday, November 2 print edition. Email Minnie Ongsricharoenporn at [email protected]