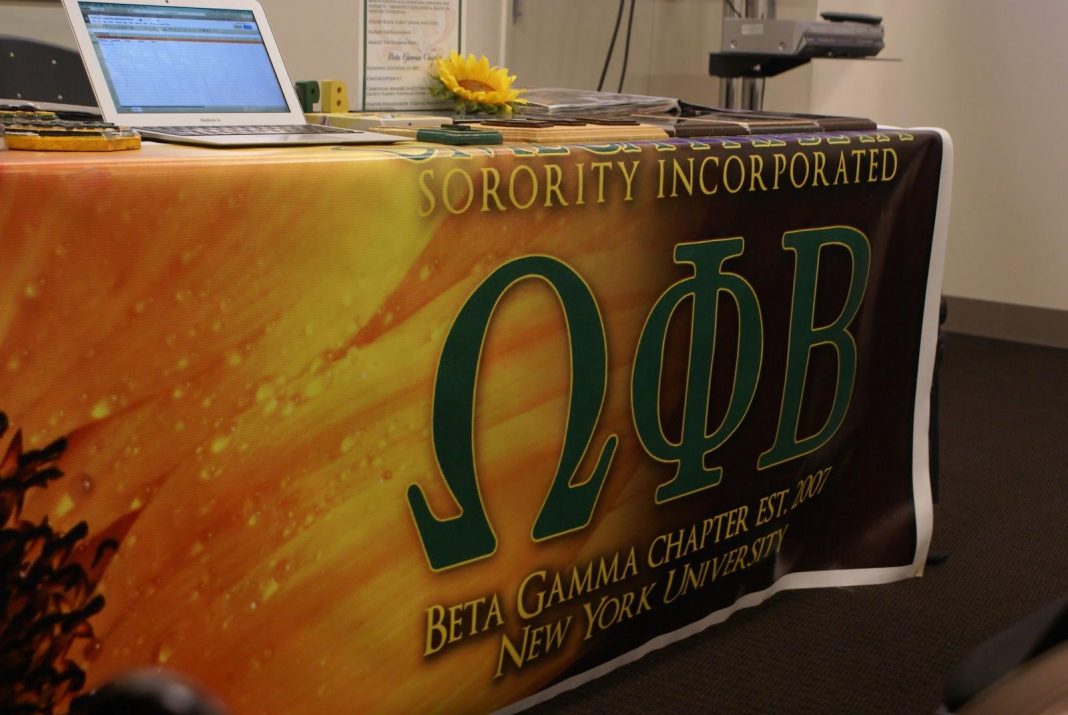 College Greek Life is often associated with unhealthy attitudes toward sex, so for this reason the sisters of the NYU Beta Gamma Chapter of Omega Phi Beta and the brothers of Alpha Phi Delta came together to have an open discussion about hook-up culture and the ever-changing world of sex and dating on Wednesday night.
Silver junior and president of Beta Gamma Lauren Osoria said the event, which was titled "Swipe Left: Let's Talk About Sex," was held in an attempt to promote conversation between men and women in the university.
"We just want people to share their opinions, to open up," Osoria said. "We want to discuss where social media meets sex in the modern day."
The meeting began with Osoria and three other social chairs from Beta Gamma sharing statistics about the integration of technology and social media into love lives. From here, the leaders opened the room up to a discussion headed by open-ended questions exploring the role of Tinder and other platforms in dating.
Turning the discussion over to the audience, leaders posed questions regarding the pros and cons of dating apps. Many students appreciated the easy and quick access to a wider range of potential partners these apps provide, but also recognized certain dangers that come with these benefits, such as catfishing.
Another aspect several students pointed out is that apps like Tinder make it difficult to gauge a partner's true personality, which they said is made easier when meeting in person.
But ultimately, the conversation turned to the social stigma surrounding feminine sexuality. Some students talked about the double standard of men tending to be praised for having multiple partners while women are condemned. Rosanny Guerrero, a junior in the College of Nursing, shared an example of this inequality in real world terms.
"A guy will be talking to a girl, and he'll explain that he'd never date a girl who had been with more than 10 sexual partners," Guerrero said. "But then, when it's turned around on him, he's been with 12. How is that a fair expectation to hold?"
Other audience members, both male and female, shared Guerrero's frustration. Jonathan Ramos, a Gallatin alumnus and graduate of the Alpha Phi Delta fraternity, said there is a flaw in thinking women must be more sexually conservative than men, calling it outdated and unjustified.
"There's no way that people should still hold that mindset," Ramos said. "It's a bullshit social construct."
Despite being frustrated with the social climate surrounding female sexuality, students recognized that improvements are being made. Osoria said because of the norm that Tinder culture presents, groups like women and homosexuals have been able to pursue greater sexual liberation.
"The stigma is changing," Osoria said. "It may just be small steps, but small steps are getting us much further than we were 60 years ago."
Email Raven Quesenberry at [email protected].