NYU goes green with Zero Waste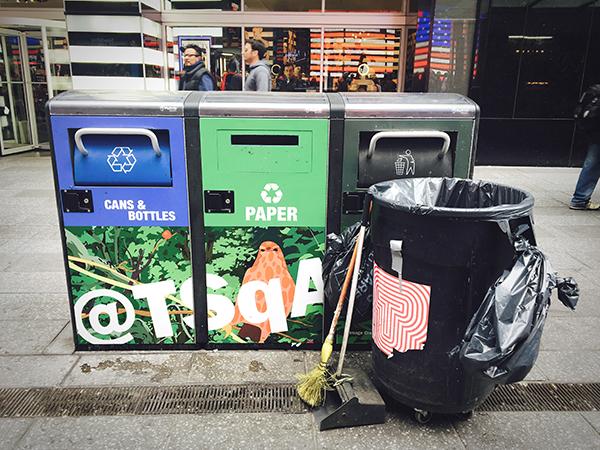 Do you think you could last a day without making trash? Today, NYU is kicking off Zero Waste Green Week, where students will spend seven days attempting to produce little to no waste.
The movement will challenge students to go waste-free from Oct. 19 to 26 and environmental clubs NYU Environmental Coordination Outreach Reps and [email protected] will also be participating. The week will commence with a panel discussion at the Kimmel Center for University Life on trash-free living, which is one of the latest trends
in environmentalism.
According to NYU's Office of Sustainability, the average American produces 1,609 pounds of trash each year. The university alone uses enough paper to make a stack twice the Empire State Building's height. Much of this waste goes directly to landfills, which can cause aquifer and soil contamination, as well as increased methane gas production.
Monday night's panelists are sustainability experts who believe the solution to this problem might be a zero-waste lifestyle.
At its essence, the zero-waste movement advocates consumer consciousness. That means limiting consumption of non-recyclable goods such as plastics and styrofoam in favor of compostable materials and reusable goods such as mason jars, cloth napkins and canvas grocery bags.
Many adherents adopt a DIY approach to home goods as well. Homemade toothpaste, body lotion, and deodorant are common swaps.
Catherine Wright, the director of the ECO Program, said NYU has embraced some zero-waste processes.
"To limit our waste footprint, we make recycling single stream," Wright said." This makes it easier for students to divert their personal waste from the landfill. Similarly, all the big garbage bins in the buffet dining halls are actually compost."
Wright said NYU Sustainability has tips for students looking to do their part, too.
"Students can limit their personal waste by using a reusable bottle, bringing bags and utensils and refusing what you do not need," Wright said. "If you compost food, little trash is produced as long as it comes with minimal packaging."
Several NYU students are interested in the zero-waste lifestyle. CAS freshman Sonia Liu said while she is supportive of the movement, she is also slightly skeptical.
"I think it would be almost impossible for someone to make absolutely no trash," Liu said. "Every time you eat or go to a store, you are going to end up with some garbage. However, reducing how much trash we make would certainly be a good thing."
LS freshman Selin Tekgurler said New York City might introduce additional challenges to a zero-waste lifestyle.
"I have a hard time imaging students being able to maintain this," Tekgurler said. "Being in New York and in a dorm, there just isn't much space to reuse or repurpose something."
A version of this story appeared in the Monday, Oct. 19 print issue. Email Thomas Perocchio at [email protected]