NYU Reacts: Poly becomes Tandon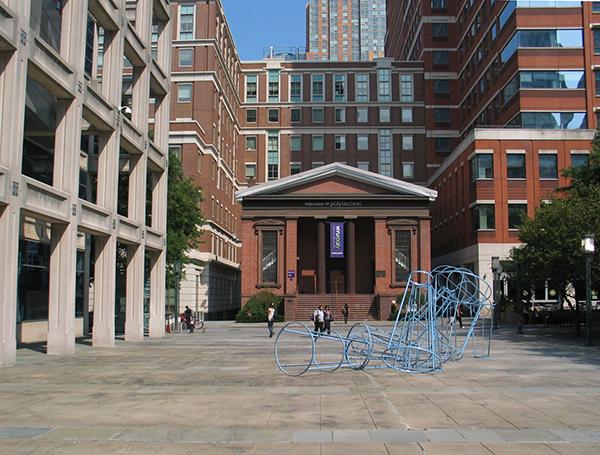 NYU's engineering school has been renamed the NYU Tandon School of Engineering, following a $100 million donation from Chandrika and Ranjan Tandon announced on Monday.
Chandrika is on the NYU Board of Trustees and is an Emmy-nominated musician, while Ranjan runs a hedge fund and has made major contributions to other academic institutions including Yale University. NYU has pledged to raise an additional $50 million for financial aid in response to the donation.
The school, which was founded in 1854, became affiliated with NYU in 2008. Last year, it fully merged with NYU, becoming the NYU Polytechnic School of Engineering.
Members of the NYU community shared their reactions to the donation — and the name change that followed.
"After a day or two of letting it sink in, I don't think it's too bad. I mean, Stern is named after someone, and so is Steinhardt and Tisch, so why not Tandon? It's just going to take some time to stick, and eventually everyone in the engineering industry will be familiar with it and know that it's Poly renamed. But I'm still putting 'formerly Polytechnic School of Engineering' on all my resumes for a while."
–Emily Dethlefs, Tandon sophomore

"I don't really care about the name change as much as I care about what it represents. The fact that NYU is willing to change the name of an entire school due to a financial incentive shows very clearly how this place is run just like a corporate entity whose main goal is profit. They're making it really hard for us students to pretend like their main goal is our education."
–John David, CAS freshman

"I don't believe the name change is worth $100 million. Then again, I don't really think any amount of money would be worth it. That being said, however, I understand the name change, and know that the gift, and even the name change, will do a lot of good for the school. But as a junior, I feel like I'm losing heritage for money that I will personally never see."
–Nico Gonzalez, Tandon junior

"As an outsider, it's going to be a rough transition for a couple of years during school and for the students who are graduating because the name Tandon only has recognition in the music world. But there will come a time that the Tandon School of Engineering will have similar name recognition to Tisch or Stern. We should thank the Tandons for their generous donation, but the administration should try to make the transition as smooth as possible for the students that are in the middle of it."
–Cole Swartz, CAS freshman
"$100 million is a lot of money that I'm sure will be put to good use. This change will better integrate Poly with the rest of NYU — something that Poly kids also complain about, the fact that main campus NYU is a lot nicer than Poly — and it was only a matter of time until it happened."
–James Beck, Tandon sophomore
"Being paying customers, we reserve the right to be mad. We enrolled thinking that we would get a degree from a Polytechnic School of Engineering, a degree that would've had a lot of prestige in the STEM world. Our history and our pride were taken away from us. Until Tandon becomes a household name like Stern or Steinhardt, this name change will cause outrage. Current Poly students who enrolled to a school renowned for previously being Brooklyn Polytechnic, and Poly alumni, whose degrees are now from a school that does not exist anymore."
–Abir Hassan, Tandon freshman
Email the news team at [email protected]