VIDEO: In the Kitchen with CAS sophomore Rachel Stratton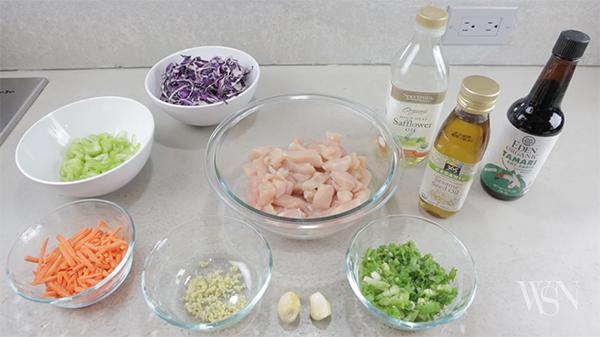 NYU is home to several dining halls with a variety of options. Those living on campus often have kitchens as well, but many students feel hesitant to try cooking on campus and are not sure if it is even realistic. However, CAS sophomore Rachel Stratton studies psychology and finds the time to cook. This year Stratton still lives on campus, but has no meal plan and cooks a wide variety meals on a budget.
"I've cooked all my life because my mom can't cook," Stratton said. "Last year I had a meal plan, but I wanted to cook since I was used to it so much, so I had almost 50 meal swipes left at the end of the year."
Stratton disagrees with the idea that cooking is more expensive or time consuming than eating out.
"When you consider the time it takes to go to a dining hall, order and wait for food, you could cook a quick meal in the same time," Stratton said. "I spend around $60 a week and that gets me breakfast, lunch and dinner. And dessert — because I love dessert."
Stratton usually gets her groceries from Food Emporium.
"I'm used to big grocery stores where you can find all the stuff that's good for you and all the stuff that isn't," she said. "Trader Joe's is nice, but the lines are crazy."
For those who want to quit dining halls altogether, Stratton recommends you start slowly.
"If you have some experience cooking I would try it out while you keep your meal plan," Stratton said. "Then, if you want, you can reduce your meal plan."
Stratton ended up going from 300 swipes to 115.
When looking for easy recipes, Stratton turns to the Internet.
"Definitely check out Pinterest," Stratton said.
Stratton also gets inspiration from food blogs, like Cooking Classy. Check out one of Stratton's favorite recipes from the blog, chicken chow mein, below and see her prepare it in a video online.
Chicken Chow Mein
Cook Time: 30 minutes
Serves: 4
Ingredients:
1 pound chow mein noodles or 8 ounce dry thin spaghetti
1 pound chicken, sliced into 1/2-inch thin strips
1 cup thinly sliced celery (2 stalks)
2 tablespoons vegetable oil
3 cups thinly sliced cabbage
1 1/2 cups carrots, cut into matchsticks (2 carrots)
4 green onions, chopped
1 1/2 teaspoons minced ginger
2 cloves garlic, minced
5 tablespoons low sodium soy sauce
1 tablespoon oyster sauce (or more to taste)
2 teaspoons granulated sugar
1 1/2 teaspoons sesame oil
Directions:
Prepare noodles according to directions on package.
In a bowl whisk together soy sauce, oyster sauce, sugar and sesame oil, and set aside. Heat oil in a wok or large and deep skillet over medium-high heat.
Add chicken and celery and cook until chicken is halfway cooked through, about 4 minutes (the edges of each piece should be white).
Add cabbage, carrots, green onions, and ginger and sauté for about 3 minutes. Add the garlic and cook for 1 minute more, until vegetables are tender and chicken fully is cooked.
Stir in pasta, then pour soy sauce mixture over top and toss to coat. Serve warm.
Note: Chow mein noodles, oyster sauce and sesame oil can be found at an Asian grocery like M2M.
Recipe adapted from Cooking Classy.
A version of this article appeared in the Sept. 28 print edition. Email Kyle Salmon Droppa at [email protected].