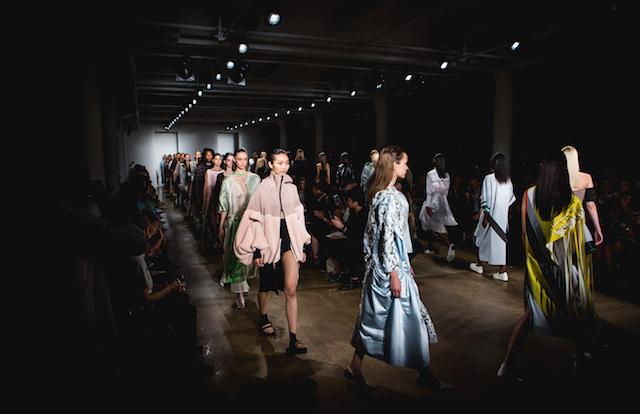 Wednesday, Sept. 16 at 11 a.m. the new generation of emerging talent in the fashion world debuted their final collections for the Parsons School of Design. At Milk Studios the 2015 graduating class of the MFA unveiled their final projects to a room of excited onlookers. The MFA is a highly selective program that was brought into fruition with the help of alumna Donna Karan.
Designer Katherine Mavridis from Australia unveiled a collection of innovative, structured, white knit ensembles. She described her technique as "response to a feeling rather than a tangible object or idea, aspiring to sculpture, form and nothingness."
Designer Liya Liu from China literally took inspiration from trash around the city and created ensembles of red, black and white out of trash bags. Not kidding.
Designer Long Xu from China used intricate weaving which was draped over long and simple dresses and jumpsuits in a Grecian yet Bowery-cool style.
Designer Mayako Kano from New Zealand used photographs from the Meiji period to invoke a nostalgia for fabrics she was sentimental for. Concepts of preservation could be felt as intricate and vintage feeling fabrics were layered between sheer paneling and peaked out from behind larger linen shapes.
Designer Pengji Cai from China, a clear expert in pattern making, used his talents to create impeccable structures and inherently modern shapes. Details and finishing were clear focuses of his which were highlighted by a simple color palette of white, neon yellow and black.
Designer Ryohei Kawanishi from Japan created the most exciting collection of the show, and he was competing with a collection made of entirely trash bags. His first ensemble was a Fed-Ex box parka, a space-bag dress followed suit, and a backpack jumpsuit strutted closely behind.
Designer Shih Hsun Lee from Taiwan was the only menswear designer of the collection. His talents in piping and fabric choice were clear as plaid print was used but also created with intricate piping and embroidery sewn onto well-fittting suits.
Designer Sisi Liu from China was the most romantic of all the collections. Her florals were printed as well as embroidered and structured onto her gowns. The ensembles themselves favored drop-waits and voluminous skirts.
Designer Tainfang Jing from China used a mixture of 2D and 3D "by printing scanned folded paper on transparent film and combining it with the fabric." (Tainfang Jing). Her collection used crunchy, shiny and vibrantly colored fabric to create simple yet intricate dresses and jumpsuits.
Designer Varpu Rapeli from Finland was the only knitwear designer of the show. She took inspiration from Mark Rothko's paintings. Rapeli used abstract color and texture to create a sporty yet elegant collection.
Designer Diletta Cancellato from Italy used a very modest and nude based color palette to create a collection that she describes as "Oversized, undersized and relaxed femininity"
Overall these graduates showed the world that their talents were not the only things expanded upon at Parsons. It was clear that creativity and ingenuity were instilled in each of them. They can all expect to be welcomed into the fashion community with open arms and eager eyes.
Laura Anne Tucciarone is a contributing writer. Email her at [email protected]