Robert Geller Fall/Winter 2015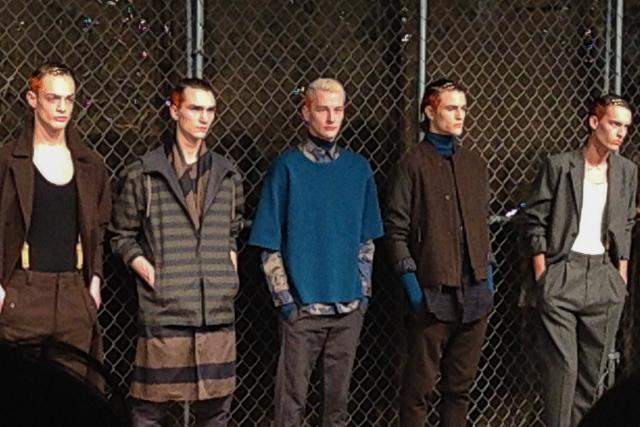 Anubhuti Kumar
The crowd was already abuzz even before Robert Geller debuted his daring new menswear collection for the Fall/Winter 2015 season with the arrival of Kim Kardashian and Kanye West about ten minutes prior to the show. The show started with a sudden blackout of the dim lights only to come back in bright white. To the fast-paced, exciting music the models started walking.
The models all wore their hair slicked back with an orange highlight on one side, bringing together sophistication and a bit of confident whimsy. Inspired by the Nadi brothers, famous for their Olympic level fencing skills in the 1920s, the collection had "a sense of comfortable sportiness."
The outfits ranged from loose layers over shirts to suits in dark colors with bright accent in ties and shirts. The suits stood out as hip and stylish, especially the dark grey suit paired with a red patterned shirt. The suit jacket was relatively loose fitted and long, reminiscent of a 1920s trench coat
A long black coat paired with a beige shirt and dark pants embodied a modern classic. And the bomber jacket made an appearance in the form of a more weather friendly parka. All in all, Geller brought an exciting modern, daring, and hip take on some classic menswear styles.
Email Anubhuti Kumar at [email protected]