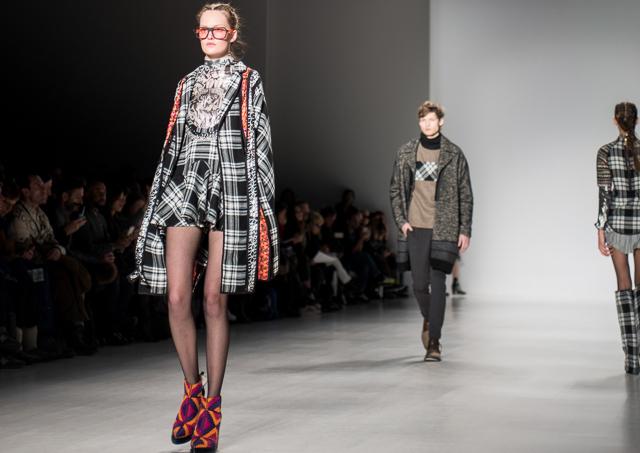 Custo Dalmau's Fall/Winter 2015 Collection illuminated the runway with its strong use of vibrant tones and eclectic fabrics. Dalmau spent his childhood and adolescence in Barcelona, inspiring him to utilize the ambiance of the vivacious, spirited city in his latest collection.
The show consisted of pink lights and electronic dance music-restating the position of the brand as a hot, stylish label. This season, Dalmau integrated bold pops of color and shapes in his designs. Towards the beginning of the show, the collection consisted of mainly of black and white prints. Then hints of rich color gradually took over which later embodied the majority of his pieces.
There was a consistent tone of long, draped skirts and sweaters. In addition, he often incorporated frills and unique cut outs. This proved to be an ongoing statement in his latest collection. One of the pieces that particularly stood out was his patterned, mismatched dress that incorporated clashing patterns and palettes into one stunning ensemble. The deep back cut outs gave the final chic edge to the outfit.
As a label known for the club scene and fabulous lifestyle, Custo Barcelona brought the dance floor to the streets in his latest ready to wear collection. Dalmau integrates diverse patterns of fabric mainly in the shirts, sweaters and dresses. Once again, Custo Barcelona has dominated the runway with his striking prints, vivid use of color, and effortless style.