A Detacher Fall/Winter 2015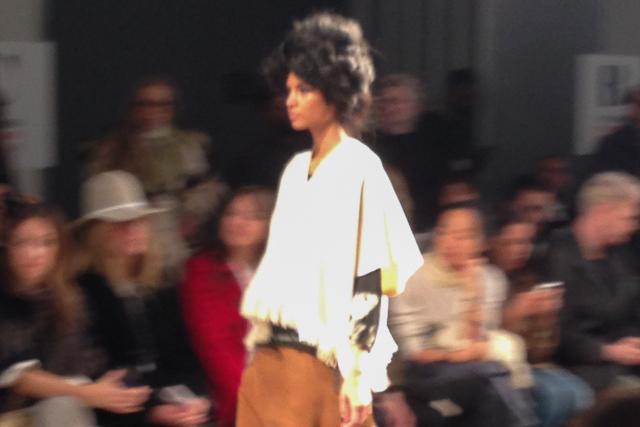 Rustic chic. Amid dramatic tinkling music and bright lights designer Monika Kowalska presented her latest collection for the A Detacher Fall/Winter 2015 season. Heavy on long sweaters and an abundance of wool, Kowalska brought the room exactly what it needed in this chilling weather: a little warmth.
Long loose cardigans and jackets seemed to project a sense of effortless confidence. The collection consisted of muted earth tones in browns, grays, and greens. These hues made each ensemble appear cozy while never compromising on style.
Halfway through the show the pieces went from long sweater dresses cinched with belts, matching wool top and slacks sets to more flowing items in brighter chiffon fabrics. A loose fitting turquoise dress stood out. Stunning as it was elegant, the dress fell just below the knees. A perfect length adjusted for the winter wind with black tights and heeled booties.
To dramatize the otherwise understated quality of these designs, the models all had huge braided updo wigs, contrasting well and bringing balance to the otherwise innocent and conservative outfits.
Altogether a unique show that balanced drama and simplicity, this collection had it all. Unwavering from her rustic, vintage look Kowalska seems to have carved out a niche in the fashion industry that only A Detacher can fill under her creative direction.
Email Anubhuti Kumar at [email protected]