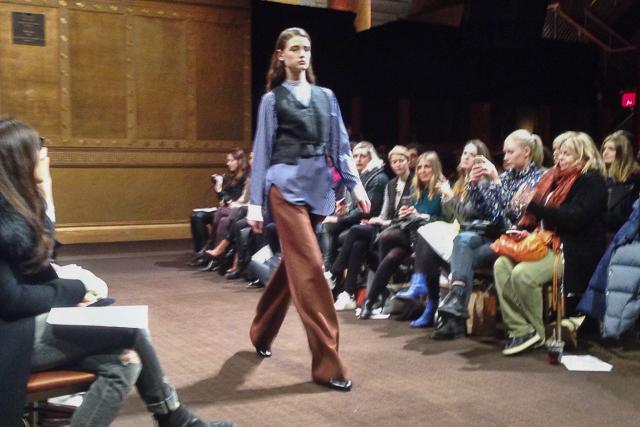 Staying true to its name, the models for Creatures of Comfort paraded onto the runway decked out in loosely structured outfits composed of soft cashmeres and silks. With this collection, "Getaway", Designer Jade Lai has taken the romantic notion of heists and Hawaiian retreats to a whole new level.
"The initial inspiration was the bank robbery meets Hawaiian getaway," stated Lai, "I've kind of wanted to do something that was very menswear but at the same time, I've been trying to weave in this Hawaiian theme. I really wanted to do a Hawaiian print, so this season I just thought I couldn't wait any longer. So I just basically meshed the two."
With menswear bleeding more and more into women's fashion, this collection perfectly puts together the dualism between the structured menswear and the flowing aesthetic of beach loungewear. Some looks paired oversized blazers with loose ankle-length trousers, while another paired a baggy navy sweater with a relaxed floor-length navy skirt of the same sweater material.
The menswear really shone through as each model wore different variations of men's loafers. However, many had a chunky heel, which once again integrated the masculinity with the femininity. The nautical ease of the holiday vibe was brought out by the reoccurrence of a graphic checkerboard pattern, whether with a bold midi-length robe-like dress or popped on top of the tassels on a pair of loafers.
When asked about the meaning behind the name of the brand, Lai smiled and answered, "People always tend to go for things that are not so hard. They just want to be comfortable and they're drawn not just to comfortable clothes but also things that would give them comfort. Like good friends or familiar place or familiar surroundings. And then when you have comfort, it kind of exudes confidence."
Recently, we have become increasingly more fast-paced as we slave away as creatures of work, but a bit of the relaxed glamour style can ease us back to creatures of comfort.
Email Brenda Liu at [email protected]