Songs teach Ebola prevention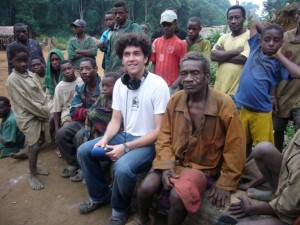 Carlos Chirinos, a visiting professor at the Steinhardt School of Culture, Education and Human Development, has been working to combat the Ebola epidemic with the aid of an unlikely ally: music.
Chirinos, an instructor of music business, researches how music can influence health behaviors and promote social change. Recently, he has gained publicity for his work with artists in West Africa who are spreading awareness about the Ebola epidemic through their music.
"One of the biggest problems in this Ebola outbreak is misinformation and popular fake cures being offered by churches and other so-called healers," Chirinos said. "There have been cases in which medical teams have been attacked by entire villages fearing the doctors and nurses wearing spacesuits have come to kill them. The song sends a clear message: trust the doctor, do not believe in myths and fake cures."
The songs themselves have been produced with the support of UNICEF, the Ministry of Health and Social Welfare in Liberia and some international nongovernmental organizations, as well as through independent initiatives. They have mainly aired on local radio stations, and through online platforms such as YouTube and SoundCloud.
"Radio shows are part of everyday life as people listen while they drive, cook or doing other activities, and radio DJs are trusted voices in the communities," Chirinos said. "Radio stations in Africa broadcast local indigenous languages, traditional music and presenters speak in plain non-scientific language."
CAS sophomore Will Goedel said how widespread and deadly an epidemic will be depends on what tactics are taken to prevent the disease and educate people on ways to avoid contracting it.
"Education about the epidemic is vital to break these barriers down," Goedel said. "Tailoring public health interventions and education modules to specific cultures has shown to be effective in reaching certain religious groups in the United States, so a message from a Liberian artist to Liberians could be a start."
Chirinos' favorite track, titled "Ebola In Town," is by Shadow, D-12 and Kuzzy of 2kings, all artists based in Liberia. He cited the lyric "Ebola is more than HIV/AIDS/It can kill you quick quick" as especially significant.
"I think this line in particular is very important because it compares Ebola — which is a very recent and little-known disease — with AIDS, which is known and embedded in people's consciousness," Chirinos said.
He emphasized that musicians' ability to present information in a catchy, easy to understand format is a huge advantage when spreading awareness about ways to prevent the spread of Ebola.
"Most diseases can be stopped if people change their behaviors about sanitation, hygiene and protection," Chirinos said. "Songs can contribute to this change in behaviors as the reputation of the artist is associated with the messages they relay and reinforces its meaning."
Chirinos is currently co-producing a song expected to release in the coming weeks, backed by a television, social media and press campaign. Promotion from the media in West Africa, Europe and America is expected. A video clip, to be disseminated online, is also being produced.
"I believe artists should be more aware of their role in communicating messages of important value to society and how they can work with the scientific community and media industries in designing innovative messages that aim at improving our quality of life," Chirinos said.
A version of this article appeared in the Monday, Oct. 27 print edition. Email Sam Del Rowe at [email protected]