Pumpkin spice latte makes early arrival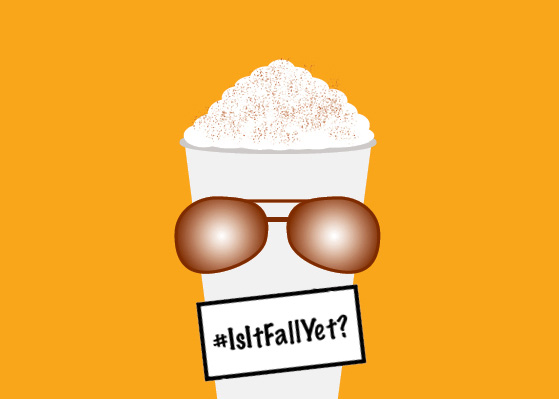 Cozy hoodies, jeans and walking to class surrounded by colorful foliage sounds like the picture of a perfect fall day. However, this scenario now seems incomplete without a pumpkin spice latte from Starbucks in hand.
The pumpkin spice latte, a specialty coffee drink exclusively available during the months of October and November, was introduced in 2003 and has since steadily gained in popularity. In the past few years it has attracted an almost cult-like following. Every year the release date heralds salivating pumpkin enthusiasts and creates excitement for the upcoming fall season.
"They are great," LS freshman Jessica Rahmoune said. "I love them and look forward to them every year."
Though the latte is undoubtedly popular, not everyone is impressed with the now-iconic beverage, including Steinhardt freshman Emily Wilson.
"I personally do not like them because whenever my friends have them, they always have orange coloring on their teeth," Wilson said.
There are even some people who have never tasted the famed latte, yet who are skeptical of the pumpkin-flavored drink.
"I've never tried it, but my friends have and they hated it," CAS freshman Shamsah Al-Ali said. "Personally, I don't get the hype. It seems overrated to me."
This year, Starbucks decided to experiment with their business model by releasing the highly anticipated latte on Sept. 2, a month earlier than usual. The drink was made available at select locations as early as Aug. 25.
With this change, there has been some concern that the popularity of the famed drink may subside due to the lack of exclusivity. If fans do not believe they have limited access to the fall-themed coffee, they might not feel the same urgency to consume it, possibly leading to a downgrade in its cult status and a dip in sales.
LS freshman Sara Yu said she does not think the demand will be affected.
"Honestly, I doubt [sales will decrease] just because personally I was disappointed when pumpkin spice lattes went out of season," Yu said. "The demand is definitely there, [and] supply is just finally starting to meet it."
Another change this year is that Starbucks is now serving a new iced version of the latte. Starbucks' decision to release the iced version is surprising as the release of the drink traditionally coincides with the coming of cooler temperatures.
"It's probably a good idea since the flavor is being released earlier and it's still warm and technically summer," Al-Ali said.
Though temperatures may still be stifling and people may be donning shorts rather than sweaters, pumpkin spice lattes have arrived.   
A version of this article appeared in the Tuesday, Sept. 9 print edition. Email Anubhuti Kumar at [email protected].