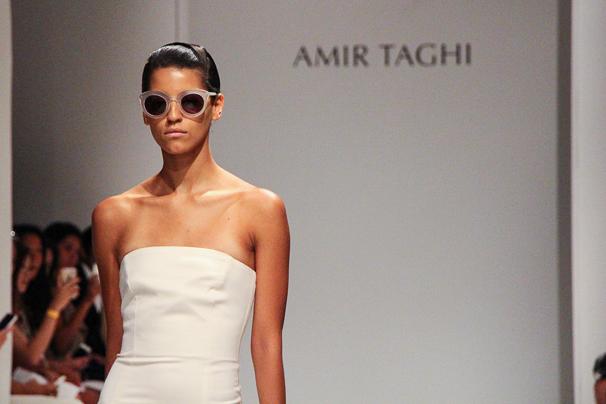 As the lights lowered and Disclosure's "Defeated No More" began playing, Amir Taghi unleashed a world of chiffon and satin for his S/S 2015 collection.
The collection had a very cool look, using light pastels, lilacs, baby blues and ivory. The clothing itself was simple yet sophisticated.
"I was trying to portray someone who is really fierce and not afraid to show who they are," Taghi said in an interview for Washington Square News.
Taghi found inspiration in strong female figures such as Bianca Jagger.
"[Jagger] was not afraid to wear tuxedos," Taghi said. "She was very very confident in what she wore and didn't care about what people thought."
Taghi showed this influence through lace jumpsuits and a fuchsia tuxedo-pant set that had a strong impact on the audience.
Premiering for the first time at New York Fashion Week, Taghi expressed his happiness and excitement.
"I think we've done a really responsive collection, so I'm really happy," Taghi said.
Before premiering at NYFW, Taghi interned at Oscar De La Renta, accenting halter and bustier dresses with De La Renta-inspired appliqué and embellishment.
The models wore softer, more natural makeup, with slicked back hair to keep focus on their pieces. Some donned a pair of round sunglasses with thick black and white frames.
While the collection was more casual than some other Spring/Summer lines, this marks only the start of Taghi's career in New York.
Although he is young, Taghi's ambition and talent have proved him to be an up-and-coming artist in this fast moving world. His S/S 2015 collection will be one of the many incredible ones to come as he moves up in the fashion industry.
Email Jenny Neufeld at [email protected]