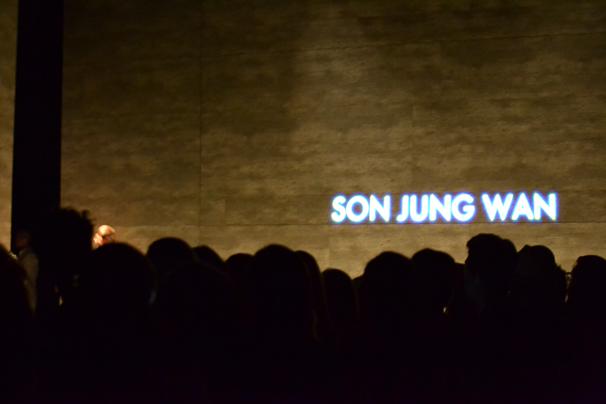 In her latest collection for Spring/Summer 2015, Son Jung Wan created a perfect harmony reminiscent of the Yin and Yang found in nature.
The collection began with rich, vivid colors inspired by natural elements before gradually moving toward brighter, showier color palettes. First, models were adorned in shades of blue, green, and berry, accented only with an occasional gilded line or patch of sheer fabric for embellishment. As they strut the runway in all-white ensembles sweetened by Son's use of chiffon and soft linen, it seemed as though all the previous color had faded away. But as the music intensified and the show neared its close, Son brought back her bold colors from the beginning in an even more daring fashion through sequins and total iridescence.
Entitled "Dualism," this collection marred contrasting elements to create a sense of impeccable balance. Bright, bold palettes were tempered by the gentleness of details inspired by Son's Korean roots. Rough fabrics such as hemp and mesh counter the unrestricted, soft silhouettes.
Throughout this newest collection, Son truly showcased her eye for clever detail. Just by adding the simplest amount of decoration – a jewel-encrusted back zipper or a line of gold fabric cutting through a sheer mesh sweater – Son created a collection that was beautiful from every angle.
One particular standout look – a multi-colored sequined jumpsuit – served as the show's closing piece. The lights and music faded to an end. The sequins flickered and bounced, leaving a trail of light as each spectator strained to grasp one final glimpse before the show's close.
Email Avery Chang at [email protected]