Ives' 'Heir Apparent' succeeds beyond obvious laughs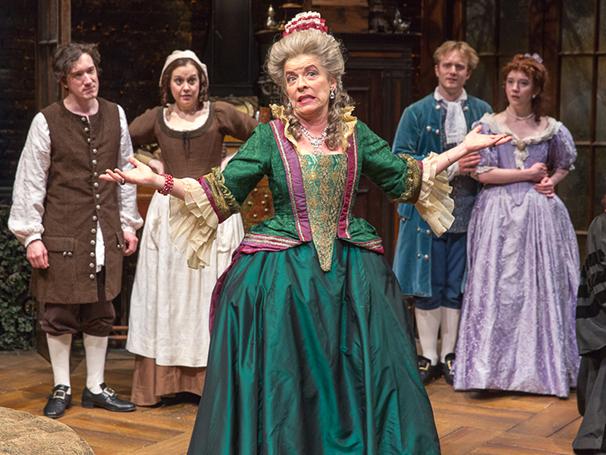 Most dramas on stage, as in life, can be traced back to love or money. When these themes are combined with both high and low comedy, as well as good acting and a gorgeous set, audiences are certain to head home happy. Until May 4, such an experience can be enjoyed at the Classic Stage Company.
From the prolific pen of playwright David Ives comes "The Heir Apparent," a play adapted from Jean-François Regnard's French farce "Le Légataire Universel" from 1705. Written entirely in rhyming couplets, the production is ideally suited to actors who can have fun on stage, and director John Rando's superb cast fulfils this requirement.
Visually set at the turn of the 18th century, Ives' language playfully jumps between archaic and modern, using puns and witticisms at every turn. The plot revolves around a marriage and a dying man — the former is referred to as a "holy matri-money," while the latter quips about his illness, calling his coughing fits "great expectorations."
In the play, Geronte (Paxton Whitehead) is a regular old Scrooge to his nephew Eraste (Dave Quay). Geronte needs to write his final will and testament, and Eraste must convince his uncle to leave the entire legacy — over 1 million francs — in Eraste's name, so that he can marry the lovely Isabella (Amelia Pedlow).
Geronte has a plan of his own, and it is more horrible than anything Eraste could have predicted. He is going to marry Isabella himself, and leave his nephew nothing but a piddling sum to live on. To fix the situation, Eraste enlists the help of his servant Crispin (the hilarious Carson Elrod) and Geronte's nurse Lisette (Claire Karpen).
Hilarity and wordplay ensue, including clever anachronistic references that could have been jarring had the excellent cast not been playing to a receptive crowd. The servant-and-master duo, Crispin and Eraste, call each other Kimosabe and Tonto. Other references to American history and politics are especially funny, since at the time the play takes place, the United States did not yet exist.
These sophisticated witticisms are not the only comedic elements on display in "Heir Apparent." The great 17th-century comic playwright Moliére was a great influence on Regnard, and this impact is visible in the frequent cross-dressing, impersonation and pairing up of every player. As Crispin asserts after he has plotted the perfect plan, "I don't care what anyone says — I'm a one-man comedie française."
The Classic Stage Company hosted a mostly young audience befitting the trendy location — a thrust stage situated behind the Everyman Espresso cafe — and luckily the show appeals to all ages, as long as the audience is irreverent enough to keep up with Ives' wit.
"The Heir Apparent" is playing at the Classic Stage Company, 136 E. 13th St., through May 4.
A version of this article appeared in the Tuesday, April 8 print edition. Clio McConnell is arts editor. Email her at [email protected].