Up-and-Comer | Catherine Geller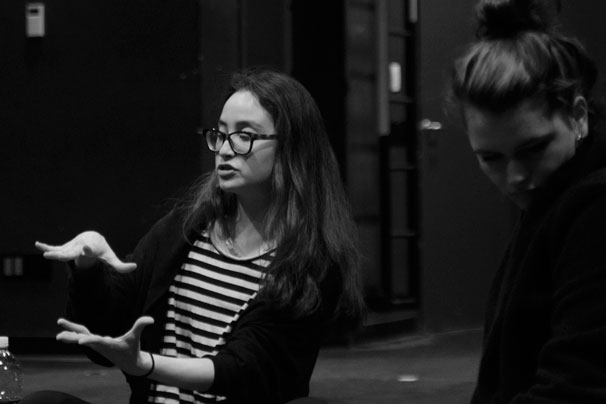 It might be old news at this point, but the entertainment business is tough to cope with. Expectations are high and tensions are higher, with everyone trying to fit a part and be someone they are not. But Tisch sophomore Catherine Geller puts it in simpler terms.
"We're in the entertainment industry, and it's shallow," Geller said.
Geller, a musical theater major, has struggled with her personal image since high school and recognizes that this has much to do with the lifestyle of a performer.
"A lot of people wind up unhappy in this industry," she said.
Speaking about her self-consciousness in the past, Geller expressed concern that the general population does not have enough understanding about issues like mental instability and emotional disorders. Upbeat and down to earth at the same time, Geller's multifaceted, high-energy personality embodies the passion needed to raise awareness.
Geller wants to use performance to turn a mirror on the entertainment industry itself. Her first step toward this goal was founding the Unmasked Theatre Company.
Unmasked, a musical theater company for social change, aims to raise money and awareness regarding the stigmas that surround mental illness. Geller established the group in the fall of 2013 with her close friend John Bautista, a Steinhardt sophomore.
Like Geller, Bautista had always been interested in community service, so the pair set out to create a new way of addressing important social issues. Contentious topics have been explored before in straight theater and experimental performance art, but Unmasked is going where few activist troupes have gone before — into the realm of musical theater.
"[The company is] something that can be an outreach program that includes our art and our talent and our craft," Geller said.
With her lithe grace and enthusiasm, it is clear that Geller is a dancer. Having just come from the first half of an all-day dance class, she conveyed her flexibility and openness in both her posture and words. She is a dreamer — some of her life goals include playing Elphaba in "Wicked" on Broadway and hosting a talk show, Oprah-style.
For now, though, Geller is content with her theater company. Unmasked held its first event, a cabaret and fundraiser, in early March. The performance, "Role of a Lifetime," set out to introduce the company's mission to reveal and discuss important social issues, like depression and anxiety.
"[It was] a benefit concert that defied stereotypes like racial barriers, gender bending, all of that," Geller said.
One of the biggest challenges Geller has faced as the founder of Unmasked is her vow not to perform in the troupe herself. Taking the role of director and organizer is contrary to Geller's enthusiasm for the stage — she recalls several occasions where she has been asked to tone down her energy in certain roles. Nonetheless, she enjoyed the trial of staying backstage during "Role of a Lifetime."
Though Unmasked's social justice angle is a bit heavy, Geller said she is not trying to make viewers feel depressed or intimidated.
"Our goal is to reach a mainstream audience," Geller said. "But I don't want it to be preachy, because that doesn't help."
The end goal is to inspire people, and to do this Geller said it is necessary to appeal to a large demographic.
"Inspiring other people helps me," Geller said. "It's weird to be my age and realize that I can make a change. I can make a difference."
Geller said she hopes Unmasked will one day make it to Broadway and is ready for the challenge. She said she does not let challenges put down her spirits and faces each one with a positive outlook.
Geller's instructors and friends said they recognize the potential she holds and have deep admiration for her optimistic outlook.
"Catherine looks for the best in everything," said Michèle Ivey, Geller's voice teacher in Tisch. "While living a purposeful life, she believes in doing and being good."
Capathia Jenkins, a Broadway performer and mentor to Geller, said Geller's positivity and perseverance will serve her well in the future.
"Catherine is destined for greatness because she already has a strong sense of who she is, which is paramount in this business," Jenkins said. "She also has a heart and soul to be of service in our society — she will create opportunities where there are none."
Geller has big goals for Unmasked and knows it will continue to grow.
"I want [Unmasked] to be a company that exposes a lot of issues, not just mental illness," Geller said. "But that's where we're starting, and I think that's a hot topic right now."
— Clio McConnell