Pearl Theatre Company mounts faithful production of 'No Exit'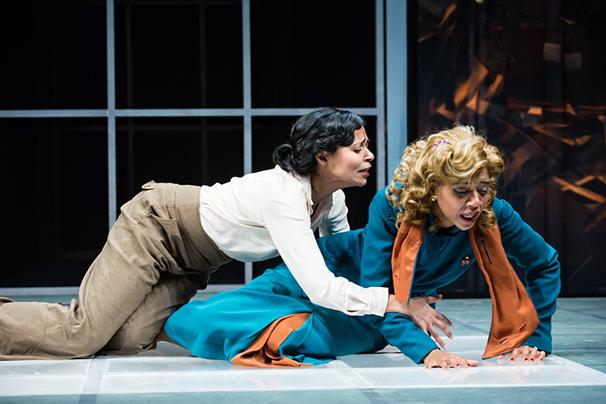 Most people who believe in Hell agree that it is a place of constant suffering. But Jean-Paul Sartre's classic play "No Exit" defies those who think a devil with horns and a pitchfork is causing the suffering.
"No Exit" is not a hellish piece of theater. Rather than being a pain to sit through, the play is quite entertaining to watch. This existential drama focuses on the damned, specifically three recently deceased "guests" who have just checked into the lodgings in which they will endure a torturous afterlife.
When the play begins, Cradeau, Inez and Estelle — played by Bradford Cover, Jolly Abraham and Sameerah Luqmaan-Harris, respectively — are as much strangers to each other as they are to the audience. Over the course of 100 minutes viewers watch them become intimately acquainted, discussing their crimes and regrets in excruciating detail. They come to terms with death in very different ways, but each character is ultimately resigned to his or her fate in the end.
Their journey is an interesting trajectory to witness. To accept one's own damnation is an emotional rollercoaster, and these actors present an impressive array of passions, from fear to fury to frustration. The problem is that audience members are not asked, or at least not convinced, to identify with any of the characters on stage.
Although many plays involve nothing more than a sparse set and several people onstage yelling at each other, they pack more punch than "No Exit" does. Edward Albee and Tennessee Williams use the living-room drama format to depict tense interpersonal relationships, and their realism hits harder than Sartre's figurative presentation.
Director Linda Ames Key shows the audience an awful situation and tells them how awful it is. The scenario presented is very clearly Hell — Sartre's script hits viewers over the head with the location, making sure they do not mistake it for Earth. And yet this somehow detracts from the horror of the situation, because they do not have to internalize that horror.
When "No Exit" premiered in 1944 Paris, the concept "hell is other people" was a revolutionary one. Sartre presents a version of eternal damnation that could apply to anyone — there are no specific levels of hell for different crimes. In this torture chamber, "the customers serve themselves."
However, in the Pearl Theatre Company's mounting of "No Exit," which is wholly faithful to the script, it seems as though Hell is one specific room. Locked into their cage of debris — in a set brilliantly designed by Harry Feiner — Inez blackmails, Estelle preens and Cradeau does his best to ignore them entirely. These people are so self-obsessed that the audience members are caught up in them, forgetting to consider what they would do if they were put in the characters' places, as Sartre intended.
Perhaps this play is too familiar, with most audience members knowing Sartre's intent before the curtain goes up. This allows directors to present scenes in a shallow or literal way, even while deep questions are being asked. In this day and age, "No Exit" is a thoroughly entertaining exercise in gallows humor, but it has nowhere near the same shock value as the original production would have.
"No Exit" is playing at the Pearl Theatre Company, 555 W. 42nd Street, through March 30.
A version of this article appeared in the Wednesday, March 12 print edition. Clio McConnell is arts editor. Email her at [email protected].