NYU to sponsor Gordon Brown's commission on human rights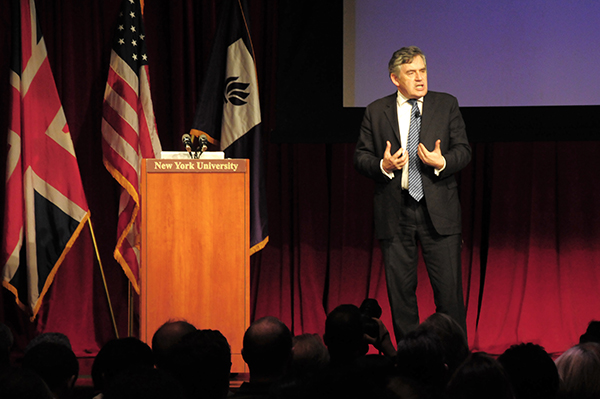 Former U.K. prime minister Gordon Brown, who has been a distinguished global leader for NYU since 2010, is spearheading a commission to investigate whether updates should be made to the 1948 Universal Declaration on Human Rights. The first meeting of the Global Citizens Commission will take place on Oct. 18 at the University of Edinburgh.
Even though the inaugural meeting is taking place in the United Kingdom, NYU will play an integral role in the work of the commission in examining the post-World War II document that provides a standard for human rights globally.
"[NYU's] Global Institute for Advanced Studies has helped to establish and provide the necessary funding for the Philosophers' Committee, whose work is providing the intellectual underpinnings for the Global Citizenship Commission," said NYU's deputy president Diane Yu.
Yu said several NYU faculty members and administrators are serving on the international commission or helping to manage its activities and securing outside funding to support the commission. They will be joining a number of world leaders such as Myanmar opposition leader Aung San Suu Kyi, as well as professors from Princeton and other universities.
The Philosophers' Committee, which will lead the intellectual considerations of the commission, is led by Jeremy Waldron, a professor at both the NYU School of Law and Oxford University.
NYU President John Sexton, who is also serving on the commission, stated that the commission's goals line up with NYU's expanding global presence.
"We think NYU, with its unequalled global presence, its network of academic sites and its diverse group of students and faculty, is especially well suited to support the commission's activities," Sexton said in a press release.
Malala Yousafzai, a young girl Pakistani who rose to fame after being shot by the Taliban because of her activism for female education, will be a guest of honor at the Oct. 18 meeting. Yousafzai is also scheduled to deliver a speech. Yu said a select group of students at NYU London will be able to attend the event.
CAS sophomore and politics major Natalie Jean said the declaration should be reviewed by modern-day leaders.
"It's not much of a surprise that the Universal Declaration on Human Rights is currently in the midst of debate," Jean said. "Violation of human rights is not something that just happened during [World War II]. It's happening everyday, and if it is not discussed then history will be repeated. We do not have the option of staying silent. We are the Malala Yousafzai generation."
Yu said the revised document will be submitted to the UN General Assembly for consideration in 2015.
A version of this article appeared in the Thursday, Oct. 17 print edition. Additional reporting by Nicole Brown. Michael Domanico and Nicole Brown are news editors. Email them at [email protected]