Environmentalists protest against Keystone XL Pipeline
Over 400 environmental activists gathered in Battery Park on Saturday to protest the construction of the Keystone XL Pipeline.
350.org, an organization dedicated to solving the climate crisis and reducing the current levels of carbon dioxide in the atmosphere to below 350 parts per million, organized the protest with other environmental groups in the city. The protest in New York City was one of many that broke out throughout the country in a collective effort to encourage President Barack Obama to reject the pipeline.
The protesters started in Battery Park and then walked through the Financial District to Pier 17, chanting and carrying a giant paper pipeline and posters as they went. At the pier the group performed a skit and shared a piece of art depicting the effects of climate change.
Speakers from around the world, including Colombia and Belgium, presented their ideas. One of the 350.org organizers, Linnea Paton, said the group wanted to feature a variety of voices, and she was very pleased with the outcome of the protest, which required over two months of preparation.
Deputy director and director of policy initiatives for WE ACT for Environmental Justice Cecil Corbin-Mark spoke about the benefits of switching to offshore wind energy, including improving air pollution and creating jobs.
"If you want to create more jobs, look to Europe, where offshore wind has created 60,000 jobs," Corbin-Mark said. "Tell Gov. Cuomo now is the time to stop fracking and get more wind power."
NYU Divest member and Tisch senior Blake Sugarman also spoke at the protest to show NYU Divest's support for other environmental campaigns in the city.
"We reject the Keystone XL pipeline, as it represents a 17-hundred-mile-long shackle to a future which we cannot survive," Sugarman said.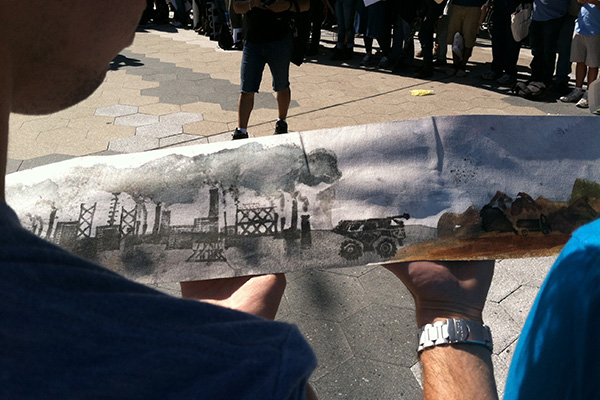 Junior at the William Cullen Bryant High School in Astoria and member of the Global Kids Human Rights Activist Project Amosh Hussein addressed the crowd, saying that the United States needs to set the example for other countries like his native country, Nepal.
"Let's start today by making this change and inspiring other countries around the globe," Hussein said. "If we won't start, then who will?"
New York City resident Jenna Agins, 29, attended the protest and said it is important for people to speak up and hopefully influence politicians' stances on environmental policy.
"Whether this protest comes to anything or not, it's important that we make sure our voices are heard," Agins said.
A version of this article appeared in the Monday, Sept. 23 print edition. Nicole Brown is a news editor. Email her at n[email protected]