Tres Carnes dishes out fresh Tex-Mex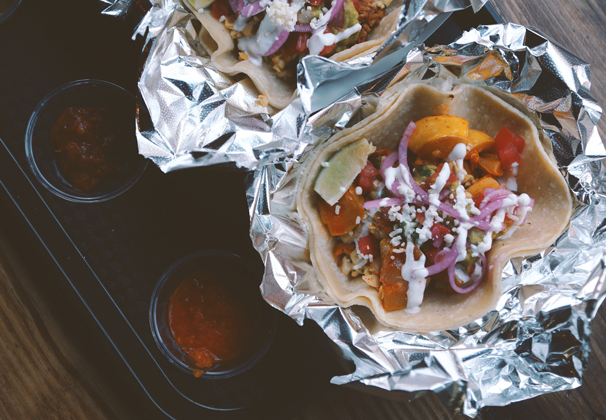 The Flatiron District's newest fusion joint Tres Carnes, which means three meats in Spanish, of- fers Mexican cuisine with a smoky Texan twist. Since its opening on April 16, New Yorkers have already been drawn to this casual restaurant, with lines out the door during lunch hour.
With large, open windows and colorful wall murals, Tres Carnes has a laidback atmosphere. The friendly service and music ranging from classic rock to the latest top 40 hits lend the restaurant a wel- coming, neighborhood feel.
Combined with fresh, flavorful meals, Tres Carnes seems to have all the qualities of a successful establishment.
The namesake's three meats are brisket, pork and chicken. All are prepared using classic Texan hardwood slow-smoking techniques, which bring out unique flavors of Texan-Mexi- can fusion.
Owner Michael Rodriguez de- scribes the food as, "Texas style meats, without the barbecue sauce, mixed with Mexican fare."
"If we had to highlight one of the meats, it would be the brisket," Rodriguez said. "We smoke it for a very long time, 16 to 18 hours."
Menu items include burritos, soft-shell tacos and rice bowls ($8.04 to $8.73). Each comes with a choice of three meats or a vegetarian option, rice, beans and four salsa options varying in spiciness.
Steinhardt freshman Danielle Drumgoole was impressed with the variety of flavors in the food.
"All that time cooking the meat for the dishes really pays off," Drumgoole said. "The food is packed with flavor, and I'm defi- nitely coming back to try more."
A version of this article appeared in the Wednesday, May 1 print edition. Dana Reszutek is a staff writer. Email her at [email protected]