Greek tragedy Hercules adapted for modern audiences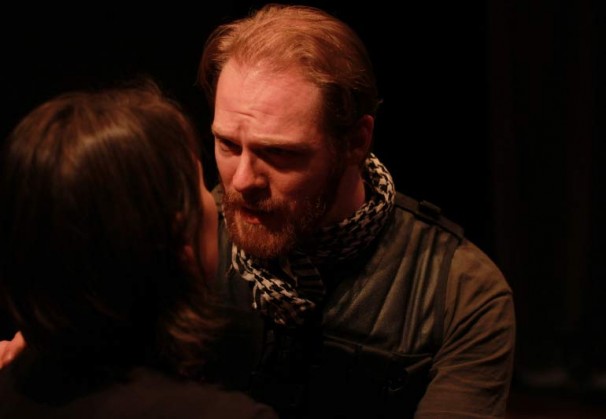 To many people, Greek tragedy may seem foreign and off-putting. But Peter Meineck, founder of the Aquila Theatre Company and professor of classics and ancient studies at NYU, sets out to prove that this is not the case. Meineck's recent production of "Herakles" — translated and adapted from Euripides' ancient Greek by Meineck himself — draws some real comparisons between this mythological hero and modern veterans of war.
This is not the Disney version of Hercules' story — there is no singing, dancing or much laughter. We enter the champion's story from the perspective of his adoptive father, Amphitryon (Arthur Bartow). When Herakles departed to steal Cerberus and rescue Theseus from the underworld, he left his wife (Elizabeth Wakehouse's Megara) and children home in Thebes to live with his father. Many years later, the legend has not returned from his labors and is presumed dead.
With the mighty Herakles out of the way, Thebes faces extraordinary civil turmoil under the leadership of Lykos (Nathan Flower). In order to be the true ruler, Lykos determines that he must kill any vestige of Herakles' family and orders that Amphitryon, Megara and her two children be put to death. Enter our eponymous hero — played by Brent Wezner, not dead after all — to kill Lykos and prevent the murder of his family.
Unfortunately, the story does not end at this happy place. The goddess Hera, who harbors an extreme hatred for Herakles, the bastard son of her husband Zeus, curses him with madness. In his state of insanity, the titular character kills his wife and children, while Amphitryon unsuccessfully tries to stop him. When he awakes from his delirium, Herakles is overwhelmed by grief and a severe case of survivor's guilt.
This is one moment where Meineck draws a strong comparison to the plight of contemporary soldiers. The Aqu-ila Theatre's "Herakles" takes an interesting angle on Greek tragedy, interspersing the action with video clips of interviews with U.S. veterans.
After each scene of the play, the audience is treated to around five minutes of fascinating footage wherein American soldiers talk about their war experiences. These interviews were conduc-ted in relation to the Aquila Theatre's Ancient Greeks/Modern Lives program, which involves using classical plays as drama therapy. According to Meineck, veterans have strong responses while reading Greek dramas, and "Herakles" is essentially a staged example of this.
While only one of the actors — Brian Delate as Theseus — is a veteran himself, the recorded conversations lend a sense of reality to an otherwise unremarkable production. But this blatant comparison to real life comes at the expense of believable acting. When actors' staged experiences of revelation are played next to real emotional moments, it is almost impossible for the players to compare.
In this way, Meineck's "Herakles" is perhaps better viewed as an engaging theater experiment rather than as an underwhelming theater performance.
Clio McConnell is a senior editor. Email her at [email protected].