Sexton addresses issues of financial, social concern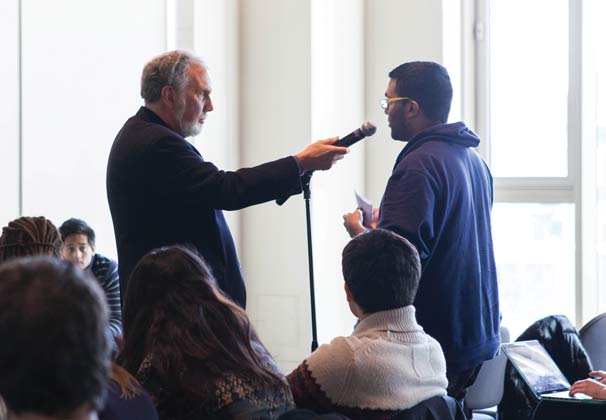 In the last Student Senate Council Town Hall meeting with NYU President John Sexton this year, held in the Grand Hall at the Global Center for Academic and Spiritual Life, students raised questions about the governance of NYU and how the student voice can be heard.
Students were invited to write down questions for the president and place them into one of three jars representing distinct categories: academics, the Global Network University and student life.
The questions were randomly selected out of the jars but most related to the GNU and NYU's expansion plans.
Many of Sexton's responses emphasized the increasingly positive reputation NYU has around the world, the educational advancements at the portal sites, specifically NYU Abu Dhabi, and the ongoing improvements of the global network.
One student received much applause when she asked Sexton to explain the reasoning behind the money spent on the university expansion instead of financial aid to help more students afford NYU's tuition.
Sexton responded by asking the audience not to focus so intently on the word "expansion" and instead think about the necessities of space, explaining that the university needs to spend money on maintaining its facilities and creating new ones to continue to attract students and faculty.
"All you have to do is try to get an elevator at noon in Silver," Sexton said. "Anybody that's had that experience understands that we need space."
He also cited the need to renovate Coles Sports Center and the lack of necessary seating at Bobst Library, which currently has 3,000 seats.
"A university of our size, on best practices, should have 9,000 seats for students to study in the library," Sexton said.
He concluded by acknowledging that financial aid is still a priority, though it cannot come at the expense of university development. He added that financial aid has increased more than tuition since he has been president.
Another question that received applause concerned the lack of the student voice in ongoing university governance controversy among faculty and university administrators.
The president said he does not think the students should be involved in these discussions or have their own vote, claiming that the students do not know enough about him to have a valid vote.
"Probably 90 percent of the stuff you've heard [about me] is untrue," he said.
Some students who attended the meeting said they were pleased with how Sexton answered the students' questions and supported his plans for the university.
NYUAD junior Abhishek Mehra complimented the president for his honesty.
"If he actually didn't have an answer, he didn't make up something," Mehra said.
CAS junior Davis Martin commented that Sexton could have been more concise with his responses, but overall, he said Sexton is a well-spoken individual who has good intentions for NYU.
"I think, by and large, I'm happy with what I've seen him do thus far," Martin said.
A version of this article appeared in the Wednesday, April 3 print edition. Nicole Brown is investigative editor. Email her at [email protected]