Face gems shine as trending accessory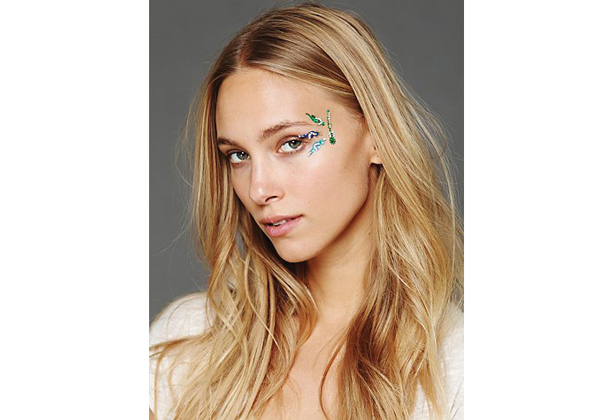 The transition from runway trends to real life can be tricky at times, but not impossible. One of the most recent moves has been face gems, appliqués used as decoration around the eye region of the face.
High-end designers, including Chanel and Jeremy Scott, have used face gems in their runway shows. In Chanel's look, the models placed patches of gems over their eyebrows, while Jeremy Scott took a simpler approach and added gems around the eye and above the eyebrows in a curved pattern.
Celebrities such as Ke$ha and Khloe Kardashian have been seen sporting this look, and musicians Pixie Lott and Grimes use gems onstage.
There are many types of face gems to choose from. Make Up Forever's Strass Face Jewels ($21), available at Sephora, come in a wide variety of colors and can be easily applied with lash glue, which allows these gems to be used multiple times.
Alyse Anderson, a sales associate at Sephora, described these face jewels as something she would recommend and offered ways to style them as well.
"Another product to apply these jewels with is Too Faced Glitter Glue, which is a great binding agent that comes in many different colors, and adds even more sparkle to your look," said Anderson.
When asked if this trend could cause any damage to the skin, Anderson replied that face gems won't clog your pores, since the glues used as adhesive are generally non-comedogenic. This ensures that these stickers won't cause a breakout.
If you believe the small rhinestones are too pricey, a trip to the closest Ricky's will offer a large selection of face gems, ranging in colors and styles, from $4.99 to $9.99. These gems are self-adhesive, creating a quick and easy alternative.
Other low-cost face gems can be found online from reliable brands like Free People and Urban Outfitters with prices ranging from $5.00 to $9.95. These options are especially ideal for those looking for a one-time use that doesn't break the bank.
Although any fashion trend can be seen on the streets of New York City, it seems that the face gem craze will be saved for only certain occasions.
GLS freshman Chloe Chong said, "I've worn them out to a Brooklyn warehouse party. They're definitely cool for going out, but I wouldn't wear them every day."
Face gems can accessorize a fun night out, but this jeweled look can also make appearances at other events such as summer music festivals. One thing is for sure: wherever this trend is worn, it is sure to stand out.
Dana Reszutek is a contributing writer. Email her at [email protected]