Abigail Stewart Spring/Summer 2013
Abigail Stewart, known for her unusual inspirations and intricate textile usage, presented her Spring/Summer 2013 collection this season. Stewart was inspired by Jonathan Strange and Mr Norrell by Susanna Clarkea to create a magical garden. Abigail Stewart worked with artist Justin Pauly to make painting inspired printed fabric. Some of his paintings he created for the collection were shown at the presentation.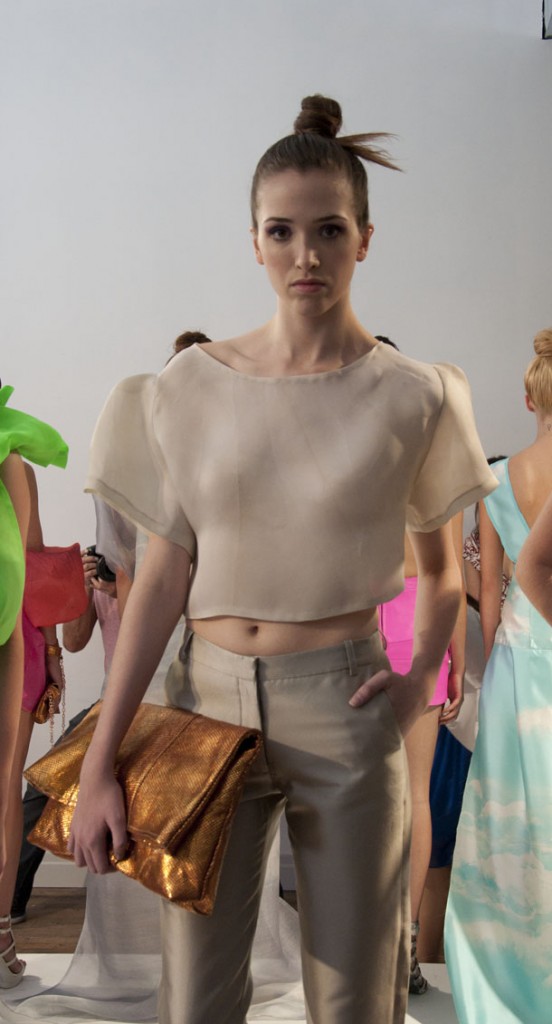 The collection was split into five groupings: The Greenery, The Decorative Fixtures, The Flowers, The Sky, and The Koi Fish.
Models had bright eyeshadow in green, blue and purple, while their hair was done in a smooth top knot with a piece pulled loose.
Silhouettes were each intriguing separately, but lacked cohesiveness. From one-shouldered looks to exaggerated sleeves and dresses with trains to bulbous skirts, the garments spanned a range of shapes, perhaps to show garden diversity. Each piece, though individually eye-catching, was overwhelming as a whole.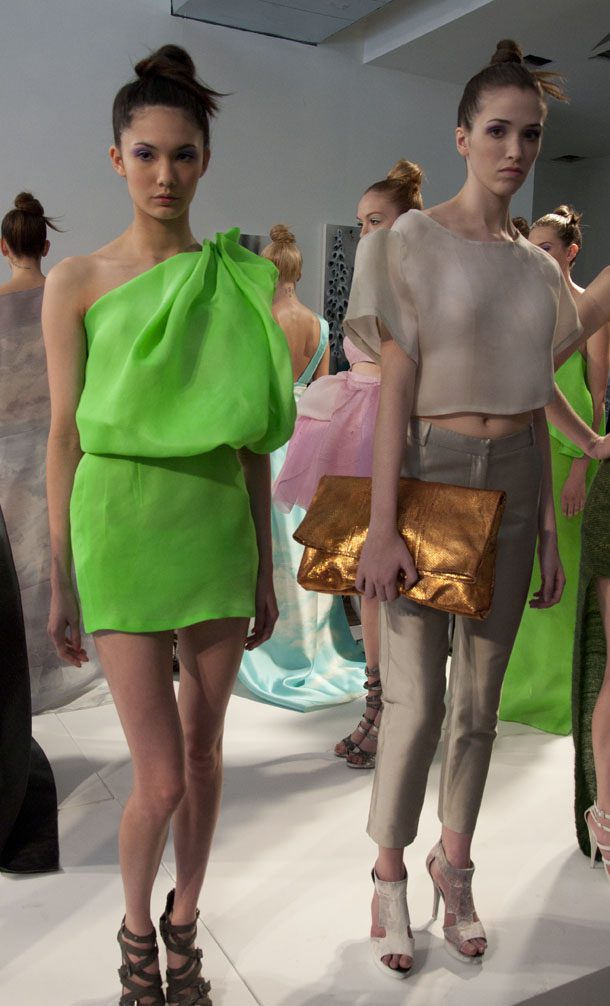 The standout of the Abigail Stewart Spring/Summer 2013 collection were the fabrics and colors. Using bright neon green, shades of pink and light blue, anchored by light grey and a few metallic bags, the color palate evoked spring and summer. The digitally printed dupioni organza, mikado and silk jersey were beautiful fabrics based on Pauly's paintings, that in some instances looked water dripped, while others had flower petal details. The mix of smooth silks with mohair and leather presented contrast and detail. The product of Abigail Stewart's collaboration with Justin Pauly was a tremendous result of visual art meeting conceptual fashion.