Speaking on Life Within the Frame
A dance documentary featuring members of the Tisch Dance Class of 2020 as they offer their thoughts on a creative practice framed by the quarantine.
A Note From the Creator
I remember dancing in the hallway of my dorm building after midnight in mid-February. When I mentioned it at the time, it struck people as odd that I would dance in such a contained space, with an elevator on one side and a bulletin board on the other, barely wide enough to fit an arm span. At that point I was free to dance in a tiny space; now for most it's our only option. As I swirled in and out of the mucky carpet, I chose to be free in not knowing my post-graduate plans, as so many freelance artists do on a daily basis. Yet in the current moment, I realize that we cannot be free to not know; instead, we are imprisoned to not knowing — when friends and patrons and reviewers will congregate to theaters, when backstage dressing rooms will be sweltering in that pre-performance energy, now greatly missed. 
As my fellow classmates and I in the Tisch Department of Dance dispersed following the suspension of all in-person classes, we were not only faced with the challenge of digital dance classes, but digital collaborations — in relation to our Major Dance Concert, which will be streamed May 7 to 9 — but also collaborations beyond NYU which many young graduates use to build professional connections to the contemporary dance world. I invited eight of this year's graduates to join me in an exchange about what collaboration means in times of isolation, when separation has forced artists to adapt and improvise within their creative practice.
In this film, I called for an intersection of our beliefs and our bodies, a collaboration I might normally conduct in the studio with my colleagues, but that now exists from behind the pixels of their frames. I shared hours of conversation about how our lives before this were in a sense versions of quarantine: in New York, for instance, we lived in an elite, often segregated world, from those both inside and outside the NYU community who did not share in our art form. It was always the thought of the next best thing, which most of the time involved something in it for us — a performance, a choreographic opportunity — resulting in a tunnel vision where we only looked inward. Before then, we lived in the comfort of our childhood homes or from behind the glass windows of a local studio, training, which for many has become the new New York. I think landing where we began reversed the tunnel vision but withheld the passion, the motivation for something none of us can live without. In some sort of unspoken agreement, I think we all found that regardless of where we stand in time or place, we can be transported — to where what we do matters most. So even if a film or a dance itself does not speak for what matters, perhaps those on the inside of it can.
The following is an edited transcript of the interviews:
Sarah Lutzky (Encino, CA)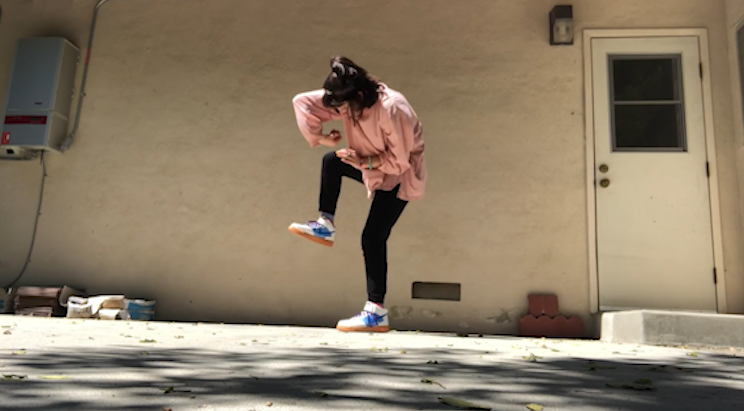 "But starting this week, I've started to miss, like, just sitting around and hanging out with people or like going to the mall, like tiny things that you don't think you'd miss … Environment and energy affects me so much, which I think is why I like New York because it gives me energy, but this gives me a certain kind of energy, almost like a wave of energy instead like a punch of it … And so I think collaboration especially for artists is a great way to remind us each day that we're still humans, we're still artists, we're still dancers, we're still doing the thing, it's just a little different for a little while … It will be easier to immerse myself in an idea or a work because I've spent all this time really having the only option but to immerse myself in one thing at a time. I've been just learning how to be me with that environment."
Liviya England (Minneapolis, MN)
"Improvising by nature, you're adapting to your environment more naturally than trying to do a technique combination … Adaptation is a big part of anyone's life, especially going into college, moving to New York, abruptly moving home … Graduating college is gonna be a whole improvisation. Already graduating with a BFA in dance, there's not a super traditional path that people take … It really forces you to take things day by day, which isn't an opportunity we get a lot of the time … I think there's a lot of solidarity in that and you definitely feel that, whether its scrolling through Facebook and seeing your friends in New York who've also been cooped up in their apartment all day, or just getting in class and seeing everyone trying to do the same things and work through similar circumstances … In order to slow down this whole thing, collaboration is definitely necessary, and has been made clear by many sources. It's kind of beautiful that we're all required to do something that's just slowing."
Sarai Daniels (Charlotte, NC)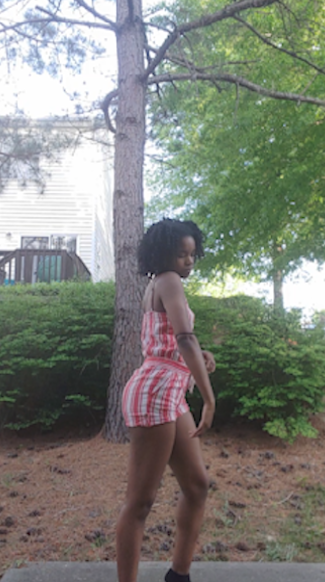 "Someone said that quarantine and lockdown is making us look in the mirror and reflect on who we are and look deeper and more introspectively. Honestly, I don't think it's in our nature to want to bring people down or climb to the top or that need to, like, knock people out of the way to get in front of them, we just feel as though we have to because everyone else is doing it. But now that we're at home and time is kind of paused and we realize that there's not that need anymore, we don't feel that desire to push people out of the way, we want to collaborate more … You don't need a lot of money or a lot of tools to make great work, and I think that now in this space and time, it's really going to exemplify that, how we use our limited resources to express our creativity … I feel like now, since we don't have a set schedule, everything is almost improvised and spontaneous … there is something fresh about you not having to go to work nine-to-five or your school lecture, knowing you can now dictate and direct how you spend your day: if you want to spend your day in your garden, dancing for two hours, that's totally fine, you have no obligations. You get to open your mind and generate new ideas and be more risky and not have anyone to tell you no you can't do that."
Troy Kelley (Stamford, CT)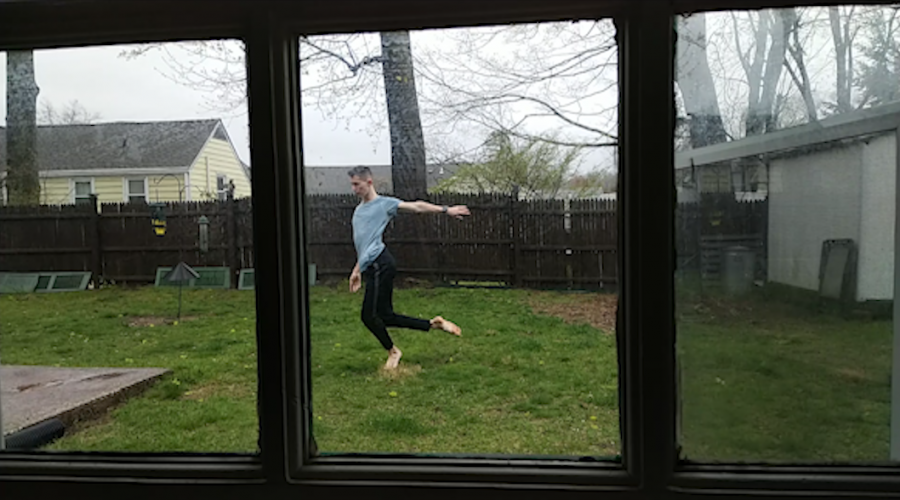 "Where I dance is right underneath a large doorframe by the main entrance of our hallway … If you're in the studio, it's all in one place rather than in those four corners of your computer screen, which is a frame in and of itself … It's really hard to do I guess: to do something full and not full at the same time. I think of taking the lesson of necessity, that you really have to make it work, because the only other option is just not doing it … Honestly our task of what we do is different, so we have to approach it differently … Even though we're stuck inside, I've been trying to stay more connected in the outside world in terms of just dancing outside in nature. I took a bike ride up to a park two weeks ago, and recorded myself doing some improv just because I wasn't in any fancy dance clothes or had any music or invention other than just being and dancing in the space — it was helpful to me to be calm and dance from a very intention-based way. And just kind of breathe and take a look around … I think being separated from one another really brings out from the creator, initiator what is being collaborated on, who they really want to work with and how they work … it's great because it shows us how no matter how far apart we are, we can still accomplish that and make something meaningful."
Ida María Obediente (Panama, PA)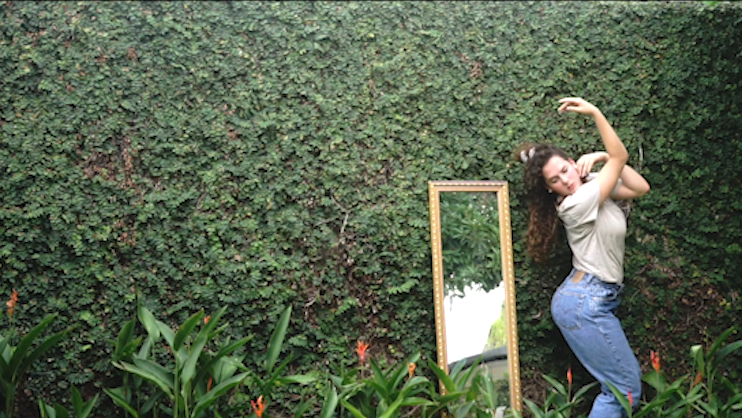 "When working in a virtual reality as we are now in 2020, collaborations only become more important for artists. Collaboration entails communication which has been restricted by not being able to have human physical connections. At this point, artists must become hyper aware of what their physical surrounding has to offer … In order to survive, we must be creative … These adaptations have only made us stronger, and I believe each adaptation is a creative process in and of itself. I find adaptations to be a beautiful part of human evolution, because it pushes us all to be artists."
Israel Harris (Issaquah, WA)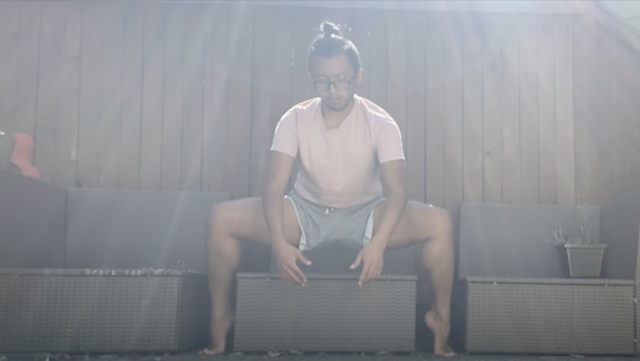 "I think it's easier to get re-inspired when you have information that's not your own … It made me think how much more aware we become of what we have when we don't have it … When you have a medium like dance as we do, to use it as a tool or mechanism to find a sense of collaboration is really useful and unique to people who have something like that … In creation, there are various tools to give yourself restrictions, and a lot of those times restriction allows you explore in ways that feel new and fresh and exciting. Basically taking something away allows the input of something else … Dance wise, still trying to move every day and do something, for me that's where my spontaneity comes in, to improv and to express things and to create in new ways … It's a lot of self-discovery, introspection, re-evaluation to an unknown that sometimes is scary, but there are restrictions limiting that unknown."
Amanda Labuda (Pittsburgh, PA)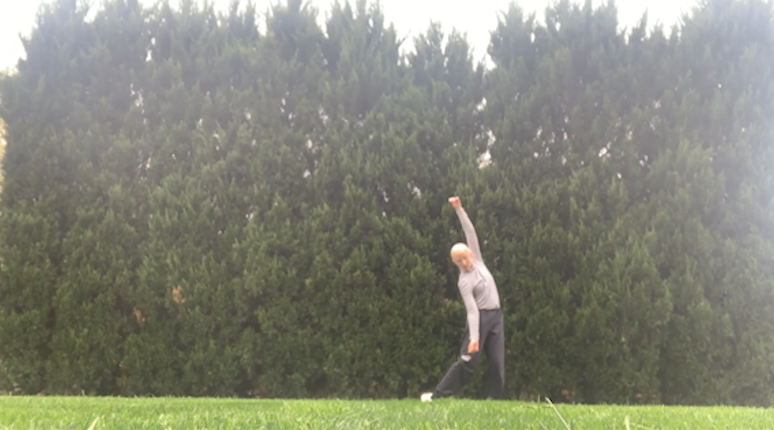 "I've always seen artistry as divergent thinking — multiple ways of creating something new or solving a problem or telling a story and adaptation goes hand in hand with divergent thinking. I always think about coding and when you're given an assignment to code, you never get to the end with one idea — there's always an error or a debug issue, or the idea's shifted in what the product's supposed to be, so you have to adapt every time you run the program. I always relate that to art because your dance and your improv and art form is always shifting and changing to match the truest form of yourself or the truest form of what you're trying to produce … Being around these people and all these different voices and beautiful minds, it's made me think of how I never want to take an opportunity for granted anymore … It definitely opens your eyes to where you were and this past life we were in."
Riana Pellicane-Hart (Dallas, TX)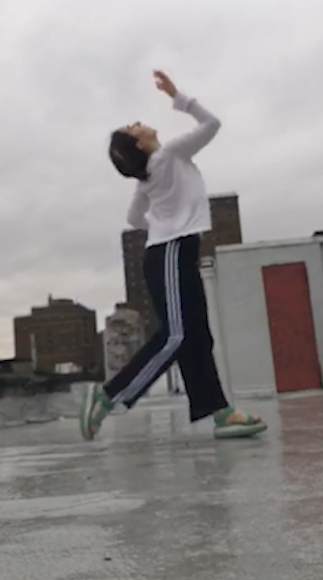 "I feel like my future is something that I see through a frame. I think what frames me is how I present myself in my mind and the tunnels I end up digging … And as artists we create things that are usually made out of space … I worry that people might forget what it is like in person and not just collaborate electronically … The lack of freedom creates more pressure and more intensity and there's more desire to search for something, there's more desire to create something new or different … I'm curious to see that: what people keep, what people get rid of."