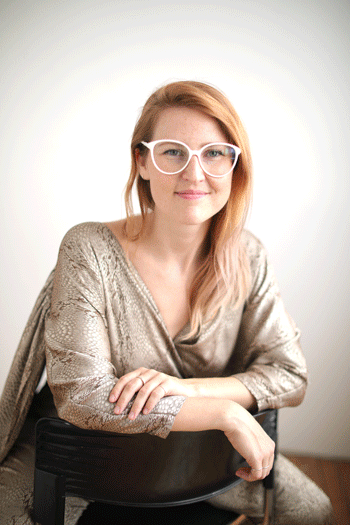 Louise Lessél looks like she wandered off the page of a Scandinavian lifestyle magazine. Freckled and fair, she meets me in clean, white clothes. As we shake hands, I mention that I haven't met many Danes at NYU. She reminds me that higher education is free in Denmark; there isn't much of a reason to go abroad. So why, I wonder, did she decide to come here to get her master's in Interactive Telecommunications Design? Surely there were plenty of free programs available to her in Denmark.  
As it turns out, there are. In fact, before coming to Tisch, she obtained an undergraduate degree at Aalborg University — the fourth-best school in the world for engineering. 
"Yep … I'm a huge geek," Lessél said cheerfully.
For her first degree, for which she attended IT University of Copenhagen, Lessél studied interaction design — a practice that aims to make interactive technologies with an emphasis on how users will interact with them — with a concentration in user research. Her formal degree, however, is the broader Digital Media and Design. Her final project aimed to transform ebooks into interactive reading experiences through eye tracking and attention theory, which no doubt foreshadowed her interest in educational technology. 
While her Bachelors degree in Digital Media and Design would prove to be a great foundation for her work later on, it wasn't great for the Danish job market at the time. 
"When I was done in 2012, no one in Denmark had heard of interaction design — it was a brand new program," Lessél said. 
Since Lessél couldn't get hired in her desired field, she turned to cultural marketing, which included marketing of concerts and festivals. The shift to entertainment only made her want to pursue technology more. 
While Lessél was working in the entertainment industry, she realized that she wanted to make the visuals and installations that made the events so special, as opposed to just marketing them. Through interactive technology, she posited that she could design things that engage with users in a spatialized way. And while Lessél was no expert in interactive technology, she did have a degree in interaction design under her belt, which gave her the confidence she needed to explore her new interest. 
After further research, Lessél found out about an approachable and interesting subfield of interactive technology: museum installations. The field seemed to combine Lessél's interest in user research and experience design and was particularly relevant in Denmark. Like most Nordic countries, Danish history has a lot to do with Vikings, who've left few artifacts to be researched in modern museums. What has lasted through the years is often unimpressive to look at: things like large boulders, stone burial grounds and natural fortresses. Because of this, it's often difficult to excite museum visitors with Viking artifacts, despite the large role they played in Scandinavian history. That's one of the problems that Lessél sought to address. 
"In Denmark we have a lot of old stones and [think] like, 'Wow, how interesting a stone,'" Lessél said. "I get that someone used this to capture their food or whatever in the Stone Age, but if I can't picture it, then there's a lot that can be done in that case to augment it — augmented reality, projections, visiting the field where it was dug up."
With this new passion in mind, Lessél decided to return to Aalborg University in 2015 to study Medialogy, a program that combines media and technology. While she was there, she took a class where she had to learn Processing (p5.js), a code used in almost every piece of interactive technology. In an attempt to familiarize herself with p5.js, Lessél took to YouTube. There she found the guru of processing, ITP and alumni professor Daniel Shiffman. While Lessél didn't know right then and there that she was bound to attend ITP and actually meet the Youtube star, Shiffman's videos marked the start of her planning. 
"It was three years in preparation to come [to ITP]," Lessél said. 
Even with her two degrees, Tisch still offered Lessél something that most creative technologists only dream of: art school. Creative technologists aren't barred from entering traditional art programs, but few programs offer the same mixture of art and technology like ITP. After all, most art students aren't going to college to learn how to code. While in Denmark, this proved to be a dilemma for Lessél, who insists art school is a necessary first step for becoming recognized as an artist. 
"If you say you are something and you don't have another person validate it, it's almost as if the state should have validated it; you should have gone to art school," Lessél said. "If you're doing art and you didn't go to art school it's like, are you really an artist? What's your day job?"
Lessél's catalogue of odd jobs doesn't resemble most people's. In 2016, she was an experience designer at J-PopCon in Copenhagen where she transformed the event space into a Pokémon universe for 4,000 people. Her coworkers even got her to cosplay as Misty for the event. As an avid anime watcher and semi-fluent Japanese speaker, Lessél is especially proud of this opportunity.  
Then, before she left for Tisch, Lessél also got the opportunity to work with a design collective called Vertigo on The Wave, an interactive light installation that was shown at the 2018 Frost Festival in Copenhagen. Since coming to New York — perhaps due to the culture shift, perhaps due to the art school mentality — Lessél's projects have become much more personal. 
"What they're asking at Tisch is very much, 'What do you want to build? Who are you, what do you want to say? What's the meaning of this?'" Lessél said. "I've been working on pieces that are more about environmental disaster because that's something that matters to me."
One such project is Cosmic Harp, a harp that uses lasers instead of strings and adjusts its sound based on the amount of space trash — out-of-use satellites that are still orbiting Earth — above it. She groups the project into a subset of interactive technology meant to spread awareness of a phenomenon to its viewer, fittingly called awareness technology. For Lessél, who has always been passionate about climate change and pollution, tackling the little-known issue of space trash was the perfect subject for the project. 
Lessél did not do the entire project by herself, as she emphasized to me multiple times throughout the interview. She said she was grateful for the help and collaborations with her classmates that made the project possible. 
"Like all things in our world, nobody does it by themselves," Lessél said. 
Lessél estimated that Cosmic Harp took about two months to make from start to finish. She worked on the experience design for J-PopCon, an annual festival, for nearly a year. Although we may only experience interactive technologies for a few minutes or hours, the time put into building the experience is often exponentially longer. 
As a Fulbright Scholar, Lessél will have to return back to Denmark for two years after her student visa expires in order to share the skills she's learned at ITP with her home country. And while she's looking forward to speaking Danish again, being an artist in Denmark is different from being an artist in New York. 
"It's been very healthy for me [to be in New York]," Lessél said. "In Denmark we have something called Janteloven, the law of Jante. It's this concept that you should not believe you're better than others. It's a very all encroaching thing in the culture. So coming here, it's been very inspiring to be with people who actually see themselves as artists."
Although New Yorkers are generally depicted as being cynical and rude, Lessél's experience suggests otherwise. The people she's met here have been nothing less than encouraging and accepting of her artistic ambitions. 
For Lessél, art and technology have a symbiotic relationship; without each other they cannot survive. Without the proper interactive technology, an ancient burial ground is just a cluster of stones in a field; a concert is just a bunch of people crowded around an acoustic guitar. 
"A big thing for me is that I've moved myself physically to be somewhere," Lessél said. "And in doing so, you're automatically more validated because people [say] 'Oh, you went a long way to get here,' and then you also feel different about yourself because you went to all this trouble to do this thing and so you can't just go back. Now you're here; now you have to make something of it."
Email Claire Fishman at [email protected].