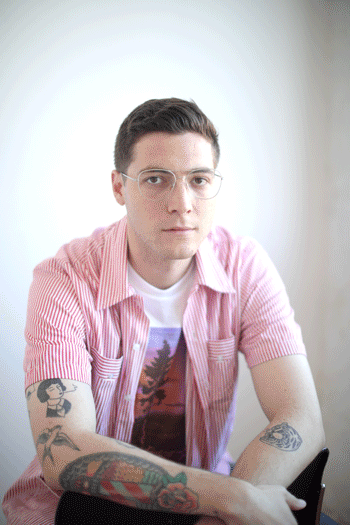 "I love being the stupidest person in the room," Mueller said.
25-year-old Morgan Mueller is a second-year graduate student at NYU Tisch's Interactive Telecommunications Program, and he is proud of everything he has yet to learn. 
With the pragmatism of an engineer, Mueller tells me he's only been an artist for a year. Whereas many young creatives are certain of their own pre-eminence, Mueller earnestly absorbs all that his peers have to offer. His persona as an artist is defined by his background in engineering, a dedication to community enrichment and the journey that brought him to the mecca of creatives he found at NYU only one year ago. 
From his little hometown of Reno, Nevada, Mueller found his way to the Birkenstock capital of the world, attending the University of Portland for college. Graduating with a Bachelor of Science in Electrical Engineering, Mueller says four years was too many in a city he feels was devoid of an arts scene. 
Fresh out of college and seeking to get as far from the Beaver State as possible, Mueller travelled to northern Ghana under the employ of Saha Global, an NGO that provides infrastructure and opportunities to rural communities in the West African nation. Founded by women, Saha is keen on female empowerment.
"Women keep the communities running, so lifting them up lifts everyone up," Mueller said.
At the time, villagers had to drive for miles to a charging station to charge their phones or motorbikes. To alleviate this, Mueller and his coworkers constructed self-sustaining, solar-powered charging stations that locals, men and women alike, now run as small businesses, ensuring their upkeep. 
After a few months in Ghana, Mueller returned to the United States. Given the opportunity to work an engineering job in New Jersey, he packed his things and drove from sea to shining sea. He's been living in New York for three and a half years.
In many ways, this city forged Mueller into the self-defined technologist and new media artist that he is today. New York has drawn in and developed many an artist, and Mueller is no exception, having been heavily influenced by the city's architecture and pulsing energy. 
His first of three jobs was at a firm in New Jersey working on radio frequency engineering. 
"I kind of hated it," Mueller said.
With an electrical engineering degree and a year of work experience under his belt, Mueller started to suspect that he didn't want to be an engineer for the rest of his life. 
Mueller spent many of his early days in New York wandering the neighborhoods. He took up photography for the first time in the interest of capturing all he saw. Inspired by the street art on every corner and the exhibitions in every borough, he resolved to try his hand at architecture and landed a job at Daniel Frisch Architecture by leveraging his experience in engineering. 
While at the firm, Mueller mostly worked in software development and marketing, but he was also exposed to other aspects of the office's work. Enthralled by the union of form and function that architecture afforded, Mueller briefly envisioned a future at architectural school. He persisted in his work, and:
"Then I realized I hated working in architecture," Mueller said. The 9-to-5 grind and regimentation of the office had caused him to fall out of love.
But Mueller assured me that he is grateful for the experience nonetheless. Working at Daniel Frisch Architecture, he was exposed to the intersection of design, architecture and art, which later inspired his passion for photography. 
"[I was interested in] all the layers of what photography could be," Mueller said. 
A casual interest in architectural photography grew into a full-blown fascination with fine art photography. Mueller was completely hooked. He calls it his first serious foray into art — a gateway drug. 
After architecture, Mueller joined a startup while still scouring the concrete jungle for a graduate school to suit his tinkering soul. He was miserable at his job and had resolved to dedicate his time to educational pursuits. He found his home at NYU with the Interactive Telecommunications Program.
After moving into an apartment with a few ITP alumni and seeing all they'd done post-grad, Mueller knew that it was exactly the community he was looking for. ITP gave him a creative outlet that suited his practical skills, allowing him to blend the process of engineering, which he loves, with art. In order to fully dedicate himself to his pieces and working with his peers, he's since left his job and is now a full-time student and artist. 
In the short time Mueller's been at ITP, he's created pieces using various diverse mediums, including photography, motion pictures, artificial light, electronics, self-contained systems and software, including Max (MSP/Jitter) and p5.js. His works span everything from computer-generated, pulsating fields of patterns and colors called Generative Works to Reverie Field, an interactive experience that allows visitors to reflect on the nature of memory through audio, visual and sensory stimuli and the varied pulsating of strings of lightbulbs. 
Morgan Mueller is humble to a fault, despite having worked in four different fields in the three years since his college graduation. However, when speaking about his work, Mueller's tone shifts. The earnest professionalism with which he approaches his art is apparent — he will go to bat for his work.
"I don't want to pigeonhole myself so early in my career," Mueller said. "It's about using whatever medium, software or technology seems appropriate for a piece." 
In defining new media art, he points to the example of personal inspiration Nam June Paik, a Korean American artist active in the latter half of the last century whose works made use of cathode ray tube television sets. 
"I think for his day, he was a new media artist," Mueller said, "Really, it's any kind of technology that art historians wouldn't consider fine art."
Mueller acknowledges the intrinsic value of visually appealing art, but it isn't his thing. He is drawn to making socio-political statements with his work through what he calls a "research-based art practice." Inspired by predictive policing algorithms that use social credit scores to determine bail values and the like, Mueller created the Predictive Policing Awareness Machine.
Social credit scores attempt to assign value to human beings, but as Mueller points out, years of racially biased policing has skewed the purportedly unbiased system, subjecting black and Latinx individuals to whatever historical trends it thinks it finds. His invention was born of this form of systemic prejudice.  
PPAM consists of a yellow flower sitting precariously perched above a blender —  the flower represents a person of color in the United States, and the blender represents the unjust justice system. Above the flower, a dropper is suspended on a ring stand. The dropper begins to squeeze liquid onto the flower when someone approaches, and the blade starts to spin at the rate at which a black individual is incarcerated relative to a white individual, which, it turns out, is quite fast. 
Eventually, the individual is consumed by the broken justice system. The flower loses its balance and plummets into the blender. Through PPAM, Mueller hopes to draw attention to the inherent flaws of these predictive policing methods.
Much of Mueller's best work comes from collaboration, and more than anything, he is grateful for both the critiques and compliments he receives from the artists at ITP. 
At the same time, he is already imparting the wisdom he's gained in his quarter century of life to others. Through a program called CS 4 All, Mueller teaches the coding that he uses for his pieces to high schoolers in lower-income communities who lack opportunities to achieve technological literacy.
"It's about making art, teaching art and documentation," Mueller said. 
"Maybe some kids aren't as excited about coding as others," he tells me, "but I can show them how to do cool sh-t." 
Mueller dreams of working with a community of people dedicated to social good while continuing to make pieces that redefine form, structure and technique. 
If you look closely at Mueller's story, you'll see he grows not through transformation but aggregation, building a repository of ideas that he cares about by being open to the people and things around him. When Mueller picked up art, he had no intention of dropping engineering. As he develops as a scholar, he has no intention of slowing down his efforts to advance social good.
Raising others up, learning from his peers and making pieces with a purpose — Mueller is a modern-day Renaissance man. There doesn't seem to be a limit to what he can pursue, but no matter his future achievements, he will no doubt maintain his humble attitude and pragmatic planning style. So, while Mueller is looking ahead at his artistic future, he also has simpler goals at hand. 
"I'd also just like to pay off my student loans, man," Mueller said.
Email Fareid at [email protected].