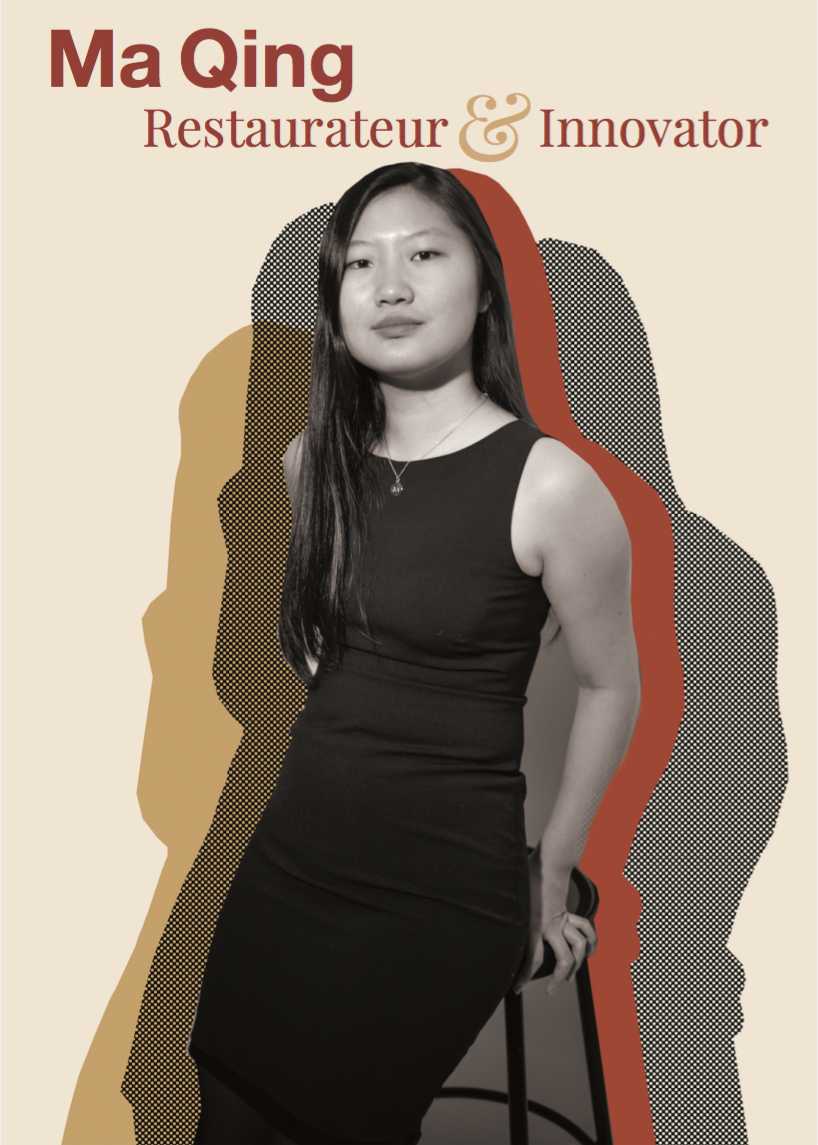 Creating Her Own Seat at the Table
By Melanie Pineda, Opinion Editor
Business runs in Ma Qing's blood. With a businesswoman mother, it's something Qing has been surrounded by since birth.
"When I was little, my mom was always in charge of everything," Qing said over a latte. "We would go out to restaurants and she would order food for everyone at the table. I've kind of become like her in that way — taking charge, knowing what I want and ordering the check for everyone."
As a Gallatin senior concentrating in Marketing, Entrepreneurship and Cross-Cultural Communication between China and the United States, and the President of the Gallatin Business Society, Qing is no stranger to entrepreneurship. The spring of her sophomore year, she took a semester off to start her own restaurant, Prime Poke.
The idea behind Prime Poke came to Qing after she took Steinhardt's Food Management Theory course, where she was exposed to the business and marketing sides of the food industry. Inspired and determined to put her knowledge to the test, Qing began to draft a plan to open her own restaurant.
With most restaurants, labor costs are one of the biggest challenges. But Qing soon realized that's what made poke so accessible — its simple ingredients and plating could allow for money to be spent elsewhere.
"All you need to create poke is someone who can cut fish and servers," Qing explained. "That's what makes it such a great food business to go into."
Through bank loans and funds from close friends and family, Qing quickly formed a business plan with a family friend. She did most of the grunt work — including pricing, creating the menus and designing the website. While the restaurant prepared its grand opening in Pleasanton, California, she personally trained employees on how to format the poke bowls and present the food in an appetizing way.
"People would come up to me and think this was part of a franchise," she laughed as she remembered Prime Poke's grand opening. "They couldn't believe a college student had designed and created all of this."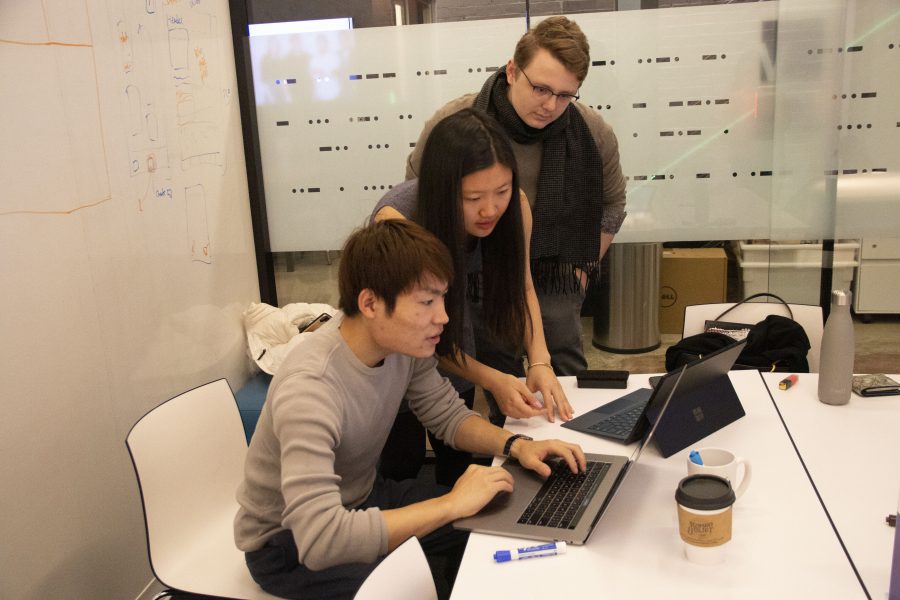 With a four-and-a-half-star rating on Yelp from over 130 reviews, Qing considers Prime  Poke a success. Now, she serves as a business advisor to the West Coast joint because of the distance from school in New York. Qing says she's ready to move on to other projects and doesn't plan on opening any other locations.
But Qing's aspirations to be a part of the business world started long before college. In fact, she started her first business in high school — a boba tea delivery service for students who couldn't yet drive.
"My high school basically planted the entrepreneurial seed in me," Qing said. "Back then, I didn't even know I was doing business."
Ready for her next venture, Qing stands in front of a whiteboard covered in colorful sticky notes and her handwriting at NYU's Entrepreneurship Lab on a Friday morning. She's dressed in ankle boots, leggings and a knee-length pencil dress, marker in hand. She only puts the utensil down to type something on her laptop or to encourage her new startup team members to offer their input.
Qing constantly asks the questions "What do you think?", "How can we do this?" and "Can you help me?" to her team. As a leader, she views her colleagues and their opinions as the most essential part of her startup. Her Friday morning meeting was no exception to this.
Milton Zhang, an NYU Shanghai junior studying in New York this semester and Qing's business partner, said he's never worked alongside someone quite like her.
"Everything she does is organized to a science," Zhang said in an email to WSN. "Having someone like her around makes me think I need to organize my daily life as well."
Qing and Zhang met at a train station while she was studying at NYU Shanghai during summer 2017. After realizing they both had similar life experiences and motivations, the idea for their startup, Crema, came to life.
"We wanted a name that conveys a positive and upbeat feeling to match what our app does," Qing said. "[Crema] reminds people of  'cream' and conveys that sweet feeling."
Crema is a food app that strives to achieve everything its predecessors have and more. A mix of Instagram, Yelp and blogging, Crema aims to provide a space for food lovers to share their stories through an interactive platform as well as access to possible advertising partnerships.
"Our mission is to allow everyone around us to become 'influencers,'" Zhang said. "We want to allow people to share their life experiences through food."
Qing's journey to the creation of Crema was partly inspired by her last food venture. In 2017, she and a team of four other students were semifinalists in the Stern School of Business' annual $300K Entrepreneurship Challenge, in which they submitted the idea for Foodture, a food ordering platform that incentivizes consumers to interact with people from different cultures by offering discounts to cultural restaurants.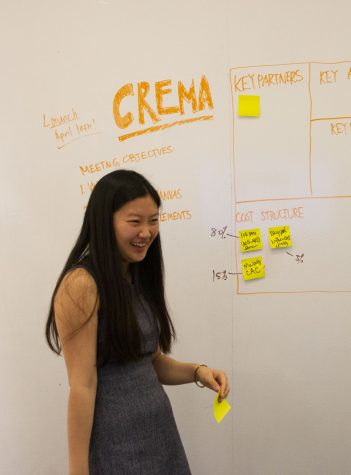 Food, according to Qing, is something everyone can enjoy and is a great way to form close relationships with people.
"I always bring my culture to whichever company I go to," Qing said. "Cultural exchange is so important in the modern world, and one of the ways we can do that is through food."
Gallatin alumna Momachi Pabrai, who previously served as the Gallatin Business Society president and is a close friend of Qing's, said she's never seen someone work as hard as Qing does.
"When she has her eyes set on something, she's gonna make it happen no matter what," Pabrai said. "She puts her whole heart into her work."
Qing credits most of her accomplishments to her education in the United States. Born in Shanghai, she began studying in the U.S. at age 12 through student exchange programs. Her time abroad has encouraged her to become interested in different cultures and attempt to understand them.
Although Qing is constantly coming and going, traveling around the world for both work and school, home is with her host family in San Francisco, whom she met three years into her student exchange program and spent most of her teenage years with.
"Family is important to me," Qing said with a smile, glad that three of her American sisters are currently in New York City for work. "We always try to make time for each other."
She considers her support system of friends one of the most important factors of her success. Nicholas Capsimalis, a sophomore at University of California, Santa Barbara and one of Qing's oldest friends, is an important part of that system.
"She has an endless tenacity, and I really do mean endless," Capsimalis said over the phone. "She's incredibly ambitious — sometimes to a psychotic degree. She's had an enormous impact on my life, and I'm a much better person for it."
Qing's friendships have taught her to always surround herself with people who motivate her. With every single one of her entrepreneurial ventures, she's considered teamwork the most important aspect. A few weeks ago, Qing and her partners finalized plans for Crema's launch past 2 a.m., something which she said occurs more often than expected.
"Every idea changes — from beginning to end. But your team doesn't," Qing said. "Without people who are willing to sacrifice their time and who are as dedicated as you are, it's hard for any product to launch."
In the future, Qing aspires to motivate others like her by helping change education in China.
Her U.S. education, Qing said, is what makes her different from other young Chinese entrepreneurs. Her friends back in Shanghai are also creative and innovative, but according to Qing, their ideas get shot down more often than not by the current education system.
Qing hopes to change this by one day starting a school in China that will promote individuality.
"I want to help Chinese students follow their passions," Qing said. "To show them they don't have to be the careers their parents expect of them. They should be doing what they love to do."
Although ambitious, Qing does not doubt her ideas or what she desires to achieve.
"The belief that I can make things happen helps motivate me," Qing said. "I want to make things happen and I want to do them now."
Qing reiterates that all of her accomplishments and future goals are part of a process. Failure, she said, is a part of any business venture, and should be expected.
"Challenges are always going to come to you," she said. "But if you try to look at these challenges and failures in a positive way, there's only room for growth."
Email Melanie Pineda [email protected]. A version of this article appears in the Thursday, March 14, 2019, print edition on Pages 14 and 15. Read more from Washington Square News' "Up-and-Comers 2019."