Quantitative and Emotional: the Many Contradictions of Wayne Carino
The Wagner grad student and NYU Sustainability Fellow does what he calls "background work," but has been instrumental in and out of NYU to provide environmental policy solutions for marginalized communities and developing countries.
When Wayne Carino enters the NYU Office of Sustainability, he barely says a word to anyone before sitting down to work. Within minutes of coming into the office, he immediately starts preparing marketing visuals, which will be used for several campus climate initiatives. Carino's a sharp dresser, donning button-up shirts tucked into sleek khakis. He's always rushing to his next task, be it for the Office of Sustainability, the NGO he volunteers for or class.
The second-year Wagner graduate student, also a Sustainability Fellow, describes himself as an introvert who has bursts of energy. His spontaneity doesn't come through immediately. On first meeting, he's stoic, composed and consumed by his work — a tame workaholic. When he's working, he rarely looks up from his computer, not even taking a moment to scratch his beard.
Though, Carino did give an example of his spontaneity when he went on a trip to Israel "on a whim" last spring break with NYU's iTrek program.
Carino is not exactly closed off either, but it does take a while to get some personal information out of him, only talking about his intense passion for music (he has played clarinet and saxophone since he was 10) after stumbling into a conversation about his competitiveness. He says he is very competitive, but is also the first to point out the work of his teammates before himself.
He is incredibly open to discussing his projects, but exhibits a lot of humility in his work. He treats every success with grace and takes every failure in stride. With a marketing and financial policy background, he primarily does the "background work" for the organization he works for environmentalist efforts.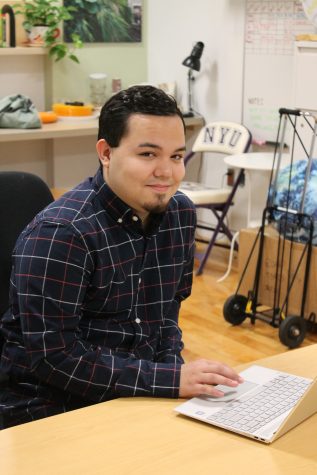 But that's okay to him because he is seeking solutions, not stardom.
Carino is "a quantitative thinker," approaching a lot of his work with an objective, numbers-based mindset and focusing solely on strategy and results. That is not to say he is completely removed from his raw passion, either, though sometimes he does find it difficult to separate his emotions from the empirical data.
Carino didn't always have the luxury of being as involved in environmentalism as he is now. He comes from a working-class family in Fayetteville, North Carolina, with five younger siblings. As a child and young adult, finances took precedence.
Carino felt both the responsibility of supporting his family — he worked in retail throughout high school — and pursuing his own interests, such as music. He didn't want to be held back by his family's socioeconomic status, nor the widespread stigma against disadvantaged people pursuing personal interests.
When Carino was 10, his mother was in community college, and she pulled out an additional school loan so that he could get his instruments. He participated in competitions and eventually became section leader in high school for playing saxophone.
"Some valuables are not a projection of a household's class status," Carino said. "You always have to be careful with what you do and how you spend your time."
Carino cites music as a major reason for his discipline, work ethic and competitive nature. He continued playing in marching band at Western Carolina University while majoring in business administration, marketing and finance, and became the first in his family to go to college and obtain a bachelor's degree, graduating summa cum laude.
WCU is an environment-focused campus, and Carino was inspired during his time there to volunteer for a river cleanup and promote healthy fishing practices by helping create and sell a children's book on fish. He also furthered his skills with startup initiatives and clubs. His senior year, he was working two jobs and doing an internship for credit.
He came to NYU right after graduation, a decision the rest of his family was not too keen on. Carino said his siblings will be looking for jobs right out of undergraduate school, but he wanted to do more than that.
"When I first came to New York [my family] thought I was going to work on Wall Street," Carino said, laughing. "Who wants to be a salesperson with their bachelor's? There's nothing wrong with that but I wanted more with where my state degree could bring me."
Carino is majoring in public administration, specifically international development policy. His classes relate to international institutions, politics and economic development — barely any are directly related to the environment. Carino is more invested in how policy changes within environmentalism can create change in marginalized communities and developing countries.
"Policy does not occur in a vacuum," Carino said. "What we do here affects what's happening in Latin America and Southeast Asia and vice versa. We're an interconnected global world, so our policies are interconnected."
His interest in international activism is bolstered by his cultural background, too. Carino's family is from Guam, where tourism is crucial to the economy but can have drastically negative effects on the environment. Since ecotourism is one of Guam's major draws for visitors, this could seriously damage its economic prospects.
Coming to NYU has been helpful for Carino to determine how his racial and cultural identity fit within the grand scheme of his work, mainly through his experiences with the NYU Social Sector Leadership Diversity Fellowship.
SSLD is an 18-month leadership development program that brings together graduate students of color from all over the university and trains them in critical leadership, helps them build a community with other people of career and receive personalized career coaching.
"Wayne has really become much more confident embracing every aspect of who he is and channeling the complexities of his identity into his work," SSLD Director for Leadership Initiatives Corey Blay wrote in an email. "It's extremely gratifying to see how he's not only embracing who he is but also beginning to realize how much he truly can accomplish."
Being an SSLD fellow has allowed Carino to explore how environmental issues affect people with different identities through an intersectional lens — an especially heartening opportunity since people of color most affected by climate change aren't often spotlighted within the climate movement.
"Who is speaking about environmentalism? Is it [Greta Thunberg] or is it someone in Flint, Michigan?" Carino said. "Who is saying it, who are we paying attention to? And I think that pays a lot of attention on how we view environmental justice."
Carino's interest in helping underserved communities extends outside of the classroom, too. Carino serves as the Director of Marketing for Ecologists Without Borders, a small NGO that specializes in promoting sustainability and ecological restoration in developing countries.
EWB has multiple projects abroad, mainly in Latin America and a few in Africa and Oceania. Their vision is to promote sustainability in places that don't have the resources to carry out large-scale projects.
The biggest project he has worked on focuses on water hyacinths in Lake Victoria in Kenya. Water hyacinths are an invasive plant species — native to South America — that block sunlight from entering the lake, polluting the water to the detriment of local fish and increasing incidences of malaria, schistosomiasis and other water-borne diseases. The water hyacinths are both affecting the villages that rely on fish for income and employment, as well as leading to deaths.
EWB had plans to harvest the water hyacinths, turning them into biogas and slush for fertilizers, and selling it back as an alternative fuel. Carino has predominantly responsible for marketing strategy and managing stakeholders for the project.
Funding was recently cut, halting the project. The team is scrambling to apply for grants to keep their work going.
"With any small NGO, there's a host of problems when it comes to resources, especially when it comes to financial, recruiting talent [and] fundraising," Carino said.
It can be overwhelming to think about the financial strain of trying to, literally, save the world. But, this is an issue that Carino runs into every day, and he believes it's critical to recognize the intersections of politics, race and identity when looking at environmental issues since it's something that affects everyone.
His Wagner professors have been consistent motivators — though some of them, like Professor Natasha Iskander, feel that Carino is the real source of inspiration in the classroom.
"Learning requires more than effort and intelligence. It takes humility and openness," Iskander wrote in an email. "Wayne has these very human qualities in spades and it has enabled him to grow and develop as a scholar, activist,
and practitioner."
Iskander assigned Carino and three other students to work with the Belize Association of Planners this past summer for his capstone project.
In Belize, the team researched the intersection of informal settlements and climate change. Informal settlements refer to the people who don't have secure land tenure settling on a piece of land without a legal document. These settlements tend to be on environmentally sensitive catchment areas, presenting a danger to tenants as Belize City is facing rising sea levels. So, Carino and his team faced the two-fold problem of addressing both socioeconomic disparity and the dangers of climate change.
"Developing a solution for Belize that responds both to local poverty and to rising sea levels can suggest pathways for other cities around the world dealing with the twin pressures of urban poverty and climate change," Iskander explained, echoing Carino's philosophy that environmentalism does not exist in a vacuum.
To say Carino and his team were successful is an understatement. After the project, the Belize Association of Planners invited them to present their policy recommendations on this issue in Guyana for the Caribbean Conference in spring.
"I think that leaders — or influencers — that listen and help people develop the solutions that they would like to see in the world are the most effective," Iskander said. "Wayne is a role model for how those qualities can be forces for good."
While he was in Belize, Carino got the news of his Sustainability Fellowship, which he received after applying with a recommendation from one of his Wagner professors. He is the only Sustainability Fellow in the Office of Sustainability, specifically working with NYU's greenhouse gas emission data for its climate action plan.
In his pursuits, Carino is more optimistic than anything. He chuckled at most of the setbacks he brought up, be they the cut funding for the Kenya project or the overwhelming nihilism that can pervade environmentalism overall. He thrives off the challenges.
"I think every experience I have had was an uphill battle. Just because there's such a, it's not a niche issue or professional field, but it's still a small field. It's all about steps taken toward the end goal."
Of course, if it ever gets to be too much, he can always take a break and play some clarinet.
Email Guru Ramanthan at [email protected]