Omar Gowayed has been an activist since he was five years old. He had protested against the Iraq War with his family in Auburn, Alabama while his classmates stood on the other side holding signs saying "Nuke Iraq."
"As a child, my parents left totalitarian Egypt, excited with the idea of democracy," Gowayed said. "They took [my sister and I] to Interfaith panels after the massive amounts of Islamophobia after 9/11, Anti-Iraq War protests and Anti-Occupation protests."
Gowayed left his family's home in Alabama to attend The Ohio State University for his undergraduate degree. He majored in materials science, which centered on discovering the best equipment for global solutions. He mentioned many scientists within his field design technology to combat climate change, such as solar panels and wind turbines as better sources of power.
During undergrad, Gowayed continued to protest. He organized with ReImagine OSU, which fought against the privatization of resources at the public institution. He claimed this effort from the university made it more expensive and less efficient for the students, even laying off student workers from their jobs. He also became the president of the Organization of Arab Students during his time at the university.
Before coming to NYU to study materials chemistry, he interned in West Virginia at Special Metals, a metal factory that creates nickel alloys. He also worked in Indianapolis at a company called Materials Data Management, Despite gaining experience in his field, he was not satisfied.
"I realized I was not happy," Gowayed said. "I remember the last time I was happy was doing research as an undergraduate, which is why I decided to go to grad school."
His parents initially settled in North Carolina, where he was born. After living in Alabama, Ohio and West Virginia, Gowayed chose to stay New York because he was tired of feeling tokenized.
"I wanted to live somewhere where I can be accepted as me and spend more time pursuing my dreams than explaining my identity," Gowayed said. "You have to work five times as hard to sort of start, while here in New York, I didn't feel that pressure that I have to rise above. I'm doing what I do but I don't feel overwhelmed."
He came into the city hoping to find this kind of acceptance, and within the first week, he met Ingrid Paredes, who would eventually become his co-chair for March for Science NYC, and a lifelong friend.
The two met at a NYU graduate student orientation in fall 2016. Gowayed was one of the first friends she made at the university.
"Omar definitely helped me get out of my shell," Paredes said. "I wasn't politically active during my undergrad. I would have never thought about going on stage or talking to a crowd. Omar was very patient, even bringing me in activist spaces and encouraging me to be more assertive and a better communicator."
Knowing his history in activism, Paredes approached him the same year. She wanted to organize buses from Tandon to Washington for a March for Science and felt Gowayed was the best person to contact. They went to NYU's University Senate to ask for funding, while other groups also encouraged student engagement for the march.
Gowayed credited Dr. Sonali McDermid, an NYU assistant professor in the Environmental Studies department, for contacting all of the organizers and putting them in the same room, in addition to providing financial support for the trip as well.
After members of the administration saw that many college institutions across the U.S. were participating in this march, President Andrew Hamilton decided to support it, making NYU the first university to partner with the movement. They received a large showing of people in the nation's capital, which prompted the March for Science in New York City.
Since there was no New York City March for Science at the time, Gowayed applied for a Green Grant to create one with Paredes and his other colleagues. The award, offered from the Office of Sustainability, funds environmentally conscious projects up to $20,000, which current students, faculty and staff can apply for.
He used the first grant to fund their idea, which included establishing a board, hosting rallies and happy hours and connecting with other organizations in the city. Paredes and Gowayed are co-chairs for the Science Advocacy Organization. Their focus is evidence-based policy, which refers to using current research to provide solutions to climate change.
While Gowayed is a co-chair for March for Science NYC, he also believes that it is important to build up smaller organizations like Extinction Rebellion and FridaysForFuture, which have similar goals in mind.
"We do have this brand name recognition and we can use that for good, but they're doing really good work," Gowayed said. "We have to recognize when they're doing good work, see when they need to be promoted and when we need to be promoted as a form of balance."
Jonas Günther, a former master's student who studied Management of Technology at Tandon, met Gowayed more than three years ago during Welcome Week. Before coming to NYU, Günther wanted to create a vertical farm to understand why vegetables taste differently where they are grown.
When Günther bought materials from Home Depot, he did not know how he would be able to move them out of the store. Gowayed helped him and mentioned wanting to help with the project.
"One of the most valuable skills that I learned from Omar was that he has a great network in the university," Günther said. "He always knows how to talk to people. He never gives up or takes no for an answer, which is incredibly motivating."
Gowayed received his second Green Grant to house the farm in the Tandon Makerspace. In 2016, it held four shelves, 40 tilapia and a structure for spirulina, a highly nutritious edible algae Günther was interested in growing.
They both worked on the vertical farming project together for two years before Günther graduated last May. Gonwayed still meets Günther for drinks every week, during which they discuss new ideas for Günther's most recent business venture: a vertical farm based on the one Gonwayed and he created in Tandon.
Within the hexagonal structure placed in the Tandon Makerspace, long green stems stretched outside the shelves they were contained in. Hot pink LED lights stood out from the top of the staircase, installed for the plants to grow. Here, Gowayed teaches a class on a volunteer basis — students get a chance to help rebuild the farm, which was overrun by flies in 2018.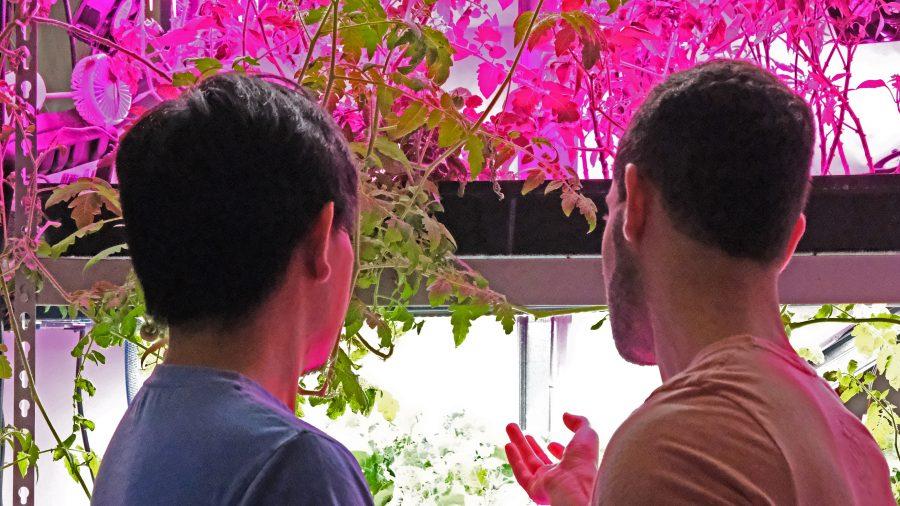 Gowayed and his students grow spices such as pepper and parsley. Before the tour started, he offered a green pepper with red speckles at the tip of the stem. Since the vegetable was not ripe, he explained the spice would be more muted.
"Do you like tea?" Gowayed asked one of his students while they walked down the staircase. After the student mentions that his mom likes tea, he responds:
"We have chamomile that's ready to harvest, so maybe you could take it for your mom."
Since Gowayed wants to be a professor, the vertical farming class gives him an opportunity to practice teaching students and grading assignments on a smaller scale. All of this has allowed him to allocate some of his busy schedule to building a support system for others. For Omar, creating an environment in which students explore their own interest in sustainability that they can to incorporate into their own academic careers.
"Students can learn about vertical farming by running their own projects from their own disciplines," Gowayed said. "For example, a chemical engineering student in my farm is learning how to make cosmetics out of calendula. The price of getting your object funded in the farm is maintaining it, so over a period of time, they learn very specific details about farming."
While juggling his involvement in March for Science and teaching his vertical farming class, Gowayed is also working on research in Tandon as well.
Omar cites professor Bruce Garetz, his research advisor, as one of the guiding influences in his academic work. He met Garetz as a teaching assistant for the professor's general chemistry class in the fall of 2016.
The next year, Gowayed joined Garetz's research group, where he shoots lasers at supersaturated solutions to make crystals. With this process, Gowayed can control the size of the crystal, improve the purity of the item and, hopefully, use it for medicines in the future. He's already co-authored three papers about his research, and continues to explore why this process is happening for his degree, all while mentoring undergraduate students in Garetz's lab.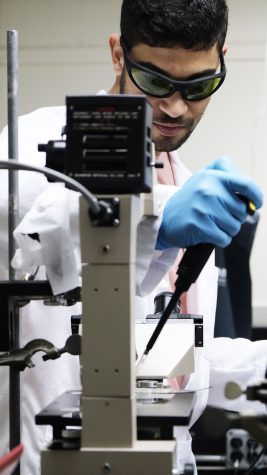 When asked whether there was a specific person that influenced him, Gowayed mentioned many people from both his professional and personal life, including Garetz, Paredes, the students, his family and his partner.
"I don't think there's such a thing as a self-made person," Gowayed said. "I think your community sort of builds you. At NYU, there's a broad community that's helping me out. I'm very privileged with the massive amount of support, community and love that exists here. I wouldn't have accomplished anything without them."
Even with the support Gowayed receives both in Tandon, March for Science and at home, he still encounters naysayers who doubt there are current solutions to dealing with climate change.
As a materials scientist, he believes the best way to combat climate change is for scientists to continue to promote their research and hope the public listens. This why he juggles so many activities every single day — through his activism, his work doesn't stay confined to a classroom. He has given himself, and other scientists, a platform to speak.
"I know, it's just that obviously there's a gap — a step needed to be taken to where scientists need to start advocating for ourselves," Gowayed said. "We need to start making sure that scientists are heard."
Email Alexandria Johnson at [email protected].