Madeline DeJong has her head in the clouds and her feet on the volleyball court. As a student-athlete on NYU's women's volleyball team and a dorm-room fashion designer, DeJong's time is far from free, but she manages to balance both art and sport in her busy schedule. On top of her extracurriculars, the Gallatin first-year also finds time to have a concentration as busy as her schedule — Costuming and Fashion Design, Marketing and Advertising with a minor in French.
Last month's Gallatin Fashion Show was the first time that DeJong publicly showed any of her designs. For the show, which was themed Dreams and Dreamscapes, she debuted her line "Head in the Clouds" to close out the event. The line consists of five pieces created entirely by DeJong, who simply started with a white, gold, silver and blue color palette and a preference for silk and textured taffeta.
"I usually sketch out my designs — they just come into my head and I put them down in a notebook," DeJong said. She then takes her design to local fabric stores where she picks appropriate materials, though she admits this isn't the best method. "I wish I could reverse that process a little bit: find the fabric and then design."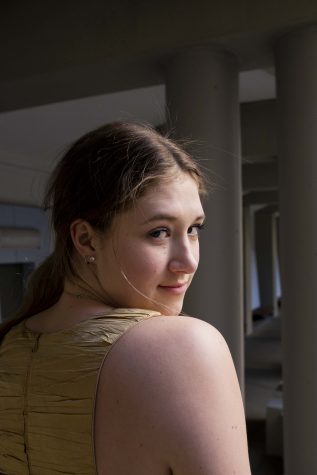 While this year marked her first public show, DeJong's interest in fashion and designing started much earlier in life. As a child, she loved to dress up in her mom's old dance recital costumes each time her family went out for ice cream. Once she was older, her interest turned to sewing, which prompted her mom to put her in classes.  
"I knew how to sew a little bit," DeJong said. "So I would sit there and hand sew. And my mom said I was [a] really crazy child. I have ADHD, so I have a hard time sitting still and doing anything. And she said one day, I sat there for three hours and sewed a dress — like hand-sewed a dress for my doll."
As she continued to develop her skills, designing became a cathartic and relaxing way to de-stress from the rest of her hectic life and growing volleyball career. By the age of 13, DeJong had graduated from simple projects and started using patterns to sew dresses, and she continued to build her craft by sewing for the school plays in preparation for her leap into formal wear. In her junior year of high school, DeJong decided to make her own dress — a long, black two-piece — for senior formal using a pattern she ordered online.
"I felt so confident wearing it because I made it," DeJong said.
After successfully designing her dress for senior formal and a long slinky blue-green dress for cotillion, DeJong put her skills to the ultimate test — prom. She made three dresses: a vibrant floral dress for herself and a peach metallic dress and light blue floral dress for two of her best friends.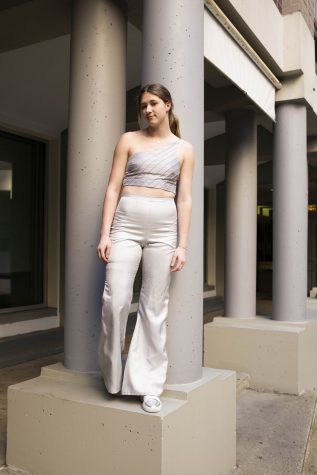 DeJong still has her eyes set on expanding her craft. She enjoys designing formal wear because it allows expression and creativity, but she said her next project is to work on a more casual line of everyday clothing. Even beyond women's wear, DeJong would love to branch out into learning how to design men's wear as well, but has not made the jump yet because men's wear demands more expertise in creating straight lines.
As of now, DeJong's fashion knowledge is limited to that of her own designs. She acknowledges the gap exists in her knowledge of the fashion world and hopes her studies in Gallatin and overall curiosity about the fashion industry will fill that gap.
While costuming is a part of her concentration and she has worked with the costume shop in Tisch, DeJong does not know if she necessarily sees herself being a costume designer; she is leaning more toward the idea of working for a fashion house and building her own brand on the side first.
As she considers her other interests in the industry, she would like to find a way to work sustainability into her path. When she talks about the wasteful characteristics of the fashion industry, DeJong brings up broader issues such as child labor and plastic waste.
"Right now, sustainability is a really big topic that everyone's talking about," DeJong said. "I think it's really interesting, and so I'd really like to figure out how to make a difference in the industry because it's not the ideal industry."
While the downsides of the industry are numerous, DeJong is attracted to the unpredictability of the fashion world. However, she knows that she will not always be able to blaze a trail by designing whatever she wants.
"Being a designer, you can't always let your artistic side run rampant. You have to be restricted in a sense," DeJong said. "You have to sell what the people are gonna want to buy. So you have to design for [a] specific range of customers."
While she continues to forge her path in fashion, DeJong is fortunate to have the support of her family, who has generously financed her designing. While DeJong may not know exactly what she wants to do in fashion yet, she knows exactly why she wants to be in fashion.
"It's really about the creation part — I love working with my hands," DeJong said. "It's just really about working with the shapes, coming up with something new, putting things together and just surprising myself, even, at what I can do."
Email Faith Marnecheck at [email protected]. Read more from Washington Square News' "Fringe: One Last Dance."