At the Tisch Jack Crystal Theater in the East Village, dancers enter a stage with pulled wings to a score excerpted from Igor Stravinsky's orchestral concert score, "The Rite of Spring." They catch and let go of one another in whirling lifts, then morph into a sequence of gestures from upstage to down in the strings' intensifying tremolo. The dancers lean into complex foot rhythms in constant suspension, the spaces between one another sometimes as thin as panes of glass. In a soft phrase of violins, two dancers adagio as the remaining dancers line up a set of grass balls and moonwalk backwards as if being pulled by magnetic fields. With a crescendo of the brass section, the dancers throw the grass balls in the air like kids in a playground, then throw their bodies onto the stage at different angles, only to immediately recover. As they continue this perpetual state of fall and recovery, a projection of a spinning, computer-generated, gray, 3D landscape map appears on the backdrop. Minutes later, the projection blacks out with the dancers' final, synchronized fall. 
Choreographed by MFA '19 NiNi Dongnier, the piece "Compound Rite: Utopia or Oblivion," deals with the collision of naturalism with technology, the grass balls symbolic of mankind's ideal state of the world. This 15-minute work premiered at the NYU Tisch Dance Masters Performance Workshop in February 2019. 
As an MFA student studying choreography and technology, Dongnier, originally from China, came to NYU after graduating summa cum laude from the Beijing Dance Academy. She attended classes with the Tisch Interactive Telecommunications Program, a department which advances the intersection of art and technology through creative collaboration.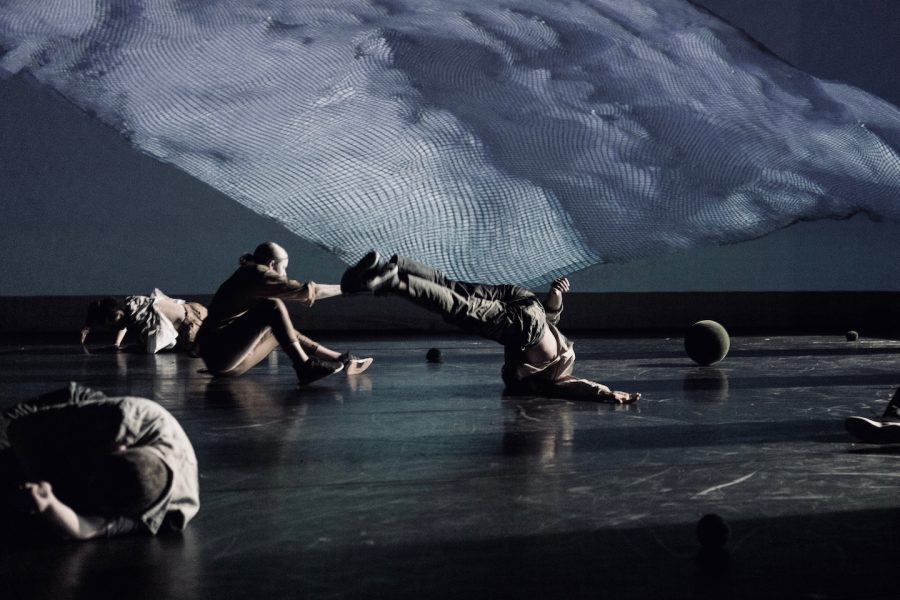 This past summer, Dongnier attended a six-week residency at the Watermill Center, an arts and humanities center established by theater director Robert Wilson in Watermill, New York. He worked with 29 other artists this year from disciplines across theater directing, choreography, architecture, set design and visual art. Wilson and his committee selected each artist out of more than 400 applicants across the world. 
At the Watermill Center, Dongnier worked closely with Wilson, "the most prolific theater artist in the world," according to The New York Times. He is best known for his collaboration with American composer and pianist Philip Glass on the four-act opera, "Einstein on the Beach," and is regularly commissioned by the world's most prestigious theatres, opera houses and festivals. 
At the Watermill Center, Dongnier assisted in the research and development of Wilson's future projects for the stage and beyond. She was assigned a lead role in staging and designing movements for his upcoming opera project, "The Messiah," to be premiered at the Mozart Week in Salzburg, Austria in 2020.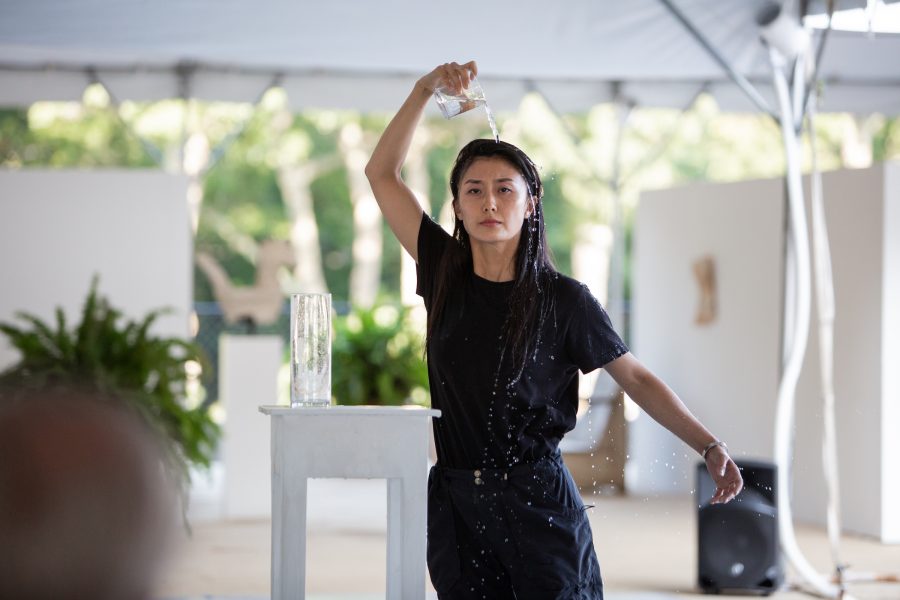 Working with Wilson confirmed for Dongnier that across all art and humanity — as an open framework, and not as a fixed idea — theater is a "total work of art," to which she can dedicate herself. Her interests lie in creating landscapes on stage to depict the changing relationships between people and their environments.
"I like [the] expanded idea of choreography," Dongnier said. "It's really a methodology of how you think about space and time." 
Dongier is not interested in just producing movement for the sake of it. For her, being a choreographer is about collaboratively composing all possible elements of art, history and technology to produce strong messages in her work as well. The stage is a place to combine her interests in art history, poetry, geometry, music and textiles. 
"Her research of space, time-shape, motion, dynamics and multi-media vision [really] enhance the moment,'' recipient of a Guggenheim Fellowship, choreographer and a former principal dancer with Alwin Nikolais Dance Company Phyllis Lamhut said. Lamhut served as one of Dongnier's dance composition professors while attending graduate school at Tisch.
Lamhut noted that Dongnier is extraordinary in how she uses the stage, and by extension everyday life, as a way of exploring larger ideas — using a site for performance as research. 
For the remainder of the residency, Dongnier, in collaboration with Wilson, received design support from a team of five artists to make her proposal happen — a two-hour durational performance. In continued exploration of "Compound Rite: Utopia or Oblivion," the team built a sculpture out of 100 grass balls, its base a wooden structure, and placed it on to a two-by-two-meter stage in the Watermill Center's garden. 
"The grass balls serve my idea of landscape as interactive material […] You choreograph with the space," Dongnier said. 
Another one of Dongnier's major mentors is Rashaun Mitchell, the Associate Chair at Tisch Dance, recipient of a Guggenheim Fellowship, choreographer and former dancer with the Merce Cunningham Dance Company. He also taught dance improvisation and composition to Dongnier, and closely mentored her process on "Compound Rite: Utopia or Oblivion."
"In her process, which I have observed intimately, NiNi is extremely adept at synthesizing different materials," Mitchell said.
According to Mitchell, Dongnier builds choreographic material by guiding her dancers through improvisations, using the geography of the space to determine her dancers' actions.
"I want to explore the volume of this grass ball, [and] also create some new awareness of the original place," Dongnier said. "How this man-made thing [can exist inside] this spiritual garden but can still be part of the garden." 
Dongnier did so by paying close attention to the proportionality of the sculpture in relationship to herself, the garden's five large stones and the configuration of plants in the area. The artist also finds nostalgia in how she has constructed the space as it reminds her of the northern steppes in northeastern China, where she is from, the grass ball invoking memories of the grassland.
For the installation, Dongnier connected herself to the statue with a rubber band, constructing the image of falling. 
"[Non-control] is how I feel about life," Dongnier said. "It shows [the] fragile part of going with gravity versus holding," Dongnier said.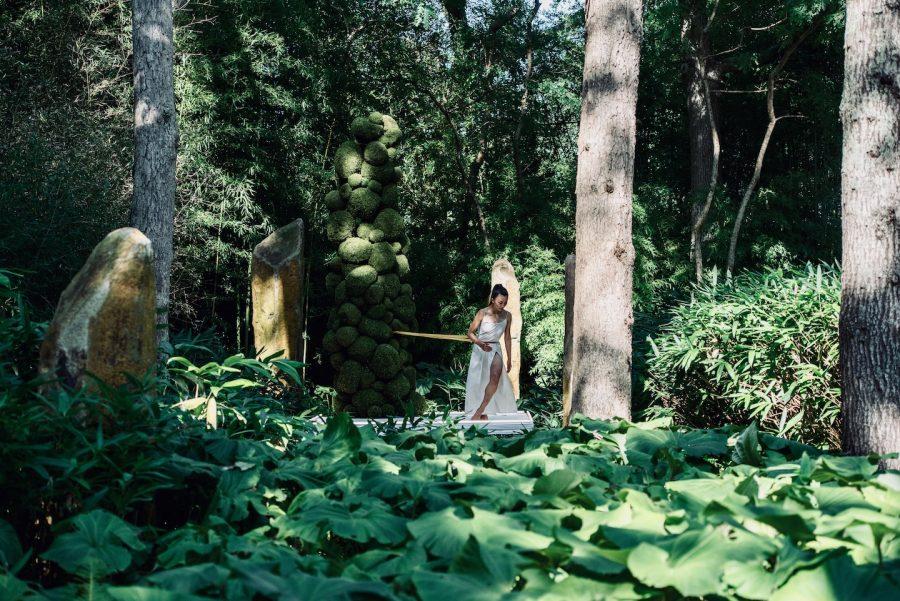 "The challenge to her development was to make this amorphous matter visible within her creative thinking and media-inspired choreography," Lamhut said. 
The compositional instruction Dongnier received from Lamhut facilitated her work, "Field Record," performed at Movement Research at Judson Memorial Church in April 2019 (an earlier iteration, titled "Field Record I," was performed at the MFA I Concert in February 2018).
"Field Record II" incorporated live sound artists, Tiriree Kananuruk and Jake Adams, who responded to the dancers in fits of improvisation and interactivity. Similarly, the dancers responded to Dongnier's various improvisational tasks, one of which included designing  "vanishing points" by shrinking the scale of their movement.   
Kananuruk and Adams coupled an electronic sound manipulation software, called MAX, with the use of bottles, wood and other everyday objects to create sound. The non-tech dominant nature of the software and natural sounds used at Judson Memorial Church created a minimalism that didn't empty the space, but rather filled it with live elements. This is where Dongnier pushes for the technology to "emphasize the humanity" of the dancer, as in some of her work she claims it is not even necessary to have media.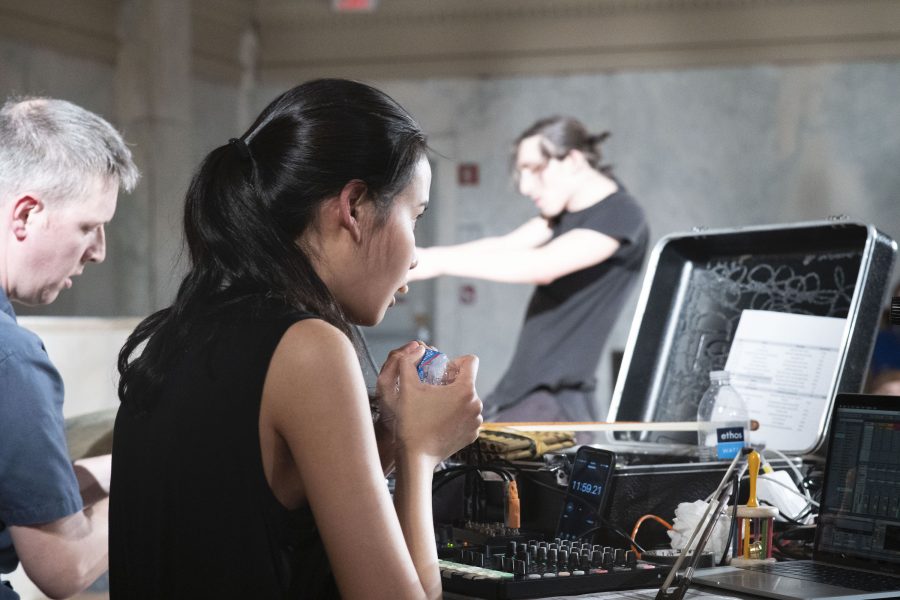 During her studies at Tisch, Dongier said she frequently asked why students learn to code. There, she met her current collaborator, ITP Assistant Arts Professor Mimi Yin. 
Together, Dongnier, Yin and Kananuruk have initiated an artist collective called NUUM, committed to a multi-disciplinary approach to creating performance work. This collaborative approach, Dongnier attests, enables all elements of performance — sound, space, movement and projection — to enhance a common humanity.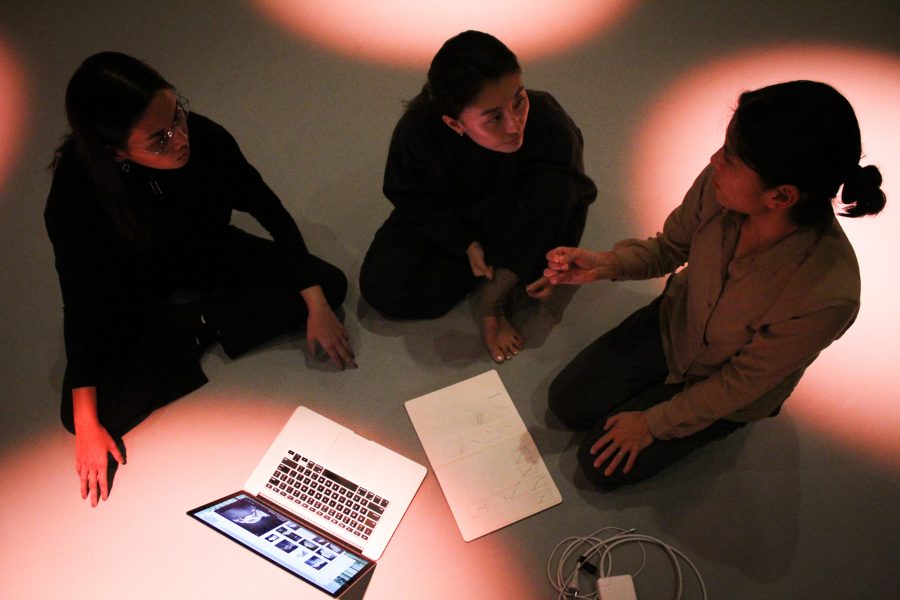 "I see her use of technology as a way to bridge these spaces to create a third, virtual space, where new possibilities can be constructed," Mitchell said. 
Dongnier's current philosophy about art and technology can be illustrated in her most recent work, "1920 x 1080: Choreographing Space Through Time," produced at the NUUM collective's first Movement Media Salon through a residency at The Movement Lab at Barnard College.
"1920 x 1080" essentially explores how movement can interact with choreography and visual art through its use of position tracking and two-dimensional floor projection, Yin explained in an interview with NYU IT Connect. Two cameras point downwards, bouncing infrared light off two dancers. The software essentially tracks the two bodies by identifying them as masses of pixels in the space.
The floor pattern finds the midpoint between the positions of the two dancers, calculates the angle and rotates that angle 90 degrees to create a bisection so that one dancer is in black projection and the other is in white. Because of a brief lag, the dancers may choose to move faster than the projection is changing, affecting their relation to the space in real time.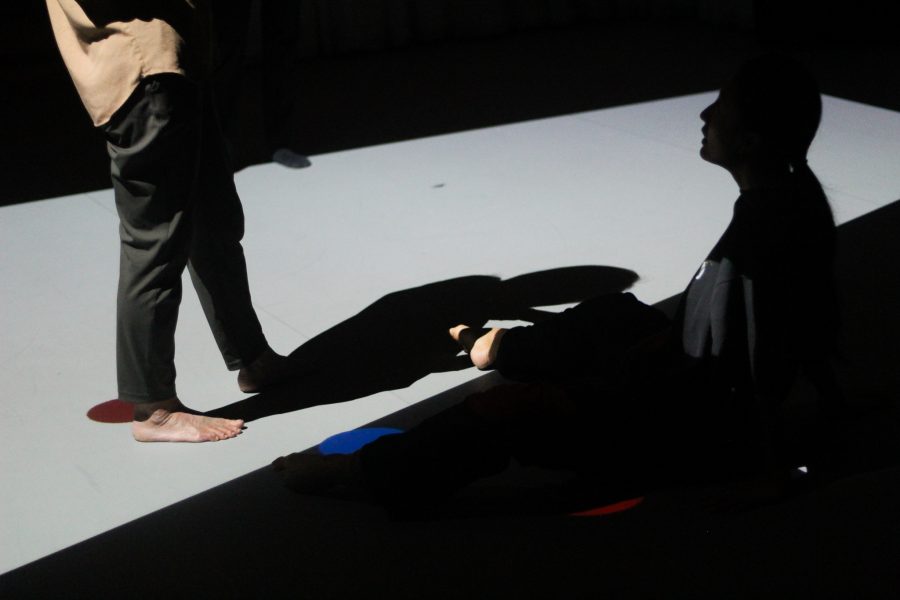 Yin, who collaborated with Dongnier on the project, described the black-and-white projections as a coded chance operation, a research into the co-improvisation of dance and projection.
"[This] architectural floor plan…starts to feel like an abstraction of choreography," Yin said, driving an intentional response out of the dancer, a desire to be made legible in the landscape, without losing the improvisational process.
This resembles the uncontrollability of the human inside their environment found in Dongnier's "Compound Rite." The intervention of a chance operation like projection mirrors the highly structured messiness of the grass balls on stage: "a world that is being generated through trial and error," Mitchell said. 
"I think the idea 'behind' is [a] much stronger [concept] than to say the idea aloud," Dongnier said, when discussing "1920 x 1080." "[Technology] should exist in a much deeper space, as opposed to [existing as] something shiny on the outside."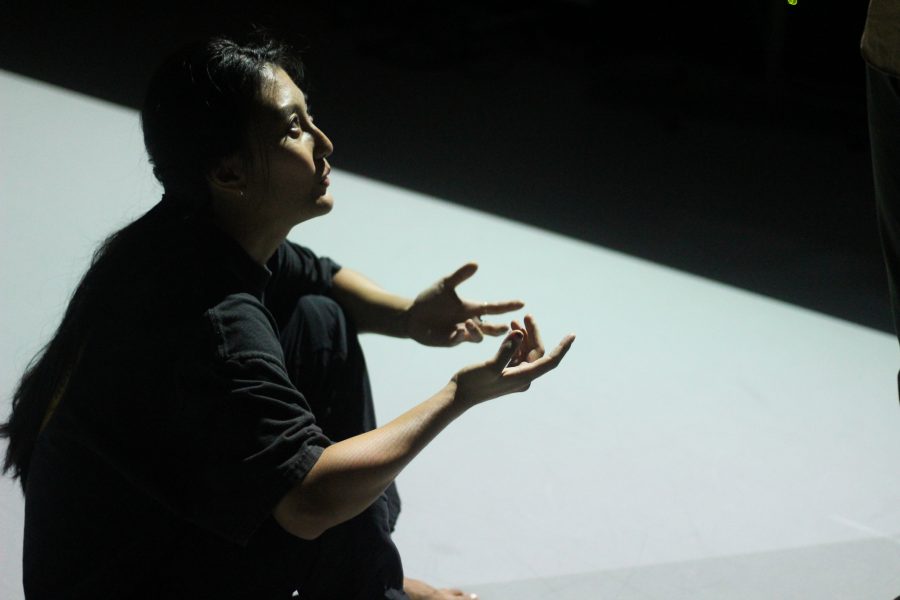 For Dongnier, exploring these two varying sides of herself — her interest in classical opera, music and literature, and her interest in nomadic culture and field work — has informed her experimental idea of what it is to be an artist. 
"Visual artists inspire me more than choreographers because they are constantly expanding the idea of what art can be," she said. "You have a root, but you keep changing and experimenting." 
As Dongnier harnesses a collective energy in these works — between dancers, spaces and technologies — she creates something entirely contemporary, redefining choreography as not merely a designing of movement sequence, but a designing of the living world.
Email Maxine at [email protected].