'No Two Latinxs Are the Same': Afro-Latinx Academics Carve Out Their Space at NYU
Afro-Latinx students, peers and professors find community in academia and re-learning history.
"I was constantly told that I was too dark to be Latina," Kim DePass said.
DePass' complexion makes others perceive her to be African-American. That isn't a bad thing; it's just that she isn't African-American. The College of Global Public Health first-year wrote in an email that she identifies as Afro-Latina and has always been proud of her family's Latinx heritage and African ancestry. But her Afro-Latinidad has always been something she's had to prove to others.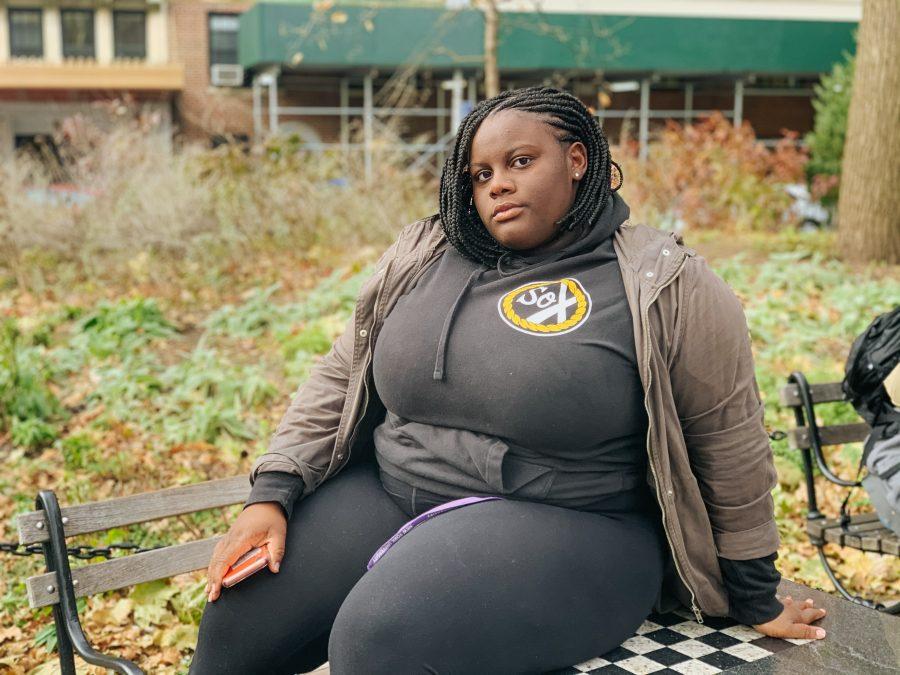 When she says that her mom is from Jamaica, her identity as a Black woman becomes clear, but DePass is often then told she is lying about her Latina identity when she says her dad is from the Dominican Republic. She is pigeonholed as someone who can't be Latina because she doesn't have a Spanish-sounding last name or Black because of her ability to understand Spanish. In the eyes of the people she interacts with, she can never be both.
While Afro-Latinx is a relatively new term, it is an identity that has been largely erased within the Latinx community. Though there is much debate surrounding the 'x' in Latinx, the letter itself is used to be inclusive of gender-nonconforming identities in the Latinx communities while also challenging the gender binary in language and society. Latinx is the latest iteration of earlier versions such as Latin@ and Latine.
In a world inundated by labels, assuming a person's identity or putting them in a box can be harmful. While a label can denote a sense of community, it can also isolate those who feel it fails to emphasize intersectionality, especially if one's identity has both ethnic and racial dimensions.
But for Afro-Latinxs, it is this racial and ethnic double marginalization in the U.S. that can make some question their identity or even feel alienated from certain parts of their identity. Though conversations surrounding Afro-Latinidad may be difficult to have,  community members say persistence in having them is a step toward recognizing and ending the erasure of Black narratives in the Latinx community.
DePass decided to do this by writing about her Afro-Latina identity in her college application to NYU. In her personal statement, she wrote about what it means to be Afro-Latina, how it felt to not know her place in the world and her eagerness to do what she can through academics to ensure that other Afro-Latinxs don't experience the same difficulties.
"Academia has always been a safe-haven for me, especially when it comes to writing, because in these spaces I [can] share how I feel with little construction," DePass wrote. "My identity [as an Afro-Latina] and my education is who I am as a person and that shows up in my school work."
But DePass' journey to accepting her Afro-Latina identity involved traumatic experiences that occurred when she was younger, most of which stemmed from being told that she did not belong in the Dominican or Jamaican or Haitian or Black communities. This led to self-esteem issues and affected her mental health throughout her childhood. She recalls that, as a child, she suppressed her insecurities because she wanted to be accepted by the aforementioned communities. But DePass is slowly moving past that now, in part because academics has given her the ability to stand up against her oppression.
"I am very lucky to be living in this time where the Afro-Latinx community is really coming to the forefront of mainstream society and declaring their existence," DePass wrote. "I say who I am loudly and proudly for all to hear and if people don't believe me or don't accept me, the issue is on them and their lack of knowledge rather than my own burden."
In recent years, Afro-Latinxs have utilized social media as a platform to demand that their identity be acknowledged. This influx of online presence gives people the ability to learn about Afro-Latinidad in ways that are more accessible.
Some social media accounts like @afrolatinas highlight "the diversity & beauty among young Black women of LatAm descent" while others like @hashtagiamenough are "instilling self-assurance, self-worth and self-love" on their platform. These accounts are sharing the nuanced experience of Afro-Latinidad, building community among other Afro-Latinx folks while also discussing their narratives in their own ways.
Many are denied access to Black history through systemic erasure in education, which leaves gaps in the history of marginalized communities — like members of the Latinx community who are of African descent.
Though providing university courses that preserve and acknowledge Black history isn't the entire answer, it is a start. Visiting assistant professor Amarilys Estrella says one of her goals is for her "Afro-Latinx Culture and History" class to be a space where conversations about Afro-Latinidad can be had, educating students about the history of slavery in the Americas and the implications it has on society today, especially within the Latinx community.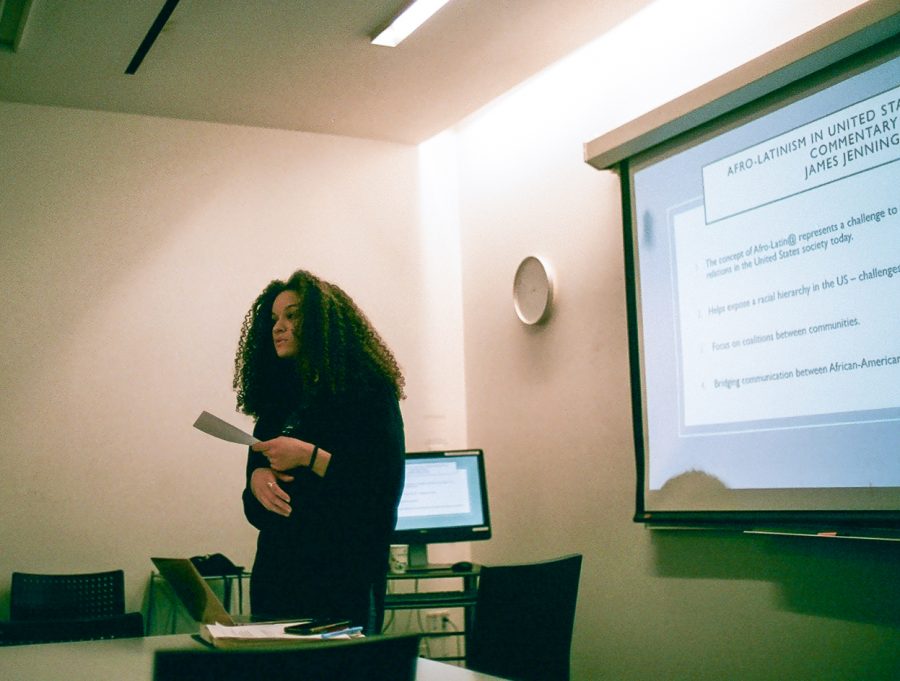 "Creating these spaces and having this course was really an opportunity to start looking at 'What is the history that has not been told?'" Estrella said. "It's not just me, the professor who is teaching, it's the students who also have their stories, and they need to be told, and I can bring those into the classroom."
While Estrella believes that the course is a good introduction to the history of Afro-Latinidad, she also maintains that one course cannot cover the extent of the erasure of Afro-Latinx identities within the Latinx community. But she believes that it can inspire students to include this topic in their research beyond the classroom.
"I've always been interested in colorism and discrimination within one race, so this class is helping me see that [colorism and discrimination] is very real and happens in many cultures," CAS junior Mickayla Coutinho Brandao said. "This class is allowing me to relate to Afro-Latinx people even though I'm not Afro-Latinx."
As someone who identifies as a Cape Verdean woman, (Cape Verde is an island country and former Portuguese colony off the west coast of Africa), Coutinho Brandao has experienced colorism in her culture and isolation from African-Americans in the U.S. She recalls not feeling Black enough for her Black friends because of her lighter skin tone and looser hair. On the other hand, she had family members constantly telling her not to stay in the sun for too long so she could maintain her lighter complexion. These dismissive and discriminatory comments often made her question her identity.
"I would think to myself, 'Do Black people look just like one thing?' But no, we come in a variety of identities," Coutinho Brandao said. "So I'm minoring in Africana studies to get a better understanding of who I am as an African woman in America, my roots better and how Africa varies."
Estrella's class has shown Coutinho Brandao that Black people have a place in a multiplicity of cultures, but she says society has a long way to go in recognizing this. CAS senior Jailene Peralta believes that it is important to acknowledge Afro-Latinidad in order to end Black Latinx marginalization within Latinx communities. 
"No two Latinxs are the same," Peralta said. "I think in a lot of Latinx spaces, there aren't a lot of Black people so I feel the need to emphasize that, 'Yes, we share a common history, we might speak the same language, but I'm Black.'"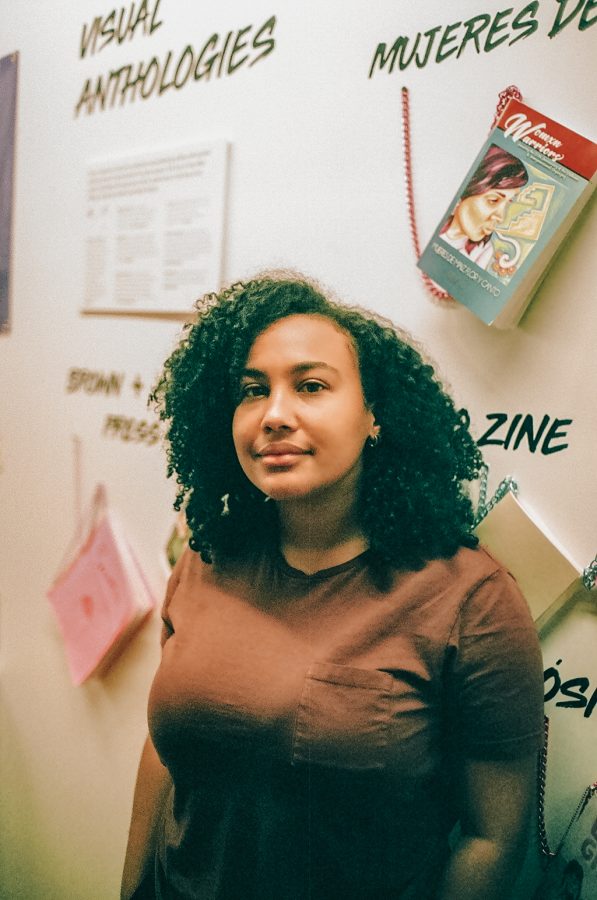 Peralta always emphasizes her Afro-Latinidad because she wants people to acknowledge that there are layers to her identity and that she can choose how to identify based on who is in the room with her and how space is divided. Sometimes she identifies herself as Dominican, while other times she identifies as Latina — but that doesn't mean that she is denying her Blackness.
"A lot of the times when people question the fact that I want to identify as a Black Latina, it's always like, 'Well why not just Latina? Aren't you Latina? Aren't we all Latinos?'" Peralta said. "It's important to [distinguish] that I'm collectively part of the [Black] diaspora but there are specific subsets that I experience that others might not."
Peralta is currently double majoring in history and Social and Cultural Analysis with concentrations in Latino studies, Africana studies and gender and sexuality studies.
"I have this ability to work a lot of Black Latina womanhood through my major," Peralta said. "I'm able to, on my own, use the resources and the access of NYU to learn more about myself which I feel that people that look like me are not able to do so in these elite university spaces."
Taking Estrella's class enables Peralta to continue preserving her culture as well as learning from other Afro-Latinxs that have critiqued the ignorance of some members of the Latinx community on Blackness.
"It's really good to be seen, in terms of seeing others academic work that explains what I'm feeling or what I'm experiencing," Perlata said. "This class also helps me sort of find ways to deliver my identity better and my lived experience better."
Peralta isn't afraid to reclaim her space at NYU. She said she has no choice when it comes to being as assertive as possible, as her identity has never been treated as deserving of equal space with others. Peralta is aware of the racist "angry Black woman" trope — one that is often weaponized against Black women who speak out against the injustices that they face. But partly thanks to what she has studied, she isn't afraid to tackle that bias head-on.
"I think a lot of classes that I take empower me in a way to be more audacious and be less afraid and just [reclaim my space]," Peralta said. "I just do it."
For Afro-Latinx students at NYU, spaces like Estrella's Afro-Latinx class are a place to begin informing themselves of their identity or continue to work toward understanding who they are.
"I have the privilege as someone who goes to NYU, to take these classes and share it with people who many not be afforded these experiences," DePass said. "I will advocate for people to know about this kind of education."
A version of this article appears in the Monday, Nov. 25, 2019, print edition. Email Mandie at [email protected].