Every year at the Tisch School of the Arts, students and professors make more than 5,000 films. In the process, they discard food waste, single-use plastics, water bottles, expendables and other fodder for landfills. NYU's Office of Sustainability had been looking for a way to tackle this issue, and 2019 Tisch graduate Vivian Gisle was happy to engage.
In her senior year, Gisle served as a showrunner as part of her Advanced TV Production class, in which two TV pilots are produced each year. In the spring of 2018, Gisle submitted her script for the pilot of "Mary and the Mob." The series follows a suburban housewife who is accidentally kidnapped by bumbling mobsters who meant to get her husband. She decides to take over the criminal organization, whip her cronies into shape and coordinate her husband's comeuppance herself. Professor Harry Winer liked her idea and accepted her as a showrunner for the course. Gisle says that it was also Winer who put her in contact with NYU Sustainability.
The office provides funding called Green Grants for student projects that strive to be sustainable. In order to receive a Green Grant, Gisle and her executive producer, 2019 Tisch graduate Heather Vaxer, had to submit a proposal indicating what they planned to do with the money and how they were going to offset their environmental footprint.
"The department had never given a grant to a film set before, only to other projects," Gisle told WSN via a phone interview.
In order to coordinate their efforts, Gisle brought on Skidmore College environmental studies graduate Bradley Sachs as sustainability officer, a previously unheard-of position at Tisch and the film industry at large. Sachs, a friend of Tisch 2019 graduate and director Matthew O'Connor, helped to brainstorm ideas to keep the set sustainable and was present to manage sustainability on set for the entirety of the shoot.
"He kind of posted up by the trash," Gisle said.
Sachs served as a resource for crew members, explaining what could be composted, recycled and reused. One of the first to arrive on set, Sachs set to work delineating a clearly labeled station for recycling, trash and compost. At the end of each day he would stay after the rest of the crew to take stock of their waste, weighing the contents in order to provide an accurate final report and making sure that everything that could be composted or recycled was in the right bin.
"I was very open to having conversations … being that resource, somebody on set who's very familiar with the concept of sustainability who's explaining why we're composting," Sachs told WSN via a phone interview. "All of a sudden that makes more sense, it changes crew morale, it's no longer a hassle." 
During shooting, Sachs served in part as a production assistant and an extra set of hands, offering to fill up crew members' reusable water bottles and ensuring that everyone on the crew remained hydrated. Though filling up water bottles was not exactly what he expected to fall within a professional sustainability officer's purview, Sachs believed it was his job to serve as an ambassador for sustainability. His position was unprecedented in the film industry, let alone a student production, and so Sachs made himself indispensable to the process. 
"Because everyone was used to a different regimen … If you added too much of a hassle to other people's jobs, it felt like [sustainability] was something that could have been dropped from the priorities. It was good to reorient everybody and keep everybody focused on the same sustainable goal," Sachs said.
In addition to composting and purchasing reusable water bottles, Gisle's crew cooked all of the meals that they ate on set. Gisle says that they not only helped the environment by not purchasing takeout, but they also ended up saving money by avoiding delivery and restaurant pricing.
When shooting outside of the city, the crew took a single passenger van and additional crew members took the subway. All props were sourced from the crew itself, and wardrobe was all sourced secondhand so as to avoid contributing to fashion industry waste. To avoid packaging waste, Gisle purchased craft services, snacks for the crew, in bulk.
"Splurge on a Costco membership and buy in bulk, it's better for your set and better for the environment," Gisle said.
Over the course of the weekend, Sachs says the 30-man crew produced "one single CVS bag" worth of actual trash. 80% of the set's waste went to recycling or compost facilities, thus only 20% went to the landfill. Sachs believes their impact was undeniable, though they could always do more. In the future, he endeavors to take more accurate readings of electrical usage, checking the meter before and after shooting.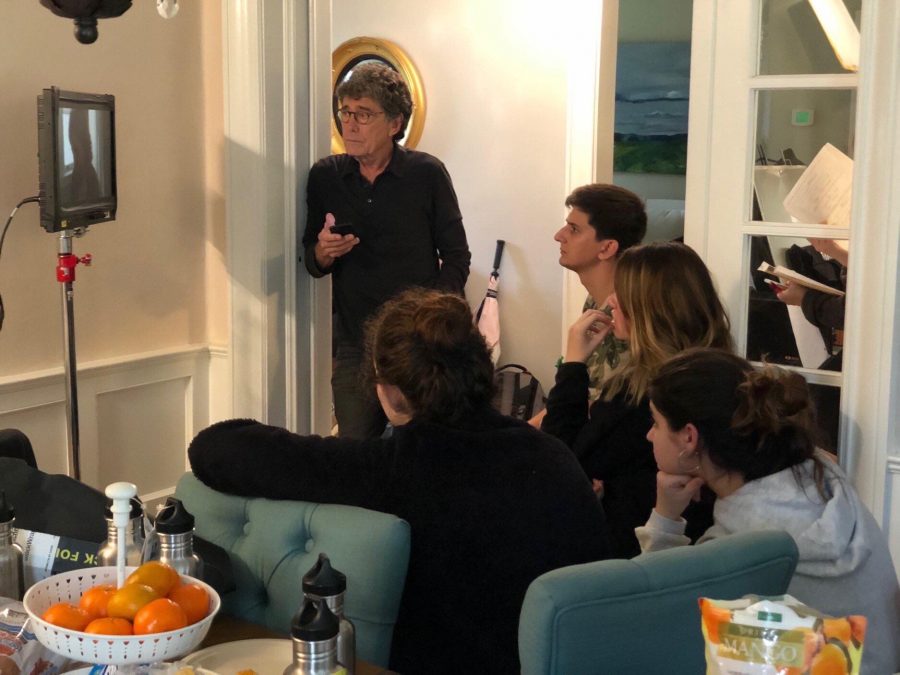 Included in the initial proposal for the Green Grant was the stipulation that Gisle and her crew would coordinate the creation of a documentary to record their efforts.
"We're in film school, why wouldn't we make a film about it?" Gisle said.
Since its completion, the documentary has been played in numerous Tisch production classrooms, and Vaxer has visited a number of these classes to explain the process. The documentary explains the daily routine that Gisle's crew followed and includes recommendations for students. 
Gisle recommends that future sets at Tisch adopt the same practices, and advises students to do what they can individually to be sustainable no matter whose set they're on.
"The easiest, easiest thing to do is have a reusable water bottle …  the bulk of trash on film sets is single-use water bottles, so either invest in your own reusable water bottle or, as a set, buy reusable water bottles," Gisle said.
She also encourages producers to purchase plastic baggies to store snacks in that can be washed out, reused and kept as part of the producer's kit.
Included in the Green Grant proposal was the potential to start a sustainability class that would be mandatory for Tisch first-years. Sachs plans to get in contact with Tisch professors to design the class in the near future. He envisions a class taught by two professors – one from Film & TV and another from environmental sciences. He says many in the film industry are ready to revolutionize production waste and has been surprised to see enthusiasm from old hands.
"Mature people who are in the industry are saying 'finally,'" Sachs said.
Since working on "Mary and the Mob," Sachs has served as sustainability officer on a number of other sets, including a Netflix production. To students who are interested in sustainability on set, Sachs says the experience is extremely rewarding. 
"It's not necessarily a sexy role, it does involve sorting trash, but it is a very fun role and a relatively intellectual role because people ask you questions you're not sure about," Sachs said. "Somebody asked me on set, 'Which is more sustainable, a juul or a cigarette?' and I said, 'Wow, I don't know.'"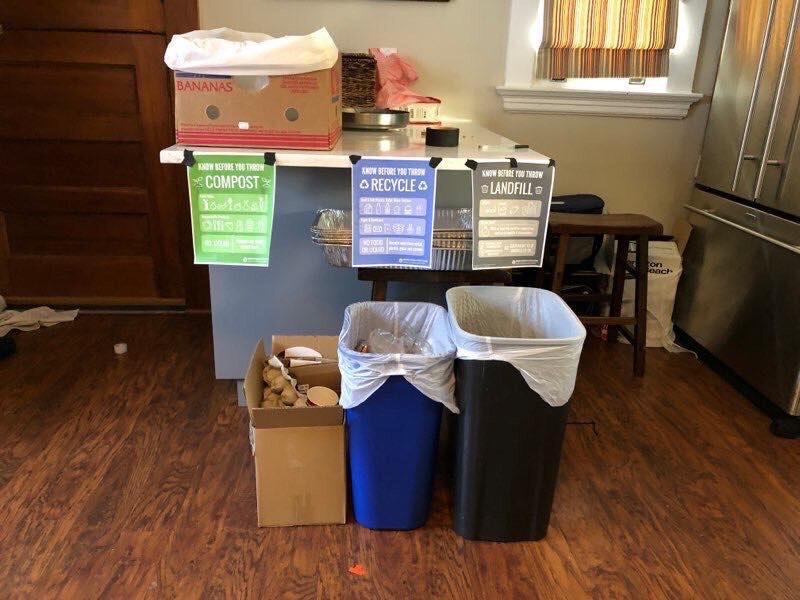 Sachs notes, however, that you don't have to be a sustainability officer to make an impact. Simply advising others on what they can do to be sustainable will change the norm.
"Eventually I want it to just be second nature, it's what we need to do to get to that point if we're really going to be successful and make everything sustainable," Sachs said.
In a post-shoot survey, 96% of crew members said that they found the process of sorting and disposing of waste easy enough to sustain. 100% believed they'd like to see sustainable practices on future sets.
Gisle believes that the position of sustainability officer and the practices that her crew implemented could even be applied to multimillion dollar sets, potentially reducing tons of waste that are produced by the film industry daily. She hopes that by developing good practices as students, Tisch students will develop habits that stay with them as they move into the industry themselves.
"We're one of the top film schools in the world and I think one of the responsibilities of that is leading change that can ripple through the industry once we're older and once we're more established and if we start these practices now and start having the environment more in mind when we're making films I think that can lead to a larger change once we're all in charge," Gisle said.
Email Fareid El Gafy at [email protected].