Franklin Reitzas was supposed to run the New York City marathon in his first year at NYU, but he forgot to sign up for the race before the deadline.
This time, the SPS junior planned everything out far in advance and started training over the summer. He ran almost every single day for 16 weeks, only taking days off on Fridays. 
"I was running probably around 30 miles a week [earlier on] and the highest mileage was on Sunday when 14 weeks into the training program, I'd run 20 miles in one sitting," Reitzas said.
Reitzas ran cross country competitively in high school and even contemplated walking on to NYU's cross country team before deciding against it in order to enjoy a more robust college experience that wasn't tied to running. However, he continued running in his free time and, when it came to preparing for the marathon, he was all-in.
"Everything that you do, you need to remember that you do your run," Reitzas said. "So some days, when I would have a full day of school and work and I wouldn't finish my day until 10 p.m. and I'm exhausted. I get home, I take off my backpack, I sit on my couch and I think, 'OK, I just want to go to bed.' But then you think, 'No, I have to run.'"
"All I do is think about food and sleep," he later added. "When's my run? If I eat now, can I run later?"
He would run the same route each day along the East River, extending it further and further until he reached the 20-mile marker. Each time, he would bring $5 with him on his run to buy two bottles of Powerade from the halal cart he always passed ⁠— one for the run to his target and one for the journey home.
"And then when I go home, all I have is a carton of eggs," Reitzas said, detailing his somewhat unusual eating habits. "I'll crack it open, crack six eggs, boil it up a little bit, put some vinegar and then eat it. It's some good protein."
Reitzas' dad flew in from California to watch him run on Sunday ⁠— something that means a lot to the SPS junior.
"For him to spend over $500 on a ticket just to come watch me run for three hours or just to support me at the finish line and say, 'You did a good job,' It just makes me really happy to think that he's proud of me and that he really wants to see me accomplish my goals," Reitzas said.
On Sunday, Reitzas finished with a time of 3:34:31.
—
"I was like, 'No, they're my lucky shoes. I got to wear them!'"
Avery Looser has been training in the same pair of beat-up Brooks running shoes since January, when she ran her first full marathon with her mom at Disney's annual Dopey Challenge, a total of 48.6 miles over four consecutive days. 
Soon after, they decided to challenge themselves again ⁠— this time, with the world's largest marathon. Looser and her mom began training together for the New York City Marathon in May back home in Houston. 
Since the Tisch first-year moved to New York City in the fall, she has had to find the time and motivation to train alone.
"My mom and I used to do all of the runs together so it was a little sad because I had to do all of those runs by myself," Looser said. "Finding the motivation to do them was a little tough and I would have to plan all of my schoolwork around Saturday, because that's when I would do my long runs. It's just been a little tricky to find time to do what I'm actually here to do as well as like, adjusting to freshman year and New York City and all that stuff."
In addition to finding the will to wake up early each morning and run, Looser also struggled to find a space big enough — and safe enough — to accommodate her training program.
"The biggest challenge for me was finding a 20-mile radius in New York City for me to run in by myself starting at five in the morning where I would be safe," she said.
Despite the distance, Looser and mom would keep track of each other's progress through daily text messages and phone calls, which Looser said motivated her to keep going even on days when she would have preferred to stay in bed.
"I think I knew how much my mom was working and for her, finding motivation to run those long distances by herself now with an empty nest," she said. "I was just thinking about all of the effort and willpower she was having to put into it and that kind of made me be like, 'I need to do this, too. Not just for me, but for both of us.'"
On Sunday — in that same pair of Brooks — Looser finished in 6:07:22.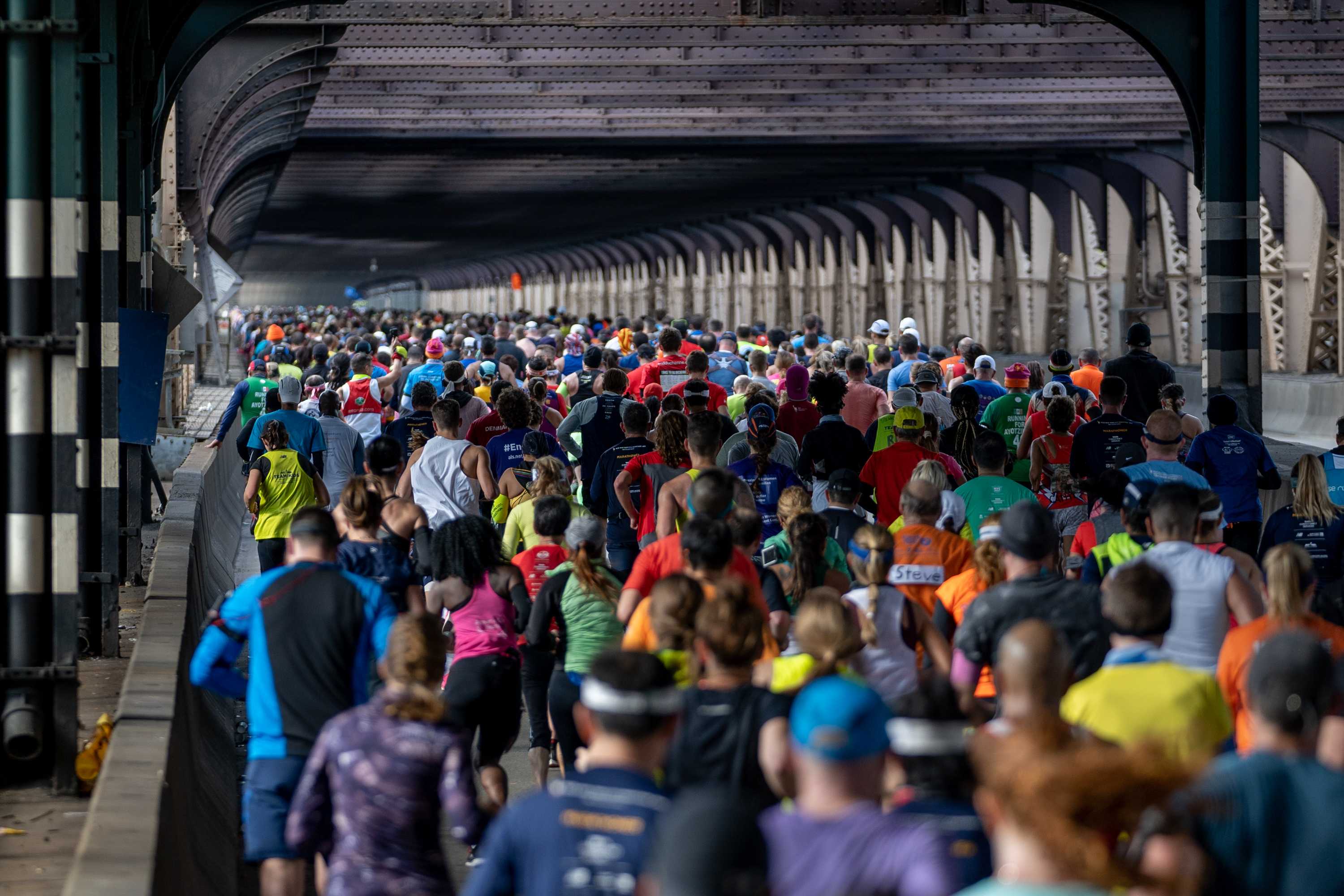 —
Jordana Lusk first ran the New York City marathon back in 2015. But this year was different.
"I started transitioning with hormone therapy in December," the Steinhardt junior said. "So that's been a stressful thing, but I felt like training for the marathon and having a goal would also help me just keep it together."
Lusk started training in May and tried to run an average of 45 to 60 miles a week, saving her long runs for Sundays. This year, she decided to run with the Human Rights Campaign team, which is made up of a group of LGBTQ runners and allies. The group trained mostly on their own, but they kept track of each other's progress through an app.
"For me at least, it's more for my well-being and it's not as much about my time and being competitive," Lusk said. "Doing it for a good cause and just being able to stay mentally well."
Lusk's introduction to running came when she was eight years old. She then went on to run long distance in middle school.
"My neighbor would always run past my house when I was little and I was so inspired that I wanted to start running, too," Lusk said. "It helped me get over so much anxiety and gender dysphoria and stuff like that. So I just always love running."
Lusk is currently prioritizing graduating and finding a job, forcing her to put future marathons to the side for now. She does, however, appreciate the focus that preparing for the marathon gave her.
"Having a goal, especially with running, motivates me more to get out there even when it's raining or really cold or on days when I don't want to because I know that if I don't do the training, it's going to suck on the day of the race," Lusk said. "Once you sign up, you can't really go back."
Lusk finished with a time of 4:26:20.
—
Coco Wander has one big piece of advice for first-time marathon runners:
"You put chicken noodle soup in a thermos and then you drink or eat that right after. You just have that salty broth and it brings you right back to life," she said.
And she would know. The Rory Meyers senior ran her fourth marathon on Sunday, and she has treasured every single one.
"It's just that gratitude that you have to stand at the starting line and to be able to run every race," Wander said. "It's not an opportunity that many people get. It's a really special day and the whole city comes out and celebrates you and I swear it's better than Christmas."
This year, Wander served as a mentor for Team for Kids, guiding first-time runners and getting them from "couch to marathon."
While Wander enjoys running in the marathon every year, her favorite part actually comes after the race is over. The official end time of the race is 7:25 p.m., but race officials don't shut down the finish line until every single person finishes.
"It's so much fun because they don't really have the crowds anymore and they've been pushing through a crowd that's basically like, 'Oh the marathon's done! Goodbye!'" Wander said. "And they still finish and it's one of the most inspiring things you can do all day so you cheer them on as they finish."
On Sunday, Wander finished with a time of 4:13:03.
A version of this article appears in the Monday, Nov. 4, 2019, print edition. Email Bela Kirpalani at [email protected].