Softball Team Adds New Assistant Coach
Recent College of Staten Island graduate Alison Meagher has joined the Violets as an assistant coach.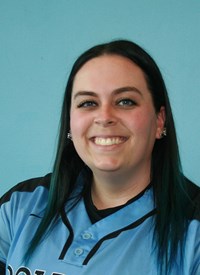 The softball team stayed local when it added College of Staten Island '19 graduate Alison Meagher to its coaching staff. Meagher, who was a three-year member of the Dolphins' softball team, was hired as an assistant coach under the Violets' Head Coach Now-Allah James. 
Meagher brings a plethora of experience in collegiate softball, having played for Rider University in 2012 before enrolling at the College of Staten Island in 2016. At the College of Staten Island, she earned First Team All-CUNY Conference honors as a junior and senior, and the team's Pitcher of the Year award as a senior. Meagher was also named captain for her senior season. 
"Being a former collegiate softball player helps me be a better coach because I can relate to what they are going through," Meagher said. "As a former player, I can give them that peace of mind that they can get through it and all of their coaches are here to help them along the way."
Over the course of her playing career, Meagher faced off against NYU multiple times.
"Just by playing against them, I could tell they were a well-coached, disciplined program who also were a tight-knit family," Meagher said. "The NYU team always stood out to me as a player, and I knew I wanted to be a part of it one day."
As an assistant coach for the Violets, Meagher's responsibilities include assisting the outfielders and hitters, providing academic support and contributing to the team's recruiting efforts. 
Given her vast experience in the sport, many members of NYU's softball team are excited by the new hire. 
"We've only practiced a few times so far, and she's going to be working with the outfielders, which I am really excited for," outfielder and Gallatin senior Samantha Sicignano said. "She seems really nice and she has the college softball experience, which helps especially when she's got some cool drills."
The Violets had a solid 2018-19 campaign, finishing with a 20-13 record but falling short of a berth to the NCAA Tournament. This season, in just its fourth year as an NYU varsity program, the team looks to earn its first-ever trip to the tournament.
"That's big for us again this year, to get those wins and hopefully make it to the tournament for the first time in program history," first baseman and CAS senior Mary Tindall said.
The Violets hope Meagher will reinvigorate the team and provide them with the tools necessary to make it to the next level.
"I think that she will be able to give us a different perspective than our other two coaches who haven't played softball," Tindall said. "She knows exactly where we've been and how we're feeling at certain parts of the season, and she can give us more specific insight into what we need to do to help improve ourselves."
A version of this article appears in the Monday, Oct. 7, 2019, print edition. Email Arvind Sriram at [email protected].