The NYU hockey team started its season on a high note, defeating William Paterson University 5-2 on Friday night at the Sky Rink at Chelsea Piers.
NYU scored two unanswered goals to start the game, but headed into the final period only up 3-2 following a nervy second period. In the third period, the Violets stepped into high gear, adding another two goals and finishing off the Pioneers for the win.
"I think we were just excited to play somebody else, line up against somebody else, hit somebody else," forward and SPS junior Richie Doherty said.
Last season, the team finished in last place in the Eastern States Collegiate Hockey League with the worst defense and goal ratio in the conference. This is the team's third year competing in American Collegiate Hockey Association Division I competition.
"Like they always say, through failure is where are you going to see the most growth," Head Coach Chris Cosentino said. "We've got a great group of guys. They're all playing hard for each other. And I think that's where it starts."
The team spent four weeks training and preparing for the start of the season, focusing on keeping it simple and making the right plays on the ice.
"Coming in here, we wanted to be a hardworking team, get pucks in deep and be a physical presence on the ice," sophomore center Adam Peck said. "I feel like we did that, we killed penalties and I don't think we let up any power play goals so that's always good."
"We had times where we were stringing three, four, five shifts together at a time and that was leading to goals," Doherty said. "I think there were times when we didn't capitalize on keeping the pedal down the whole time and staying consistent. I think with time that will come as we get used to playing with each other more."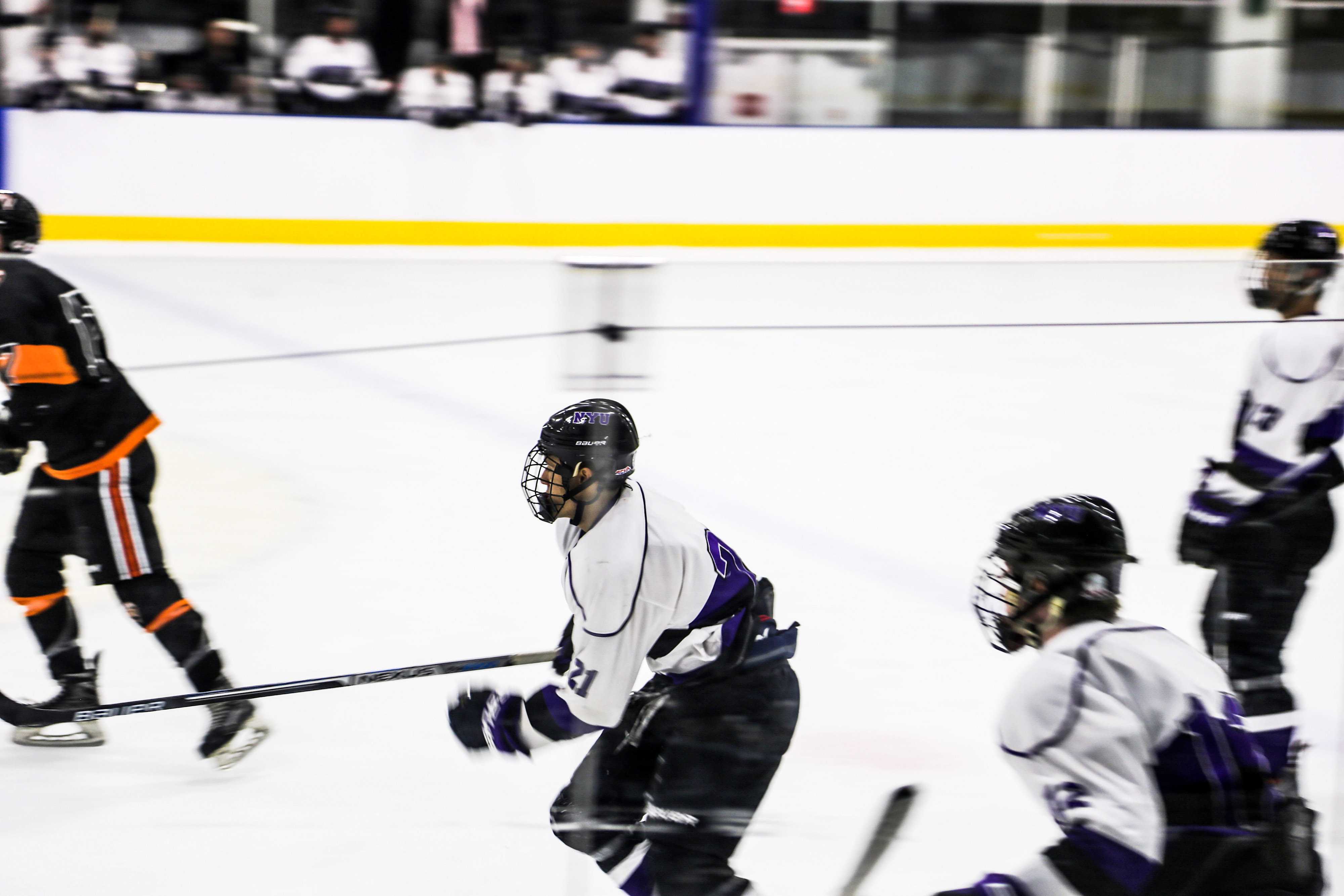 A different player scored each of the team's five goals — a testament to the depth and talent on the team. Peck, Horowitz, LS first-year Reagan Wortz, SPS junior Andrew Williamson and first-year David Rosales put NYU on the board.
"It shows that we have a lot of players coming in this year that can all put up points," Peck said. "It's great coming off of last year where we didn't have that as much."
Forward and SPS senior Frank Horowitz echoed that sentiment, citing the strong chemistry and mentality of this year's team.
"The attitude and confidence has changed all around, we have a much better group of guys dialing in and buying into the system," Horowitz said.
The stands at Chelsea Piers were packed with excited — albeit chilly — students, cheering on the Violets in what they hope will be the first of many wins this season.
"It means a lot," Doherty said. "If we can be successful, it'll mean a lot for the university because it will give the fans and students something to come out and experience."
As far as the team's season aspirations, forward and SPS senior Frank Horowitz put it simply.
"We want to win a national championship."
A version of this article appears in the Monday, Oct. 7, 2019, print edition. Email Bela Kirpalani at [email protected].