Shoebox-sized apartments shared by four people, bedrooms with hardly enough space for a twin bed and friendly rodents that visit from time to time. Despite the downsides, off-campus housing can be worth it — especially for these students who not only live off-campus but also pay their rent themselves. 
Rachel Arbacher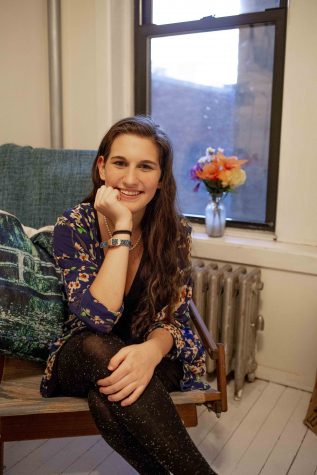 Rachel Arbacher is a junior in Steinhardt who lives in the East Village. She lives with two roommates and pays a monthly rent of $1,400 — a price she believes is reasonable given the location.
"I'm close to campus, which is convenient; I have my own room, and we have a decent amount of living space," Arbacher said. "I do pay less for a single room than I would dorming in a double, though, which is something worth considering."
Arbacher made the leap to off-campus housing after her sophomore year. For Arbacher and her roommates, finding an apartment was a difficult mission due to their tight budget and neighborhood preferences. Because of this, they spent nearly 20 hours over the course of four weeks viewing apartments before finally finding their current East Village crib.
"It was exhausting, and brokers are very stress-inducing," she shared. 
In order to pay for her charming apartment — on top of a portion of her tuition and her minimal daily expenses — Arbacher works two jobs. By tutoring students in music theory and working as an editor at NYU's Writing Center, in addition to working full-time over the summer, Arbacher has saved up enough money to be nearly self-sufficient.
"I do enjoy the work but it definitely can be draining," Arbacher said. "It's hard to balance two jobs, two majors, a sport and music performances — especially when the jobs are one-on-one and mentally demanding. But knowing that I'm helping people makes it worth it."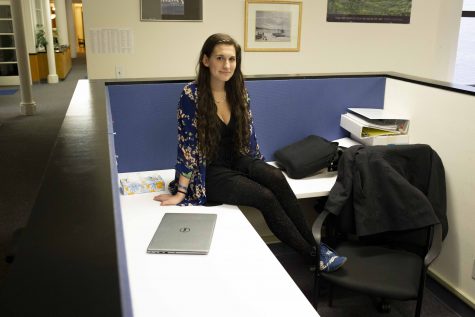 Arbacher shares that there is a satisfying sense of independence that comes with paying all the expenses that come with adulthood, but she makes it clear that she is by no means earning comfortable money yet.
"It's taxing, but at the end of the day it has taught me a lot about financial responsibility," she said. 
Jenny Du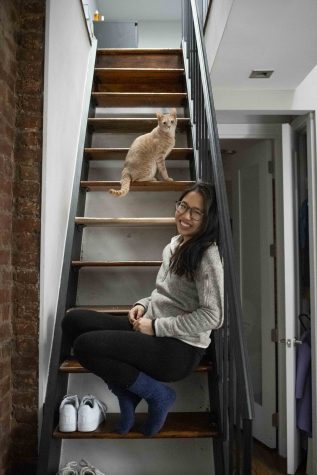 CAS junior Jenny Du is one of many NYU students that has found a home in the East Village. Although Du doesn't pay for her rent anymore, she was fully responsible for all her expenses, including rent, this past summer. She paid $1,375 for a newly renovated apartment that had a dishwasher, laundry machine and rooftop access, in addition to being close to campus. Compared to her two roommates, Du's rent is much lower because she lives in an open-air lofted room.
Du made the move off campus last May. Even though it was relatively easy for her to find a place, she found the process of apartment hunting stressful and incredibly fast-paced.
"We first viewed the apartment on a Saturday or Sunday, and signed the lease the following Thursday," she said. 
If Du could live anywhere in New York City, she would venture across the river.
"A high-rise in Downtown Brooklyn by Jay Street-Metrotech [is ideal] because it's easy to get anywhere in Manhattan or Brooklyn, and, of course, because it has the best view of Manhattan and the Hudson," Du said. 
Du paid for rent with the money she made while she worked as a legal and compliance intern at an investment management firm. 
Her paycheck also covered Wi-Fi, electricity, groceries, books and her gym membership. 
"I felt much more independent," she said. "Also, because my parents were already paying my tuition, I wanted to lessen their financial burden. Even though I don't pay rent anymore, being responsible for it for a summer has made me become more disciplined in my everyday spending habits." 
Cora Lee Womble-Miesner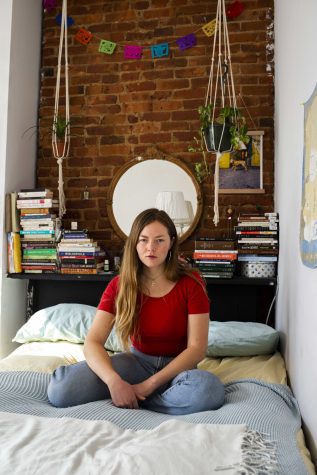 Transfer student and CAS junior Cora Lee Womble-Miesner lives in Bed-Stuy with her three roommates for $750 per month. Overtly aware of expensive housing before moving to New York, Womble-Miesner was relieved to find an apartment at such a low cost. In her eyes, it's a steal.
"It's just that the dorms are really expensive," she said. "I've never actually set foot in one. I transferred from a community college in San Diego, so this is my first experience at a university. In some ways, I feel isolated by living further away, but also I just feel alienated because of the wealth divide."
Womble-Miesner's ideal apartment is one near campus, mainly for the sake of convenience. That being said, she does enjoy living in Brooklyn — and her 40-minute commute to campus.
She knew that when she decided to move to New York City, she would be taking care of herself — as a 23-year-old, she did not expect her parents to be financially responsible for her anymore. Though Womble-Miesner sometimes envies those who do not have to support themselves, she says she would not have it any other way. Her hard work inside and outside the classroom gives her a sense of accomplishment. 
"At the risk of sounding like someone's dad, I think it builds character," Womble-Miesner said. "This isn't an easy city to be broke in, and it's even tougher when you are broke and alone."
She pays for all her living expenses, groceries, utilities, laundry and a fare evasion ticket she got after six months of hopping the subway.
"My parents cover my phone bill, shout out to mom and dad," she said.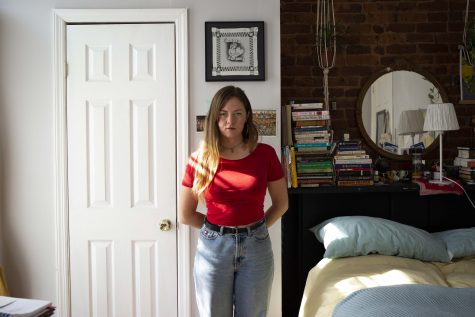 Womble-Miesner felt lucky to have a paid internship this winter, working at publishing company W.W. Norton, especially because last semester she was working 40 hours a week in a very physically demanding job that was paying her less than minimum wage. 
Her internship was the first job she ever worked sitting down, with decent hours. The one drawback was that she was restricted to working a maximum of 20 hours each week, forcing Womble-Miesner to find odd jobs from Craigslist to augment her income. 
"In three months when this internship is over, I will probably get a job at a grocery store, unless I can line up another internship opportunity," she said. 
Izzy Stein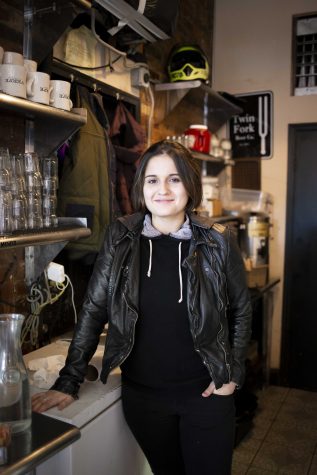 Despite St. Marks Place being notorious for drunken crowds and late night noise, CAS junior Izzy Stein isn't bothered. Her two roommates, who are also her best friends, and the location trumps St. Marks' infamous character.
"I really like it. It is expensive, but it is fun," she said, laughing. "Get to walk past seven different bars on my way home everyday, so it is good to fight temptation."
The apartment is sizable and clean, according to Stein, although it may not be worth the price tag.
"I feel like for me to justify paying how much I am, I would have to live in a mansion, but I think that just means I am cheap," she said.
Stein has been financially independent since she was 18, and has worked as a bartender, waitress, dog sitter and salesperson at different points in her life. She recently quit her retail and dog walking jobs at Madewell and Rover and is currently working at an Israeli restaurant called Spiegel and as a tutor. 
With her earnings, Stein pays for everything from eating out and groceries to her phone, internet and electricity bills. All these expenses make her money-conscious.
"In the summer, I literally refuse to turn [my air conditioning] on," she said. "It is there for decoration."
Stein was in NYU housing until this year. She last lived in Lafayette Residence Hall. Even now, paying $1,600 rent, she pays less than what she paid for NYU housing. 
She says that campus housing used to be challenging because she always had to sign in her family members who often visited her — though she sees why campus housing might seem like an easier option.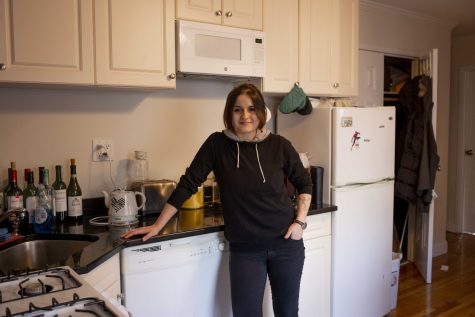 "You pay for everything in the beginning [for campus housing] and then forget about it, whereas now I have to make sure to remember to send the check every month and that I have the money in the account and I do not touch it," she said.
Her busy work schedule helps pay for all her expenditures, but worries the parents of the first-generation student who place great importance on Stein's education.
"My mom was really stressing about how much I was working and she really wanted me to focus on school," she said. "She offered to get another job on weekends and I was like, no. I like working. It keeps me busy."
Michael Marinaccio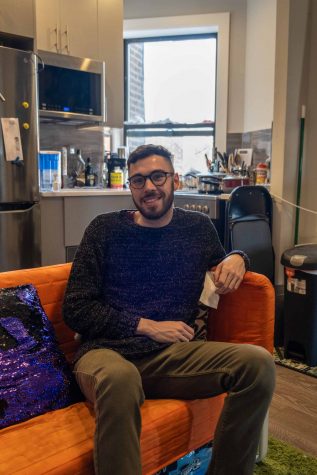 Beyond the invisible boundaries of NYU, CAS junior Michael Marinaccio lives on East 116th Street with his two roommates, with a monthly rent of $900 each. 
"Compared to apartments back home and even in Brooklyn, I think that we're definitely overpaying," he said.
As a transfer student, he had less than a month to find an apartment before classes began, and said the process was crazy. 
"The first time I ever visited [New York City] was actually to sign for my apartment," Marinaccio said. 
If he could get any apartment he wanted, Marinaccio would live in a Midtown studio, but for now, he's in Spanish Harlem, where he enjoys working as a restaurant server. 
"I'm hoping to score a job on campus as a tutor,"  he said. "I also work odd jobs on the side."
Marinaccio has been a server for six years and shares that the thrill of being able to financially support himself never wears off. His earnings cover all his monthly expenses including his monthly unlimited MetroCard, groceries, rent, clothing and nights out.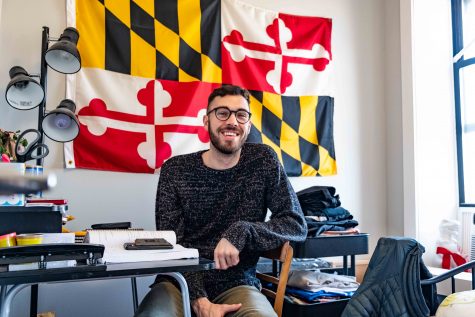 "I pay for all of my extras myself," he said. "I also send a chunk of my money home to my family to cover any expenses that they need help with."
The ability to provide for himself makes Marinaccio feel like a real adult. 
"Sometimes when I send the rent check in, I just smile because I'm living the stereotypical student-in-the-city dream," Marinaccio said. "I do get a little anxious at times because one bad night in the restaurant could force me to postpone grocery shopping in order to make rent on time."
Email Yasmin Gulec at [email protected]. A version of this article appeared in the Thursday, Feb. 21 print edition. Read more from Washington Square News' "Housing Guide 2019."