Been Stellar

Not everyone gets the chance to go to the same school as their best friend. Gallatin sophomore Sam Slocum got lucky.
Born and raised just outside of Detroit, Slocum and CAS sophomore Skyler Knapp grew up together, sharing a love for music and Ben Stiller. The pair then moved to New York City, both applying to live on the F.A.M.E. (Featuring All Musical Endeavors) floor of Brittany Residence Hall, where they met Nando Dale, Skyler's first-year roommate.
"The first day, Skyler and I were just chilling, and then Sam comes over and I didn't even know they were friends or whatever," Dale, a Tisch sophomore, said. "Anyways, we start jamming and it just felt awesome."
The name Been Stellar originated when Slocum and Knapp were still in high school.
"I wanted to have a name that had a double meaning," Knapp said. "On one hand, Been Stellar kind of sounds like a play on [Ben Stiller's] name, but also to me it sounded like a passive-aggressive way of saying 'I've been fine. How've you been? I've been stellar.'"
Recently, they met the real Ben Stiller, something that they had only ever joked about. Slocum, Knapp and Stiller, who went to high school with their friend's mom, met at (Le) Poisson Rouge, where Stiller was hosting a private event.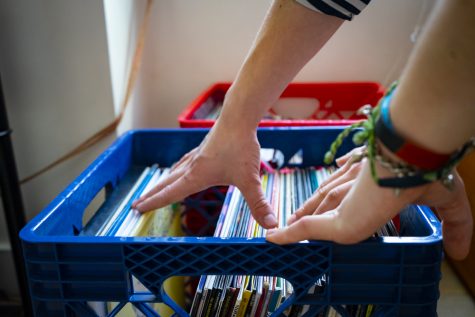 "It's funny because all throughout high school, people were always like, 'What if you meet him one day?'" Slocum said. "And it was always just a joke, and then I'm sitting there looking at Skyler and looking at Ben Stiller, thinking 'This is so weird.'''
Slocum, Knapp and Dale currently live together in a triple room in Gramercy Green Residence Hall, where open guitar cases and crates of vinyl records litter the floor and posters of Radiohead and "Twin Peaks" adorn the walls.
"I remember one day I was just laying in bed and Sam was just playing these chords, and I remember being just like 'Whoa,'" Dale said. "So I had to come out of my room to see what he was doing."
The trio spends their free time jamming in their apartment, coming up with ideas and experimenting with sounds.
"It's like we're all so comfortable with each other at this point, and us living together has made our song-writing process so much easier because we all trust each other and we all know each other," Knapp said. "We know that we're being sincere and genuine when we're telling each other feedback and we're all on the same wavelength when it comes to what we want things to sound like."
Slocum, Knapp and Dale have added Tisch sophomores Laila Wayans and Nico Brunstein to the band as a drummer and bass player, respectively.
In terms of their vision for the future, the young musicians naturally hope for success, but ultimately want to make music that they are proud of.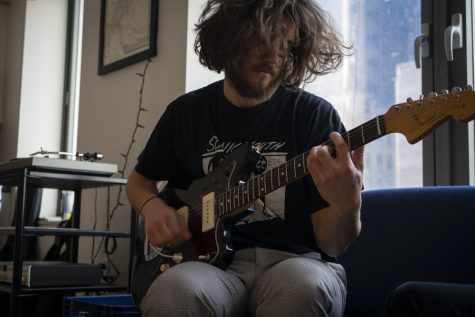 "It'd be great for this to work and we're really hoping it does," Slocum said. "But, beyond that, we're doing it to make an artistic statement that satisfies us personally."
Been Stellar released their first album in June 2017, titled "Sells Out," and are working on a new EP slated for release this year.
Along with recording music, the band has performed at shows all over New York City, which can be very time consuming, especially for full-time college students. However, as busy as life gets, they will never give up writing and playing music.
"[Music is] just always there," Dale said. "We play for it, we work for it, we enjoy it."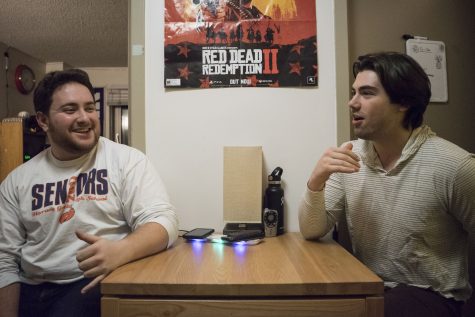 Interstellar Studios
In NYU's Tisch School of the Arts Film & TV program, there are students who spend entire semesters writing, planning and filming passion projects. For Cooper Ernst and Ben Kaufman-Shalett of Interstellar Studios, that's a typical week.
"Interstellar Studios is a young production company that strives to make our own content as well as doing a lot of commercial work," Ernst explained, sitting on a stool in his tiny Alumni Residence Hall kitchen. "Our idea is to try and fund our passion projects by doing work with larger companies."
Tisch sophomores Ernst and Kaufman-Shalett met in a writing class during their first year. Well, actually, they met before class when the two tagged along with some classmates to Dos Toros to grab some burritos.
"We look at our watch and see that class starts in like a minute," Ernst said. "So we get our burritos and we take off running as fast as we can. I remember I ate my burrito on the way — I didn't even know that was possible to do in a full sprint. Thus was the start of a beautiful friendship."
When asked how to describe their working relationship, Kaufman-Shalett quipped, "It's not much different from our friendship. We find the most mundane things and try to make them funny."
Working together on a business can be all-consuming at times, especially when you live with your co-worker.
"In film, working a nine-to-five is not a real thing," Ernst said. "And then when you live with the people you work with, it's really, really not a real thing."
"So, we're always on 24/7, thinking about films, working on films, wanting to do film," Kaufman-Shalett added.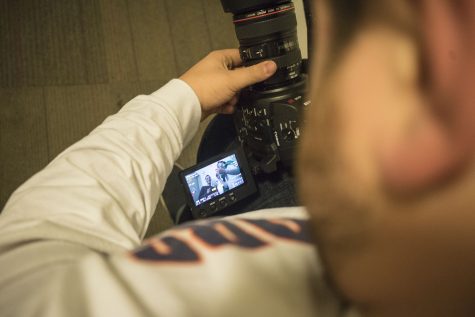 Ideas and jokes flow constantly between the two — after always arguing over who has the better beard, Kaufman-Shalett suggests that he and Ernst make a video, in which they battle it out to see who can grow the longest beard. A few days and some animation effects later, the Beard Battle video was born.
Ernst is the self-described visual effects editor and animation guy, while Kaufman-Shalett balances the roles of cinematographer and editor.
So far, the two have worked on different commercials for clients, while simultaneously creating original content for their YouTube channel.
"I would like to get to the point where one week, we do a commercial project and the next we do a personal project," Ernst said. "That's a hard process. You've got to build a client list in an already competitive market, and I think our model for the way that we do things is we're going to do it better, faster and cheaper than anyone else."
According to Ernst, the ability to produce their own content has played an important role in each of their lives, since falling in love with film at a young age.
"I use film as an outlet for dealing with the stuff in life," Ernst said. "So, I think when things are more complicated and there's more stuff going on, there's more to draw from."
Ernst and Kaufman-Shalett have a business-first approach to their company, and are always looking for ways to expand and produce interesting content.
"This isn't us messing around and putting our school projects out there, this is us — this is business," Ernst said. "Money is involved, and there are jobs and careers and job titles."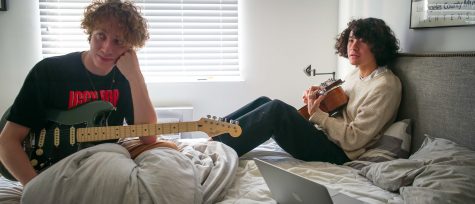 Human Girlfriend
Meet Thomas Paparella and George Matsuo — two lanky boys with long, curly locks cascading over their eyes. Paparella kneels on the floor of their Lower East Side apartment, his feet tightly tucked under him, his fingers dancing ever so lightly on an olive green Fender Stratocaster electric guitar. Matsuo sits on the windowsill, the sunlight flooding into the room, with his head bobbing as he softly sings and strums along on a Yamaha acoustic guitar.
The two met in 2016 as first-years at NYU Paris. They quickly became friends and began playing guitar together, eventually performing weekly at a local Parisian bar on Sundays.
"At the end of our freshman year, we released two unrecorded albums," Paparella said. "It was the most productive part of our entire lives."
Their band is now called Human Girlfriend — but it wasn't always.
"The original name was Les Tigres, which is like the band Le Tig, but I was like, 'It's fine,'" Paparella said. "Then I went to a party at the end of freshman year and the first person I talked to said 'You know you're named after another band.'"
During their sophomore year, the pair lived together in Gramercy Green Residence Hall, which was where they met their drummer and current roommate, Steinhardt junior Jared Shaw.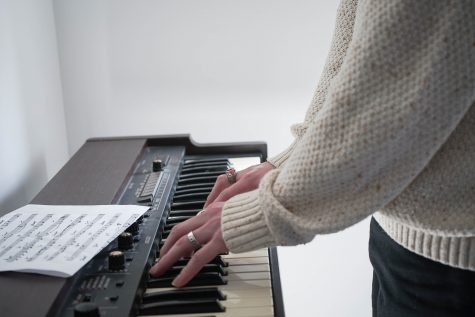 "It's definitely a rewarding and exciting experience to be able to take part in creating and shaping original music, which we think has its own unique style and genre," Shaw said.
The indie rock group has since added bass player, Steinhardt junior Tom Miritello, after meeting him during the summer when he helped record their forthcoming EP. Currently, Miritello is spending the spring semester in Prague, so fellow Steinhardt junior Jimmy Kavetas is subbing as bass player for Human Girlfriend's live shows.
Juniors in Steinhardt and CAS, respectively, Paparella and Matsuo have now lived together for almost two years, and love the way it affects their music writing.
"We'll be playing and we'll keep trying things until something sparks," Matsuo said. "Or one of us will come to the other with something that we worked on, and if it resonates then we move forward."
Matsuo grew up in Los Angeles and Japan, whereas Paparella hails from Rye, New York. Paparella's close proximity to the city allowed him to visit on the weekends and gave him his first exposure to venues they now play.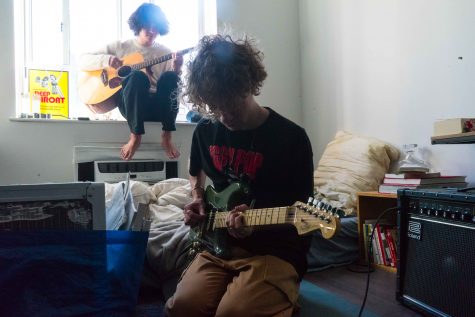 "I remember in like the 10th grade, coming to St. Marks and getting drunk like an idiot, thinking I was so cool," Paparella said. "And then I would go to shows with my dad in the city all the time, so that's why playing these venues is really cool."
Matsuo and Paparella describe their music as throwback '90s, but their list of musical influences is varied and extensive, including Twin Peaks, Fleetwood Mac, New Order, Velvet Underground and Gunna.
While neither had performed live much before coming to NYU, Paparella appreciates the passion and organization that Human Girlfriend brings to every show. And it's a plus that he can count on the people he collaborates with — his friends — to all stay in tune and keep on the same page. 
"It's nice to actually stand behind a band that you like the music that's coming out of it and you're not worried that someone's going to mess up the entire time," he said. "That being said, we all mess up multiple times, but I think [only we] hear it."
Human Girlfriend has released three songs — "A Ripened Pear," "Opposite People" and "Empty Saddles" — and will release an EP in March.
Tom Miritello was formerly the Audio Engineer for WSN.
Email Bela Kirpalani at [email protected]. A version of this article appeared in the Thursday, Feb. 21 print edition. Read more from Washington Square News' "Housing Guide 2019."