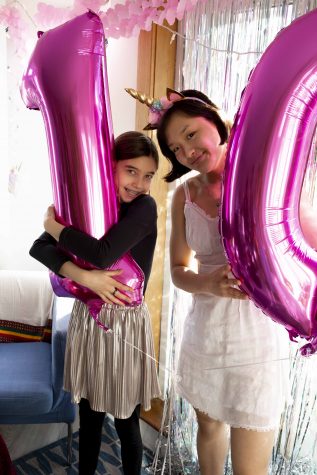 Elena Victoria Chirinos jumps up and down in her sparkly silver skirt as NYU students trickle into her sixth-floor Third Avenue North Residence Hall apartment to celebrate her 10th birthday. The party is unicorn-themed — mainly because of a rainbow-layered unicorn cake and multi-colored piping details baked by Kathy Lin, a resident assistant in Third North and Elena's occasional babysitter.
"We just decided to do it on unicorns because there was a unicorn cake and if there is a unicorn cake and you have like a Harry Potter themed birthday party it is kind of weird," Elena said about planning her first-decade celebration. 
T-shirt — as a former Quidditch team member, I liked her immediately, and thanked her for taking out some time during her school break to talk with me.
"I do not have anything to do," she said, to which her mom quickly responded from the kitchen "Homework, cello lesson […] But yes, this is the most important thing today."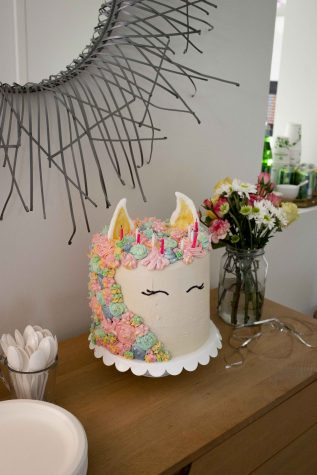 Elena is in fourth grade — she says she likes it way more than third grade — and has been living in Third North with her father Carlos Chirinos Espin, the Third North faculty fellow in-residence and a Clinical Music and Global Health associate professor in Steinhardt, her mother Lis Ssenjovu and their multiple fish for two years. Before their move to the residence hall, they lived in Washington Square Village, and before that, they lived in London until Elena was seven. She nodded her head when I asked her whether she misses London. Though she loves the community in the residence hall and her room, she says that she prefers London, mostly because of their cat, who they left behind. 
"We did not want to bring him here because he was an outside cat," she shares. "If we had lived on the fifth floor it might have been OK because if he jumps out the balcony — now this is sad — but if he jumped out the balcony his brains wouldn't shatter."
Elena likes doing her homework on the dining room table or near the window in her bedroom. Her favorite thing about their home is — and she warns me that it is a little weird — the shape of the apartment.
"I like the balcony — we have two," she said. "And, I don't know, I like how everything is placed — kind of seems like it was built for us and our stuff because everything has a place perfectly."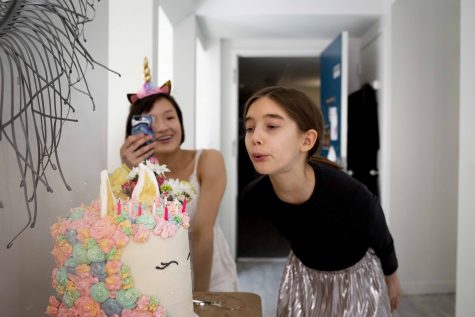 She also loves her bedroom where she keeps all her books, a replica of Hermione's wand, a small Tardis and her Dum Dum wrappers, of which she claims to have collected over 100. 
"My bathroom is inside my room, and I like having a bathroom," she stutters, "ensuite or something? It might not be too clean."
Elena loves living in Third North for two reasons: one, as an only child, the RAs and the residents have become like her brothers and sisters. The community has become a part of her family. Two, there is a TV room and game room, which a lot of her friends do not have. Her friends get a little confused about her living situation, and she shared that she wants to wear a sign so she doesn't have to constantly re-explain it.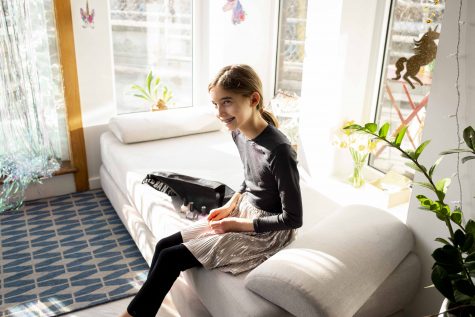 Contrary to Elena, Joe and Ruby Gary experienced living in a residence hall when they were older. Ruby, now a senior in high school, has lived in Brittany Residence Hall since she was 12, while Joe, now 24, left to attend the University of Chicago just one week after the family moved into Brittany. Their parents, Steinhardt professors Brett Gary and Amy Bentley, have been the FFIRs in Brittany for the past five years. With Joe off to college, their three-bedroom apartment was sufficient in size for Brett, Amy, Ruby and middle sister, Annabelle, who now attends Amherst College in Massachusetts.
Previously, the five-person family lived in Silver Towers, a three-tower complex for faculty and graduate students. However, Joe returned to New York City after graduating and has been living back with his family for a year and a half, while he works as a medical assistant and completes his medical school applications. 
For Ruby, making the switch from living in faculty housing to a college residence hall was difficult as a middle schooler. 
"It was a lot of professors with kids my age, so it was very much a neighborhood gang on the block," she said. "So it kind of felt [weird] to be taken out of that dynamic. I was very uncomfortable for the first couple of years because I was 12, I did not look like a college freshman and I had my little school uniform on every day."
However, when she entered high school, Ruby became more comfortable with her living situation. Joe, on the other hand, loved moving to Brittany a week before he left for college.
"It was awesome, especially because college freshmen their first week are the friendliest group you can imagine," he said. "Since I looked the part, I ended up hanging out with a bunch of them. I actually stayed in contact for a couple of years, I would come back on breaks and hang out with them."
Since his college years, Joe has become more removed from the community, as he is now older than the rest of the residents. Ruby, now a year younger than the current Brittany residents, has been able to relate more in recent years. They both agree that everyone is really kind.
They admit elevator rides with their parents and residents can verge on awkward.
"Our dad will crack a dad joke in a crowded elevator —" Joe begins, before Ruby jumps in. 
"And it just goes silent," Ruby interrupts.
As FFIRs, Brett and Amy are required to host in-hall programs throughout the academic year. These various events shaped how Ruby envisioned her college experience, pushing her to apply early decision to Williams College. 
"I wanted that kind of community and structured social life," she said. "It also drove me to apply early decision to a 2,000-person school in the middle of nowhere, Massachusetts."
Joe also knew that he wanted to leave New York City, especially because the thought of potentially being in Brittany as a first-year and living in the same building as his parents did not sound appealing. 
Ruby says her friends think it is very cool that she lives with college students, although she says their first thought is that they live in a cramped dorm room, with a shared bathroom and microwave meals. 
"The immediate reaction upon hearing that I live in a dorm is I get cool points for that," Ruby said.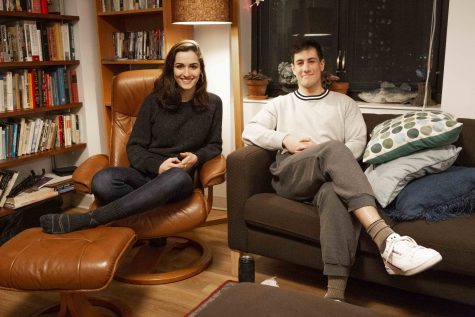 They agree that living in a dorm with almost 600 first-year students is a good icebreaker. And though Ruby living with older kids is perceived as cool, Joe living with younger students does not win him any cool points. 
"For me, it's, 'I live with college kids!' for him it's like, 'I live with college kids…'" Ruby said as both of them laughed. 
They love the location, well aware that they could not live in a similar building if it wasn't a residence hall.
"We say that this might be the nicest apartment we'll ever live in, in the city," Ruby said. 
They share that they have a good relationship with the staff that works in Brittany, especially the public safety officers. 
"They will check up on how my sports games went, and if I come home late they will chastise me a little bit," Ruby said. 
There are very few downsides to living in a college dorm, according to the Gary kids.
"Honestly the only annoying thing is elevator wait times," Joe said. 
On the other hand, Batya Sarna, the 16-year-old daughter of Gramercy Green's in-residence chaplain Rabbi Yehuda Sarna, finds elevators to be the perfect place to interact with students. 
"I will have random conversations with them like in the elevator or in the stairs or in the gym when they think I am a student," she said. 
She says that her friends think that it's cool she lives in a residence hall, but she has gotten used to the exciting world within the confines of NYU housing. 
"I am less excited because it is something I have been doing my whole life but I also think it is amazing and this building has so many great resources that I love," Batya said. 
Batya has been living on the second floor of Gramercy with her five siblings, her mother and her father for 10 years. Now a high school junior, Batya is in the heat of her college search. NYU is on her list. 
Even though the age gap has narrowed between Batya and the residents, she feels a divide between them. Most interactions with residents are passive small talk. On rare occasions, the residents throw her conversational curveballs, such as when a resident asked her to buy him a cigarette.
Her favorite thing about their apartment is having her own room. She also enjoys observing residents who are experiencing college life, as she is going to be doing the same very soon. 
"I think that college age is a very exciting time for people, and even though I don't get to know all the students in Gramercy, it is great to watch people come in and see how they interact with each other because that is going to be me soon," she said.
Though sometimes she has conflicting thoughts about not living in an actual apartment, she does not take what she has for granted. Batya finds it exciting to be living in a building filled with diversity. 
"Sometimes I have said to my parents [that] it is a little frustrating that I don't get to live in a house and in a community like kids my age do normally, but I think it makes me very unique to be able to say that I grew up in a college," she said.
Email Yasmin Gulec at [email protected]. A version of this article appeared in the Thursday, Feb. 21 print edition. Read more from Washington Square News' "Housing Guide 2019."